News
'Stand Up For Your Vision'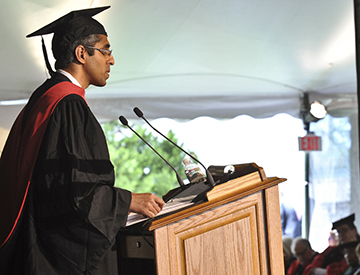 Stand up for your values, and you can change not only your patients' lives but also health care in this nation—and the world.
That was the message Vivek Murthy, HMS instructor in medicine at Brigham and Women's Hospital and recent Surgeon General nominee, shared with the newest graduates of Harvard Medical School and Harvard School of Dental Medicine.
In his keynote address during Class Day ceremonies on May 29, Murthy said, "As doctors and dentists, we share a singular core value that binds us together: an unflinching commitment to improve the lives of our patients. This is our true north. But how this value is reflected in your work—your vision—will be unique to you."
That vision may include providing the best possible care to individual patients, pioneering research, advancing medical education, shaping health policy, creating new health care technology, or many other paths, he added.
Defining and holding true to your beliefs is not easy, Murthy cautioned. Developing a vision takes time, and that vision may change during a career. It requires examining different ideas, resisting the temptation to follow other people's paths just because they've already been paved, and holding firm against hardship and opposition.
Key to success is surrounding yourself with people who remind you of who you are and what you want to accomplish, Murthy said. When he was a third-year medical student, caring for a frightened woman who had undergone a throat operation taught him that "perhaps the most powerful force in keeping us grounded in our values is our patients themselves."
Murthy also spoke about how translating values into practice takes courage—courage that people may not know they possess until they're tested.
He illustrated the point with examples from his own experience, including raising $15,000 in five days to cofound VISIONS Worldwide in 1995, a nonprofit focused on HIV/AIDS education in India and the U.S.
"I've drawn on that moment many times in my life when fear and the noise of day-to-day life made me doubt myself and wonder if I should settle for safer paths even if they weren't my own," he said.
Rising to the challenge of VISIONS "made me keep trying even as my pile of failed ideas continued to grow" in the ensuing years, Murthy recalled. Eventually, in 2007, he was able to realize another ideals-based project: TrialNetworks, a platform that uses cloud-based technology to optimize operations for clinical trials around the world.
Those two successes in turn gave him the confidence to transform a principle he believed in—"that doctors should be leaders in fixing our health care system"—into what became Doctors for America, a national organization of more than 16,000 physicians and medical students from every state who are collaborating to improve health care in U.S. communities. He has served as its president since 2009.
"We can no longer remain within our exam rooms and ignore what happens in our communities. As physicians and dentists, we must have a presence in both places," said Murthy. "Our sacred responsibility is both to help the patient in front of us and also to safeguard the health of the nation. It is a big responsibility, but one that we are called to meet."
Now more than ever, Murthy entreated, the nation and the world need health care practitioners "who can imagine the world as it should be and who have the courage to step forward with open minds, clear eyes and full hearts to translate those dreams into reality."
In doing so, he promised, today's graduates will inspire others to follow their lead.
"Your job is, as it has been for healers throughout the generations, to fill darkness with light, to face down ignorance with knowledge, to replace despair with hope," he said. "Rise to this challenge."
As for how they can do so?
"When you are working toward a vision that is firmly grounded in your values, you will be capable of astounding creativity and massive impact. Staying true to your values and your vision is how you can change the world."
Follow
HMS
Stay informed via email on the latest news, research, and media from Harvard Medical School.