Staff Praise
An unsung HMS hero recognized for exceptional service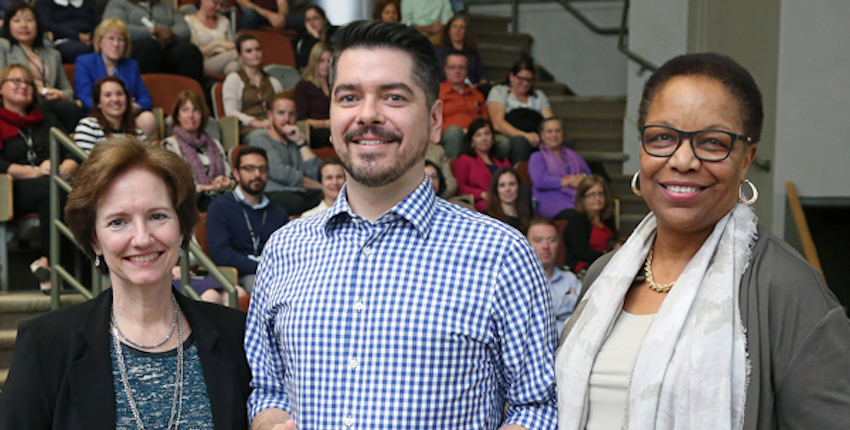 From left: Lisa Muto, Steve Obuchowski and Joan Reede. Image: Jeff Thiebauth
His work often goes on behind the scenes and he often tackles tasks well outside his job description, but Steve Obuchowski's outstanding effort has not gone unnoticed. 
On Oct.19, before his colleagues at a Harvard Medical School Town Hall meeting, Obuchowski received the Daniel D. Federman Staff Award for Exceptional Service in honor of his outstanding work at HMS for the past 17 years.
"I feel very fortunate to have a job here. It's such an important mission," said Obuchowski, the interim director of academic administration for the Division of Medical Sciences at HMS. "This was a huge honor."
Obuchowski's entire service at HMS has been in the Division of Medical Sciences, where he's served in many different roles.
"Steve has made numerous contributions to institutional service that go above and beyond his role at HMS," said Dean for Diversity and Community Partnership Joan Reede, in presenting the award.
Obuchowski has created solutions to operational challenges that optimize resources and streamline workflow while working closely with teams to understand their needs, said Reede. In particular, she said he revolutionized the daily operations of DMS by transforming the division from an entirely paper-based operation to an electronic system, which automated tasks and reduced the need to hire temps to offset the workload. His work over the years has also benefited other departments, programs and individuals across the HMS community, she added.
Legacy of service
The staff excellence award was named in honor of Dr. Daniel Federman, the Carl W. Walter Distinguished Professor of Medicine, whose legacy of outstanding service to HMS spanned more than 50 years. Dr. Federman died on Sept. 6.
"His passing last month was a loss for all of us," said Reede.
The award recognizes staff for exceptional institutional engagement and service in supporting the missions of HMS and Harvard School of Dental Medicine.
Setting the standard
"Federman not only set the standard for exceptional service to the institution, but he continuously inspired others to engage in service to our institutions," said Reede, adding that he "was always particularly mindful and appreciative of the critical contributions that staff members make to foster our sense of community and to achieve our common enterprise," as she introduced a video of Federman talking about having an award named after him.
In the video, Federman said having the award named after him was an honor, but he said it was more important to him that HMS recognize staff for their service to the School.
When HMS says "'This person did something who helped our mission.'… You can't help but get a little catch in your throat," Federman said in the video.
Obuchowski never met Federman, but after hearing him speak in the video he said, "He seems like he was an amazing person and that makes this very special."
Recognizing those who step up
An advisory committee of staff and faculty from across the HMS and HSDM community carefully reviewed and discussed each nominee for the award before recommending Obuchowski as this year's recipient.
"These are often the unsung heroes among us, who work behind the scenes, giving generously of their time and their talents, but whose contributions often go unrecognized," said Reede.