Six HMS Scientists Receive NIH Director's Awards
High-Risk, High-Reward program recognizes trailblazing interdisciplinary research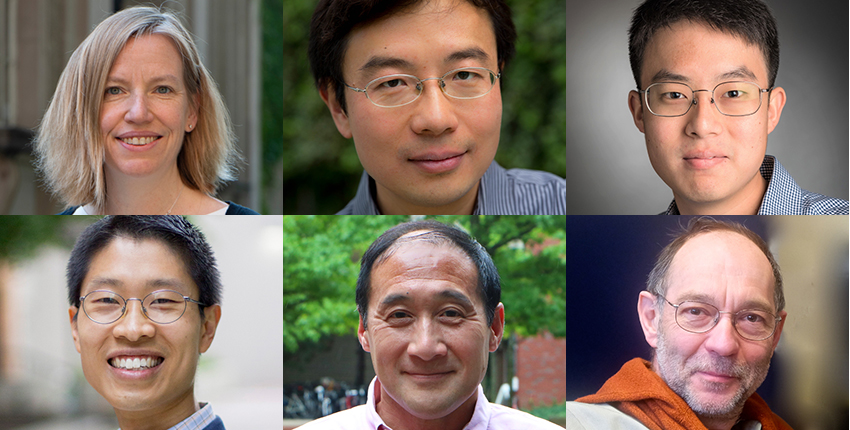 Top, from left: Amy Wagers, Peng Yin and Justin Kim; bottom, from left: Po-Ru Loh, Richard T. Lee and Norbert Perrimon
Six HMS scientists are among 97 researchers honored by the National Institutes of Health Director's Awards: Amy Wagers and Peng Yin, Pioneer Award; Justin Kim and Po-Ru Loh, New Innovator Award; and Richard T. Lee and Norbert Perrimon, Transformative Research Award.
The High-Risk, High-Reward Research program is part of the NIH Common Fund, which supports high-risk ideas with potential for great impact in biomedical research from across the broad scope of the NIH. The program catalyzes scientific discovery by supporting high-risk research proposals that may struggle in traditional peer-review despite their transformative potential. Program applicants are encouraged to pursue creative ideas in any area of research relevant to the NIH mission.
The NIH Common Fund supports a series of exceptionally high-impact, trans-NIH programs. NIH Common Fund programs pursue major opportunities and gaps throughout the biomedical research enterprise that are of high priority to the NIH and require collaboration across NIH institutes and centers to succeed.
"This program supports exceptionally innovative researchers who have the potential to transform the biomedical field," said NIH Director Francis Collins. "I am confident this new cohort will revolutionize our approaches to biomedical research through their groundbreaking work."
Wagers, the Forst Family Professor of Stem Cell and Regenerative Biology, seeks to change the way we repair our tissues after an injury. Her research reveals how changes in stem cell activity impact tissue maintenance and repair throughout life and explores how these cells may be harnessed for regenerative medicine. Wagers, who is also principal faculty at the Harvard Stem Cell Institute and senior investigator in the section on developmental and stem cell biology at Joslin Diabetes Center, has established groundbreaking methods for manipulating stem cell genomes in situ—work that opens new avenues of research and new possibilities for treating congenital and age-related diseases.
Yin is professor of systems biology and a core faculty member at the Wyss Institute for Biologically Inspired Engineering at Harvard University. His lab develops molecular technologies with a current focus on biomolecular analysis using DNA probes. He is a co-founder of Ultivue and NuProbe.
Kim, assistant professor of biological chemistry and molecular pharmacology, is also a principal investigator at Dana-Farber Cancer Institute. His research group focuses on the development of new chemical technologies for the discovery and modulation of protein-protein interactions.
Loh, assistant professor of medicine at Brigham and Women's Hospital, is also an associate member of the Broad. Loh's research group is now applying methods to investigate mosaic chromosomal alterations in DNA from blood and bulk tissue while continuing to develop innovative methods for other large-scale genetic data analyses.
Lee is professor of stem cell and regenerative biology and professor of medicine at Brigham and Women's Hospital. His laboratory studies heart failure and metabolic diseases that accompany human aging, as these diseases are now major barriers to healthy aging.
Perrimon, the HMS James Stillman Professor of Developmental Biology, is a geneticist recognized for his work in signal transduction and the development of functional genomics methods. He is known particularly for the characterization of canonical signaling pathways and the development of methods, such as the FLP-FRT dominant female sterile technique to generate germline mosaics, the Gal4-UAS method to control gene expression both spatially and temporally, and high-throughput RNAi screening.
Perrimon, who is also an Investigator of the Howard Hughes Medical Institute and an associate member of the Broad, shared the award with Steven Carr, institute scientist at the Broad; Andrew McMahon, chair of the Department of Stem Cell Biology and Regenerative Medicine at the Keck School of Medicine of USC; and Alice Ting, professor of genetics, of biology, and, by courtesy, of chemistry at Stanford.
The NIH issued 10 Pioneer Awards, 58 New Innovator Awards, 10 Transformative Research Awards and 11 Early Independence Awards for 2018. The awards total approximately $282 million over five years, pending available funds. Funding for the awards comes from the NIH Common Fund and other Office of the Director appropriations; the National Cancer Institute; the National Center for Complementary and Integrative Health; the National Institute of Allergy and Infectious Diseases; the National Institute of Diabetes and Digestive and Kidney Diseases; the National Institute of General Medical Sciences; the National Institute of Mental Health and the Office of Research Infrastructure Programs.