Signed, Sealed, Delivered
HMS students celebrate matches to residency programs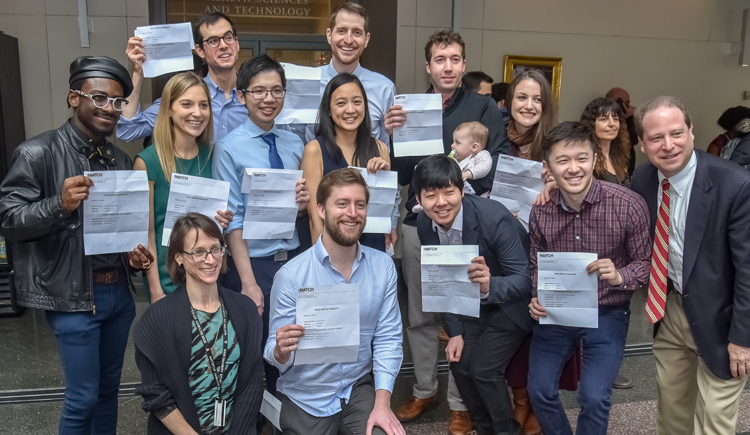 After four years of classes, clinics and exams, 167 Harvard Medical School students will graduate and embark on the next phase of their medical careers this May. With sealed envelopes in hand on Match Day 2019, they learned where they will spend the next three to seven years in residency training programs. 
"The energy in this room! It's fantastic. I'm nervous, and I'm not even matching," said HMS Dean George Q. Daley just before the students opened their letters. "This is a milestone and such an incredible recognition of your hard work. Congratulations."
Just after noon on March 15 students broke the seals on their match envelopes and the Tosteson Medical Education Center atrium was filled with exclamations of joy—and relief.
"I feel like we've waited all year for this, and I feel like we're ready. And it's nice to celebrate with all of our classmates here," said Jenny Shih, as she waited with her classmate Alex Ruan to receive their envelopes.
"I was in the MD-PhD program so I've been here for nine years working towards this," said Aza Allsop, who matched in psychiatry at Yale-New Haven Hospital and plans to open a lab there.
"To get my number one choice—I'm pinching myself," he said.
Letter perfect
Match Day is part of a tradition that takes place annually on the third Friday of March, with medical school students across the country learning their residency placements as part of the National Resident Matching Program (NRMP).
At a minute and half before noon, HMS Dean for Students Fidencio Saldaña pointed out the corners of the atrium where each academic society would be distributing letters to the students. He then rang a bell indicating that students were free to pick up their match letters.
A computer algorithm matches the preferences of applicants and their choices of residency and training program directors at U.S. teaching hospitals—with NRMP working to provide a transparent and fair process for the graduating students participating in the match. 
"We got both of our first choices so we're really excited," said Smitha Ganeshan, who matched in internal medicine at the University of California San Francisco.
Her classmate Francesca Barret matched in obstetrics and gynecology at NYU School of Medicine. "I'm still in disbelief," she said.
According to NRMP, 44,603 U.S. and international medical school students registered for the match—the highest ever. More than 35,000 positions were filled, which was also a record high.
View the related photo gallery
"I'm going to Johns Hopkins University for emergency medicine," said Kyle Burton. "I'm just so excited to finally be able to confirm this. I've been hoping for this for a while now."
For some, the moment held extra significance. Dalia Larios Chavez arrived at HMS as a DACA, or Deferred Action for Childhood Arrivals, student.
"This is an example that we can do it," said Larios Chavez. "For me, opening this envelope is a way of opening it for so many other DACA students," she said, adding that she hopes to continue to work on immigration issues during her residency and in her career.
Larios Chavez matched to do her medicine preliminary at Brigham and Women's and her radiation oncology residency at Brigham and Women's Hospital-Massachusetts General Hospital.
After learning where she matched, Larios Chavez did a quick video chat with her husband, who is in Arizona completing training as a paramedic. He was on an emergency department shift.
"He snuck out to share this moment with me," she said.
The couple met in Arizona, but he'll be moving to Boston when he gets certified in August.
"You're talking to a student who didn't even know if I was going to go to med school, and now I've matched to one of the best radiation oncology programs in the country," she said. "I'm very grateful."
The numbers
This year, 163 graduating HMS students matched to clinical training, internship or residency programs at hospitals; four will pursue nonclinical training.
Seventy-two, or 44 percent of the class, were accepted to fields related to primary care: one in family practice, 52 in internal medicine, three in internal medicine and pediatrics, seven in pediatrics, and nine in obstetrics/gynecology. 
The largest number, 52, matched in internal medicine programs, the second-largest number, 10, in general surgery programs.
"I matched in internal medicine and pediatrics at MGH," said Sagar Raju, who added that he was extremely happy that he will be staying in Boston and living with his brother during his residency.
"It's really important to me be able to stay and have that support system during residency," he said.
Forty-eight percent matched at an HMS-affiliated program.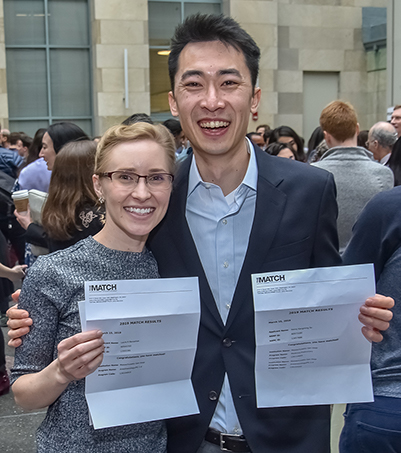 "We're going to be co-residents—in the same program," said Henry Su, who matched in preliminary medicine and anesthesiology at Mass General, celebrating with classmate Laura Banashek, who also matched in anesthesiology at Mass General.
Other HMS students will be fanning out across the country, headed to Maryland, Michigan, Arizona and Washington, among other states.
"I'm going across the country to San Francisco," said Quinn Sievers. "I wanted to get a new experience, culture and city," he said.
Tram Tran, a student at the Warren Alpert Medical School of Brown University, made the trip up from Providence to share Match Day with her husband, HMS student Robert Rudy. They both matched at surgical programs in Arizona.
"It was a little nerve wracking, but people were much more supportive than I was expecting," said Rudy, who placed in neurological surgery at St. Joseph's Hospital. "We're really happy."
The matching process began last fall when the graduating students decided on their specialties, registered and submitted applications. They interviewed throughout the winter and in February submitted a ranking of their choices, based on their desired specialty, geographic location and whether they were applying as a couple.
Most residency and training programs begin in June and July. But over the next two months, the students will be focused on wrapping up their studies at HMS. Several students in the Harvard-MIT Health Sciences and Technology program will present their research at the HST Forum in April. All look forward to donning caps and gowns for graduation on May 30.
"When I see them open the letters I cry every year because it's so touching how hard they've worked and how much they've achieved," said Marcia Feldman, Electronic Residency Application System and projects coordinator in the HMS Office of Student Affairs, who coordinates the match process for the School.
"It's like a being a little tiny part of sending them out into the world to save lives," she said.