A Signal Moment
Harvard-led initiative awards over $16.5 million to support 62 COVID-19 research projects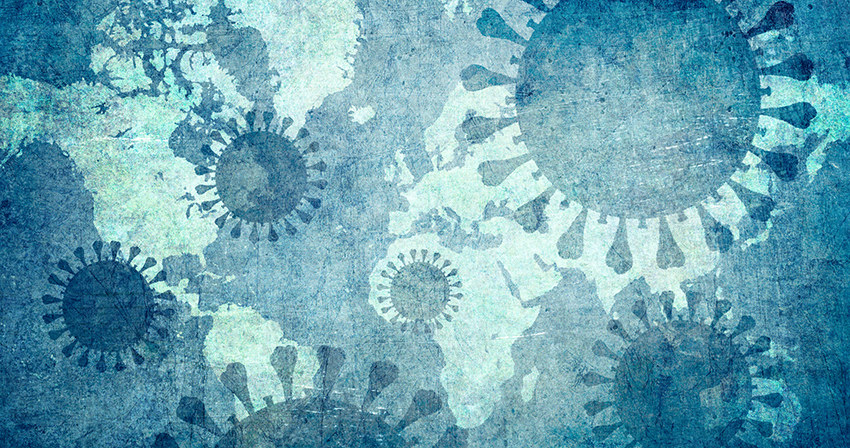 This article is part of Harvard Medical School'scontinuing coverage of medicine, biomedical research, medical education and policy related to the SARS-CoV-2 pandemic and the disease COVID-19.
The world is now months into the COVID-19 pandemic, an era-defining public health crisis that continues to devastate communities and shutter economies across the globe.
To address the most pressing challenges of the pandemic, the Massachusetts Consortium on Pathogen Readiness (MassCPR), a multi-institutional initiative convened by Harvard Medical School to combat the disease and prepare for future outbreaks, is announcing over $16.5 million in funding to support 62 high-impact research projects.
The consortium is a collaborative effort that includes scientists and clinicians from Harvard, MIT, Boston University, Tufts University, University of Massachusetts and local biomedical research institutes, biotech companies and academic medical centers.
Projects were selected in this initial round of funding for their potential to influence clinical outcomes in patients and populations within the next 12 months. They are organized around the consortium's primary scientific and clinical focus areas: the development of vaccines, therapies and diagnostic tools, clinical management, epidemiology and understanding how SARS-CoV-2 causes disease.
"The COVID-19 pandemic is a watershed moment in human history and has been nothing short of a rallying cry to those of us who have dedicated our lives and careers to science and medicine," said George Q. Daley, dean of Harvard Medical School. "MassCPR is our response to this historic moment."
Launched during a pivotal meeting at HMS in early March, MassCPR was enabled by a collaborative agreement between Harvard University, the Guangzhou Institute of Respiratory Health in China and the China Evergrande Group, which will provide funding support to researchers based both in Massachusetts and in China to combat COVID-19.
MassCPR will host a livestreamed public briefing from 8 a.m. to 9:30 a.m. ET on May 15 to provide updates from the consortium's research working groups and to describe the funded projects, which span areas including:
Design and validation of new vaccines
Development of therapies, including antiviral and antibody-based approaches, and support for clinical trials
Development of rapid, sensitive and specific point-of-care diagnostic tests
Mapping the molecular structure, genetics and life cycle of SARS-CoV-2
Detailed understanding of host-pathogen interactions and how the immune system responds at different stages of infection
Coordination of procurement and sharing of patient samples from hospitals to labs
Epidemiological models for disease surveillance and forecasting and improving containment measures
Generating models for COVID-19 and producing SARS-CoV-2 proteins, receptors and other tools for shared research use
Support for Boston-area biosafety 3 and 4 facilities for safe testing of drugs against live coronavirus
MassCPR's mission is to address the myriad challenges of the current pandemic and the need for enhanced preparedness for future ones.
The consortium now involves hundreds of researchers, physician-scientists, frontline clinicians, epidemiologists and more, representing world-leading academic, hospital, biopharma and public-health institutions based in Massachusetts. They are joined by collaborators at the Guangzhou Institute of Respiratory Health and Tsinghua University in China.
Its governing committee includes Daley, David Golan, dean for research operations and global programs at HMS, and faculty co-leaders Arlene Sharpe and Bruce Walker.
"Drawing from the incredible expertise of our biomedical ecosystem in Massachusetts, we have grown to over 500 members dedicated to transcending our institutional loyalties to bring collaborative scientific solutions to this pandemic," said Sharpe, the George Fabyan Professor of Comparative Pathology and chair of the Department of Immunology in the Blavatnik Institute at HMS, and co-director of the Evergrande Center for Immunologic Diseases, a joint program of Brigham and Women's Hospital and HMS. "The rapid progress catalyzed by our collective efforts is really inspiring."
Read more about MassCPR and its work.
"I think most of us pursued careers in science hoping that we would someday have the opportunity to work on something that truly had meaning and that would allow us to work together in collaboration rather than competition," said Walker, the Phillip T. and Susan M. Ragon Professor of Medicine and director of the Ragon Institute of MGH, MIT and Harvard. "I feel we have found that here in the MassCPR."
Rallying cry
In mid-March, MassCPR announced an urgent call for proposals for projects that address key aspects of COVID-19. Within a week, the consortium received 448 applications from investigators across the Commonwealth.
MassCPR leadership and committee members executed a multiphase evaluation process involving dozens of expert reviewers who identified promising candidates from the hundreds of applications within weeks. Ultimately, a total of 62 proposals received a recommendation for funding based on merit and a strong likelihood to impact patients within a year.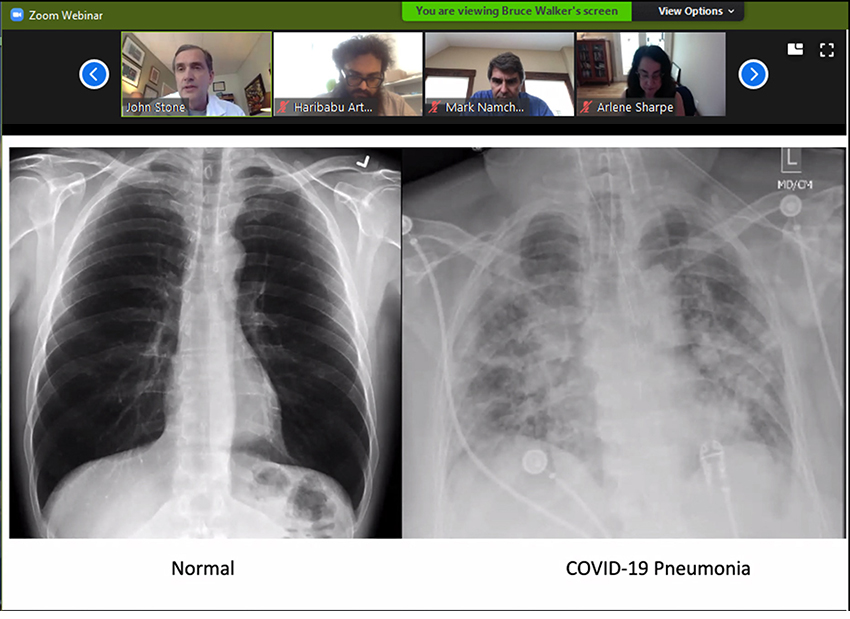 Among the funded proposals are 16 key research resources, which include infrastructure, platforms, tools and skilled personnel that enable multiple investigators in the MassCPR to perform highly collaborative and multidisciplinary research projects.
Examples of the funded projects and resources include:
"Coronavirus cross-reactive monoclonal antibodies from COVID-19 convalescent individuals"
PI: Jonathan Abraham, assistant professor of microbiology in the Blavatnik Institute at HMS
"Systems based Fc-engineering to accelerate therapeutic monoclonal antibody design to COVID-19"
PI: Galit Alter, HMS professor of medicine and group leader at the Ragon Institute
"Rapidly conducting clinical trials of novel therapies for SARS-CoV-2 using adaptive design strategies"
PI: Lindsey Baden, HMS associate professor of medicine, director of clinical research in infectious diseases at Brigham and Women's, director of infectious diseases at Dana-Farber Cancer Institute and deputy editor of The New England Journal of Medicine
"Rapidly deployable ventilator splitters to accommodate COVID-19 patient surges"
PI: Rebecca Baron, HMS assistant professor of medicine at Brigham and Women's
"Protective immunity to SARS-CoV-2 by natural infection and vaccination"
PI: Dan Barouch, HMS professor of medicine and director of the Center for Virology and Vaccine Research at Beth Israel Deaconess Medical Center, and member of the Ragon Institute
"High-throughput screening for identification and evaluation of efficacy for therapeutics against SARS-CoV-2 infection"
PI: Robert Davey, professor of microbiology at Boston University School of Medicine and a member of the National Emerging Infectious Diseases Laboratories at Boston University
"Wastewater-based epidemiology to rapidly diagnose and map the COVID-19 pandemic"
PI: Timothy Erickson, HMS associate professor and chief of medical toxicology in emergency medicine at Brigham and Women's
"Characterization of SARS-CoV-2 aerosols and surface contamination produced during respiratory support therapy of COVID-19 patients"
PI: Nicholas Hill, chief of pulmonary, critical care and sleep medicine at Tufts Medical Center and professor of medicine at Tufts University
"Open label randomized controlled phase 2 study of the use of favipiravir compared to standard of care in hospitalized subjects with COVID-19"
PI: Boris Juelg, HMS assistant professor of medicine in infectious diseases at Massachusetts General Hospital and associate member of the Ragon Institute
"Therapeutic human antibodies against pathogenic coronaviruses that emerge from southeast Asia including SARS-CoV2"
PI: Wayne Marasco, HMS professor of medicine at Dana-Farber
"Age-associated development of antibody-mediated cytotoxic immunity to SARS-CoV-2"
PI: Ann Moormann, professor of medicine at University of Massachusetts Medical School
"Pulmozyme to improve COVID-19 acute respiratory disease syndrome outcomes"
PI: Benjamin Raby, the Leila and Irving Perlmutter Professor of Pediatrics at HMS and chief of pulmonary medicine at Boston Children's Hospital
"Detecting the host immune response to SARS-CoV-2 in patient blood using ultra-sensitive assays"
PI: David Walt, Hansjörg Wyss Professor of Biologically Inspired Engineering at HMS, professor of pathology at Brigham and Women's and core faculty at the Wyss Institute at Harvard University
"The development of a point-of-care diagnostic for COVID-19"
PI: Feng Zhang, core institute member of the Broad Institute of MIT and Harvard and the James and Patricia Poitras Professor of Neuroscience at MIT
A full list of funded projects and resources can be found at: https://masscpr.hms.harvard.edu/projects.
"Scientists and clinicians around the world are rising to meet the challenges presented by the pandemic. We see this call to service play out every day within our Massachusetts biomedical research community," Golan said. "Through the MassCPR, we are providing the environment and resources needed to harness the talent and commitment of our researchers in a collaborative, coordinated and multidisciplinary approach to battling this new disease."
Homegrown impact
"It is inspiring to see scientists from so many Boston-based institutions come together to take action in the face of this pandemic," said Harvard President Lawrence S. Bacow. "The impact of their work will be measured not only in discoveries and new knowledge, but also in lives saved and other improved health outcomes."
Among MassCPR's key partners is the Massachusetts Life Sciences Center (MLSC), the state's economic development and investment agency dedicated to supporting the growth of critical life sciences fields and initiatives in Massachusetts. Recognizing MassCPR's ability to bring together leading scientists and researchers from across the Commonwealth to respond to the pandemic, MLSC is providing up to $2.3 million to support nine collaborative projects through the consortium.
"No single institution is going to solve this problem, but this homegrown consortium is taking a huge amount of knowledge, resources, and data and applying it collectively and collaboratively," said Timothy J. McGourthy, interim president and CEO of the Massachusetts Life Sciences Center. "These grants will further our understanding of COVID-19 and strengthen our ability to combat it, and the Commonwealth is proud to support this vital work as we move toward a new normal."
More than $16 million has been raised to support these funding awards through MassCPR, including the first tranche of funding from the China Evergrande Group, support of $1 million or more each from Mark and Lisa Schwartz, the MLSC and the Bertarelli Foundation, as well as commitments from several other donors.
MassCPR continues to engage with philanthropic organizations and anticipates that additional proposals will be greenlighted as funds become available.
Investigators with funded projects are based at 15 different institutions: Beth Israel Deaconess Medical Center, Boston Children's Hospital, Boston Medical Center, Boston University, Brigham and Women's Hospital, Broad Institute of MIT and Harvard, Dana-Farber Cancer Institute, Harvard Medical School, Harvard T.H. Chan School of Public Health, Massachusetts Eye and Ear, Massachusetts General Hospital, MIT, Ragon Institute of MGH, MIT and Harvard, Tufts Medical Center and the University of Massachusetts Medical School.
Image: Getty Images