News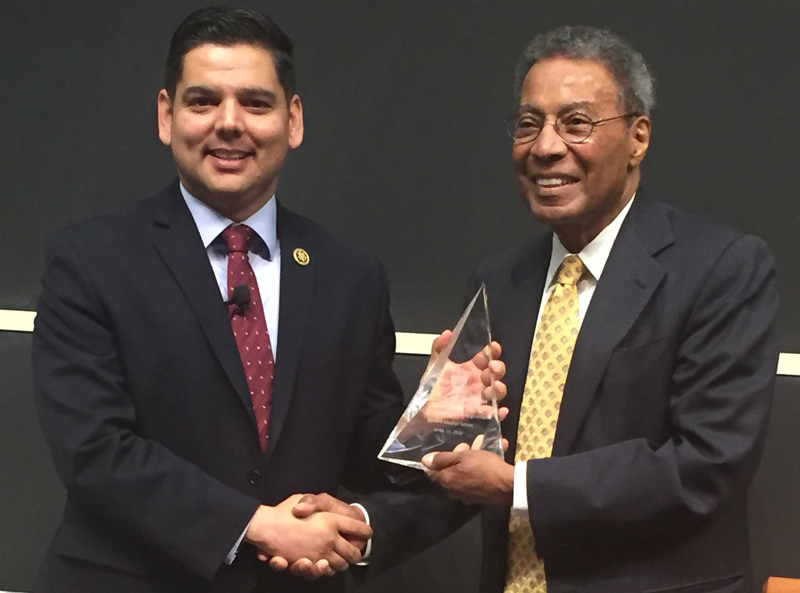 Acknowledging the influence that Alvin Poussaint, faculty associate dean for student affairs, had on his development as an aspiring physician, Congressman Raul Ruiz, HMS Class of 2001, called Poussaint a friend and mentor during the 2015-2016 Alvin Poussaint, MD Visiting Lecture.
Ruiz delivered the annual address, sponsored by the HMS Office for Diversity Inclusion and Community Partnership, on April 11, 2016. Ruiz, who was elected to the U.S. House of Representatives in 2012, represents California's 36th Congressional District.
"I am in Congress to improve and inspire the lives of the people I serve with measurable outcomes." —Raul Ruiz
Ruiz's talk focused on the question "How Can Leadership Address Health Equity, Social Justice and Diversity?" He discussed a number of important themes in the areas of health system leadership, equity, advocacy and inclusion, using his own life story as a case study.
Motivating factors
Ruiz's background shaped his trajectory as both a physician and an advocate for health equity.  He talked about growing up in Coachella, California, where he lived in a trailer park with his parents, who were both farm workers, and his brother. There, he learned the value of serving others in the community by watching his mother and gaining great respect for both her work ethic and personal sacrifice.
His desire to serve others led Ruiz to pursue a medical degree. However, after being accepted to college, Ruiz still needed help with college expenses. He tells the story of those early days and his determination to achieve his goal of attending college.
"…At 17 years of age, I put on my only suit, which was two sizes too big, and borrowed a brief case and typed up a contract."
Ruiz recounted walking into mom-and-pop stores throughout Coachella Valley and telling anyone that would listen, "I am offering you an opportunity to invest in your community by investing in my education.  I will be a doctor, and I will come home and serve the community." 
Such entreaties not only earned Ruiz money for textbooks and expenses, it also taught him a great deal about personal commitment and a sense of mission.
Serving the Community
True to his word, 17 years after leaving Coachella Valley as a 17 year old, Ruiz returned to practice medicine.
He demonstrated that promise to community advocacy by working as a physician in a farm worker's trailer park, educating day laborers about diabetes, alcoholism, influenza, migrant concerns and other issues that they might not have otherwise had the opportunity, literacy or financial resources to discuss elsewhere.
These formative experiences as a young physician moved him toward lifelong advocacy for the most vulnerable within the local health care environment.
"In the community, I saw the human face of failed policies, and it wasn't smiling," Ruiz said. "I saw the human story behind the numbers on a budget spreadsheet that favored the affluent and hurt working families. Those faces and stories had names, families, hopes, aspirations and dreams."
This perspective influenced Ruiz's efforts as a health care policy strategist.
"I knew that in order to implement my vision of social justice and make health equity a reality, I had to implement strategy," he said. 
Back in Coachella, Ruiz convened a summit to create a regional strategic plan to address the health inequity and physician shortage and lack of sustainable revenue for health care development. He also founded the Future Physician Leaders Program to address the physician shortage.
Developing a pipeline
Ruiz developed a pipeline for students by creating regional medical school residency programs in underserved communities. He was sure that as aspiring physicians trained in their communities, it would increase the likelihood that they would practice medicine in those underserved areas.
To accomplish this, Ruiz became a founding senior associate dean for Community Engagement and Partnerships at the University of California, Riverside, School of Medicine.
Since joining the U.S. House in 2013, his dedication to expanding policies for health equity and social justice has taken on additional urgency. Ruiz noted, "I am in Congress to improve and inspire the lives of the people I serve with measurable outcomes."
Ruiz introduced the Building a Healthcare Workforce for the Future Act, which would provide scholarships for students who want to serve in underserved communities with matching grants from the state in hopes that they will return to their communities. If they do not return, the funds would be repayable and marked as a low interest rate loan.
 Ruiz also helped proposed legislation that would allow Hispanic-speaking institutions to use STEM grants to fund premed mentorship programs in their universities. He also co-chairs the Congressional Hispanic Caucus Healthcare Task Force.
Inspiring and mentoring advocates
Ruiz closed his remarks by urging his audience to think about their own roles as health care policy advocates, suggesting that they participate in politics and policy making.
 "We don't have to wait for an act of Congress or for Congress to get its act together to make the changes that we want to see," he said. "Learn to influence decision-makers through research and advocacy for your patients and the people you serve. Tell your story and your patient's story. Or run for office and be a decision-maker. Together, we will achieve diversity, health equity and social justice."
In addition to presenting the annual Poussaint Lecture, Ruiz spoke with nearly 35 medical school students during the annual Poussaint Mentoring Luncheon.
 Ruiz encouraged students to create the experiences they want to fulfill in their lives. He also met with faculty, administrators, residents and fellows at Brigham and Women's Hospital in the Division of Emergency Medicine, where he was a resident physician.
Brigham and Women's co-sponsored this year's Poussaint Lecture.
Follow
HMS
Stay informed via email on the latest news, research, and media from Harvard Medical School.