Seeding the Field
HMS summer bioinformatics program builds careers, improves health care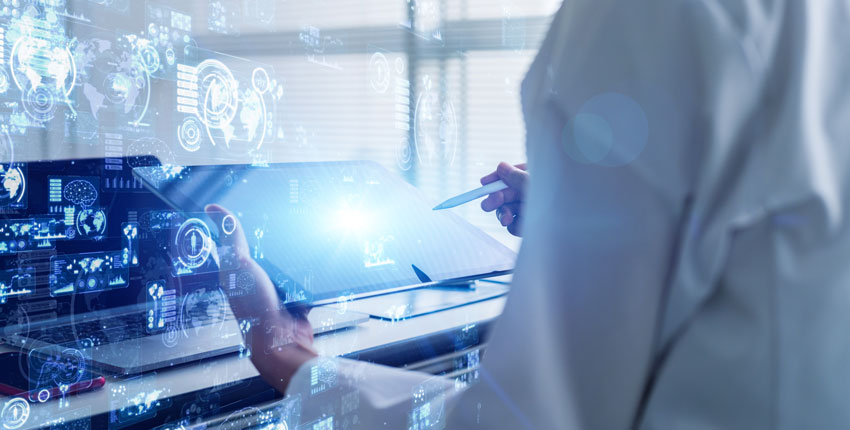 Image: metamorworks/iStock/Getty Images Plus
When she was growing up in Iran, Alaleh Azhir's interests included science, technology, engineering, and mathematics. The problem was, in Iran she would have had to choose between a course of study in mathematics or biology when she entered high school.
As things turned out, Azhir, now a second-year MD student in the Harvard-MIT Health Sciences and Technology Program, did not have to choose. Her family immigrated to the United States when she was in middle school, so she was ultimately able to pursue both disciplines, majoring in biomedical engineering, computer science, and applied mathematics and statistics at Johns Hopkins University.
Azhir was able to hone her skills and interests in math and biology when she attended the HMS Summer Institute in Biomedical Informatics (SIBMI) in 2016 while still an undergraduate. There she united her interest in both subjects with her passion for data visualization, which had been sparked by her love of expressing herself through color and painting.
"Being able to paint with data so that it attracts scientists to interact with it, is exciting. So much better than just reading a paper about it," said Azhir.
Her SIBMI research project was mentored by Nils Gehlenborg, associate professor of biomedical informatics in the Blavatnik Institute at HMS.
"We kind of made a Google map of the genome, where you can zoom in to different areas and then zoom out to go to a different area of the genome," she said.
Taking root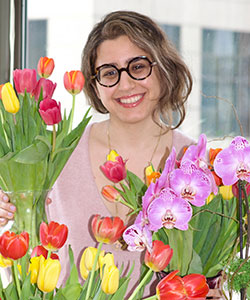 The field of biomedical informatics took root more than six decades ago, but only recently has it come into full flower, according to an article published in 2020 in the Journal of the American Medical Informatics Association.
Bioinformaticians at HMS began planting their own seeds 18 years ago by hosting undergraduate students interested in applying data analytics to biomedicine, according to Susanne Churchill, executive director of the HMS Department of Biomedical Informatics and SIBMI program director.
The program has now become highly competitive and, to date, 244 students have participated in SIBMI.
It's opened opportunities to many individuals who may have encountered challenges going into the field of quantitative science, and has had equal numbers of females and males participating, with 25 percent coming from groups underrepresented in science and medicine.
The students spend more than two months living in Boston while attending lectures and workshops on the HMS campus. Each student, according to the interest outlined on their application, is paired with a DBMI bioinformatician on a research project.
"The goal of the program is for undergraduates to work with real-world data to understand trends in human health in order to identify problems that can be addressed at the bedside," said Churchill, adding that this work is meant "to open these students to opportunities to change the practice of medicine."
Azhir said that in high school and college in the U.S. she was "one of the only girls—or one of the only girls who talked" in her math and science classes.
SIBMI had a good ratio of women to men, she said.
"It was nice to have a community that was mixed but also very diversified, and there were other women who were doing computer science," she said.
Fortunate work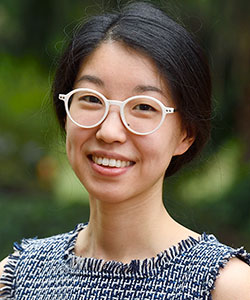 Jean Fan attended SIBMI in 2012 as an undergraduate and conducted her research project under the mentorship of Shamil Sunyaev, professor of biomedical informatics at HMS. She later served as a teaching assistant for SIBMI from 2016 to 2017, providing peer mentorship to SIBMI students, including Azhir.
Fan said she was fortunate to have done research in labs led by women, including Rachel Karchin at Johns Hopkins University and Xiaowei Zhuang at Harvard University. These experiences led to her to feel more confident as a bioinformatics scientist. Now an assistant professor of biomedical engineering at Johns Hopkins University, Fan mentors a diverse research team of students in conducting bioinformatics research.
Supporting budding scientists
One of the attractions of SIBMI is that the program provides housing, meals, and a stipend for the summer program. This gave Azhir, and many others with limited financial resources, the opportunity to attend a program that might not otherwise have been accessible for them.
Azhir's single mother had been a cardiologist in Iran. Once in the U.S., Azhir said, her mother had to start from scratch and spent eight years studying and training before she could once again practice medicine.
"We definitely wouldn't have been able to afford such a program," said Azhir.
Azhir said she gained valuable skills working in a team-based environment, such as assigning tasks according to each researcher's strengths and communicating with team members so they could complete their project.
"It's the sort of skill you only learn by doing," she said.
SIBMI also offers skill-building workshops, such as writing, submitting, and reviewing a paper; presenting research; applying for grant funding; and writing a research proposal, a skill which Azhir said she was able to use when writing her first proposal. All workshops are led by DBMI faculty and graduate student teaching assistants.
Over the course of the summer, participants begin building a network of faculty, postdocs, graduate students, and fellow SIBMI students that can carry over into their graduate and professional careers.
"I went to Harvard for my PhD," said Fan. There she learned that a friend she had eaten lunch with while at SIBMI, Julia Rogers, was a leader of the Harvard graduate Women in Science and Engineering student organization.
Gehlenborg has also been an influential mentor for Azhir, she said, writing recommendation letters that helped her attend other career development programs and likely assisted in her receiving a Rhodes Scholarship and a Soros Fellowship.
Advancing faculty research—and the field
Chirag Patel, associate professor of biomedical informatics at HMS, became involved in SIBMI in 2015, soon after he arrived at HMS, while he was getting his lab up and running.
He said he thought it would be an opportunity to help people seeking research experience while advancing the studies he was planning for his lab.
"I've realized that it's probably one of the most important things that we do as a department," Patel said, explaining that because bioinformatics has become a hot field there aren't enough scientists being trained to fill the positions available. Exposing as many students as possible, as early as possible, is key to developing a diverse array of scientists in the field, he said.
The training component is what sets the HMS SIBMI program apart from similar programs in industry and academia, said Patel.
Students who have participated in SIBMI have gone on to a wide variety of careers, including academic and clinical medicine, nursing, computational biology, and the therapeutics industry. They have also pursued careers as lawyers, entrepreneurs, software engineers, and more.
More than 70 percent of attendees have pursued an advanced degree, such as a PhD, MD, MD/PhD, or master's degree at top universities.
Patel is most proud of the many SIBMI students who have turned their summer projects into peer-reviewed publications, adding that some of the research projects are ones that he wouldn't normally have been able to pursue if it weren't for SIBMI.
One important project for Patel's research group was a series of papers published on a tool the team created called vibration of effects.
Patel said SIBMI student Jason Tan, an undergraduate at Rice University, "took on this crazy project … and brilliantly navigated through all of the data" while working effectively with graduate students and postdocs on the project. Tan is now a PhD student in computer science at Stanford University.
Growing the next generation of leaders
Both Azhir and Fan said Churchill has also been an important mentor.
"She doesn't coddle you, and she gives you good, solid advice," said Azhir.
"I still see her as a mentor," said Fan.
In addition to research and academics, SIBMI participants enjoy living together, where they share cooking, eating meals, and socializing during their free time. The program also organizes outings, such as canoeing on the Charles River, visiting Boston museums and historical sites, barbecues with SIBMI alums, and other activities.
Many students have developed and maintain friendships long after the program ends. At HMS, Azhir has remained close friends with HST medical student James Diao, who attended SIBMI the same year, and he recently met two more HMS classmates who attended SIBMI in other years and has become close friends with them.
"I still keep in touch with a lot of friends in that program," said Fan.
With SIBMI's emphasis on engaging participants in cutting-edge research, building administrative and leadership skills, developing networks of peers and mentors, and attracting candidates from diverse backgrounds, Churchill said she hopes the summer program will continue to grow leaders in bioinformatics for another 20 years.
"SIBMI was a perfect balance," said Azhir. "Where you can learn from your mentors but also contribute in a meaningful way and be scientifically intrigued."
Blossoming careers of SIBMI alums
HMNews asked SIBMI alums about what kind of impact on biomedicine and health care they hope to have as physician-scientists.