News
Relief, Joy Mark Match Day 2013 at HMS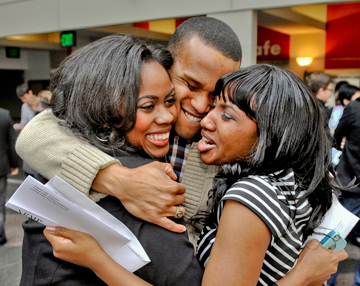 They are mere minutes, but they change every medical student's life. With the ringing of a bell, and the ripping of an envelope, more than 150 Harvard Medical School students learned on Match Day 2013 where they will spend the next three to seven years of residency training.
It is a momentous occasion and, for many, a day full of excitement, anxiety, relief and joy.
"I just want to know. It's been a long road," said Alvin Yu of the Castle Society as he waited to learn where he matched. Yu is specializing in radiology.
"This is like, the last thing. To know where you're going to end up," said Elijah "Jamie" Bell, a Holmes Society student whose specialty is emergency medicine.
For Bell and his girlfriend, Anabelle Outar, another Holmes Society student whose specialty is anesthesiology, the news was especially good. They both matched to Baylor College of Medicine in Houston, Texas.
"I'm very, very excited," Bell said as students hugged and shook hands. "I've already got my cowboy hat."
According to the National Resident Matching Program (NRMP), which oversees the process, 935 couples applied to residency programs together, an all-time high. Of those couples, 868 matched to their residency program of choice.
National match
Bell and his fellow HMS students along with their spouses, parents, children and friends crowded into the Tosteson Medical Education Center atrium on March 15 to learn their fates, and enjoy lunch and celebratory toasts.
HMS students joined others across the country in the long-awaited Match Day ceremonies in which more than 16,000 graduating U.S. medical school students were informed of their matches simultaneously in what the NRMP called the largest main residency match in its history.
"I was just super happy to match," said Hayden Box, a Castle Society student specializing in orthopedic surgery. Originally from Texarkana, Texas, Box was thrilled to learn he was matched to UT Southwestern Medical Center in Dallas.
According to the NRMP,  more U.S. medical school seniors matched to primary care residency positions this year, with the number choosing primary care—which includes internal medicine, family medicine and pediatrics—rising by almost 400 over 2012.
HMS no longer calculates the number of students going into primary care because it is impossible to determine how many of those who go into internal medicine will eventually go into primary care versus specialty care.
HMS students well-matched
At HMS, 158 students matched to residency programs across the country. Internal medicine was once again the most popular match for HMS students with 42 students matching. The next largest group, 16, matched in pediatrics, and seven matched in family medicine. This year 54 percent of graduating HMS students are staying on to train at affiliate hospitals.
"It's very surreal because I've kind of envisioned this for years," said Annika Barnett, a Holmes Society student originally from Raleigh, N.C., who was elated to learn she had matched to Johns Hopkins Hospital in Baltimore.
The NRMP is a non-profit organization sponsored by several national medical societies to provide an orderly and fair way to match graduate medical applicants to U.S. residency positions.
The NRMP uses a computerized mathematical algorithm to align the preferences of applicants with the preferences of residency program directors in order to fill the training positions available at U.S. teaching hospitals.
Follow
HMS
Stay informed via email on the latest news, research, and media from Harvard Medical School.