Reinventing Drug Discovery
HMS launches new centers to transform therapeutic development, the study of cancer treatments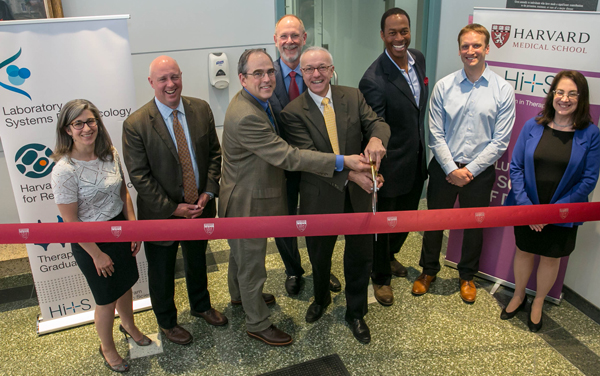 From left: Laura Maliszewski, Mike Kennealy, Peter Sorger, Joshua Boger, George Q. Daley, Travis McCready, Brian Alexander, Arlene Sharpe. Image: Bethany Versoy for HMS
The systems used to develop new drugs and evaluate their efficacy are ripe for reinvention, and two new centers at Harvard Medical School unveiled June 12 as part of the Harvard Program in Therapeutic Science, promise to do just that.
"This is not merely a new lab—it is a new model of collaboration." —Joshua Boger
The Harvard-MIT Center for Regulatory Science aims to transform the science of therapeutic development and streamline the process of evaluation, approval and regulation in order to propel the development of new medicines while trimming the cost of doing so.  
The National Cancer Institute Center for Cancer Systems Pharmacology will employ a multidisciplinary systems approach to the study of cancer therapies. It will pool the collective acumen of basic scientists, translational researchers, clinical oncologists, pathologists and computational scientists from five institutions to help refine understanding of the interaction between the immune system and cancer, boost the efficacy of current cancer immunotherapies and spark the development of new treatments.

The centers are located in the Laboratory for Precision Medicine and Regulatory Science, a new ultramodern, multi-institutional space that will bring together scientists from a range of disciplines in academia, industry and government.
Redefining Regulatory Science
In the fall of 1937, the S. E. Massengill Company, a Tennessee-based pharmaceutical manufacturer, began distributing an antibiotic tonic named Elixir Sulfanilamide. By the time it was forcibly removed from the market a few months later, more than 100 people—many of them children—had died after ingesting the elixir in one of the worst cases of mass poisoning in U.S. history.
This event finally pushed Congress to bestow upon the Food and Drug Administration the power to monitor drug safety. A few decades later, spurred by other tragic events, Congress empowered the FDA to regulate the efficacy of drugs in addition to safety.
Today, the FDA is the world's leading authority on the evaluation and regulation of new therapeutic agents, protecting public health through a rigorous system of randomized clinical trials and evidence-based approaches to regulatory science.
However, new technologies and rapidly accelerating computational power have led to remarkable advances in almost every facet of the biomedical sciences, which has created a need for new approaches to modernize the processes of drug evaluation, many of which were established decades ago.
With the goal of developing new tools that will allow pharmaceutical companies and regulatory agencies to deliver new therapeutics to patients faster, better, safer and cheaper, the Harvard Program in Therapeutic Science at HMS, through the support of the Massachusetts Life Sciences Center, on June 12 launched the Laboratory for Precision Medicine and Regulatory Science.
"To overcome the myriad challenges involved in the process of drug development, we need new perspectives that can only come from the kinds of partnerships represented by these laboratories," said HMS Dean George Q. Daley at the grand opening of the Laboratory for Precision Medicine and Regulatory Science, located in the Modell Center on the HMS Quad.
"Nurturing multi-institutional collaborations among basic scientists, clinicians, chemists, engineers, computer scientists, mathematicians and more—whose career paths may have never intersected without these shared spaces and resources—is how we will overcome some of the most pressing health concerns of our time," Daley said.
The Harvard-MIT Center for Regulatory Science aims to transform how regulatory science is conducted in the 21st century by applying modern data science and quantitative approaches to drug discovery, validation and evaluation. Formed in partnership with MIT and through a memorandum of understanding with the FDA, this center serves as a collaborative forum where researchers from academic research institutions, pharmaceutical and biotechnology companies, and the FDA will jointly investigate innovative strategies for effective development and evaluation of therapeutic products.
"Advancing the field of regulatory science is about realizing the gains we've been making in biomedicine by expediting the development of novel therapies and biomarkers and bringing new advances to patients," said Brian Alexander, director of the Harvard-MIT Center for Regulatory Science and HMS associate professor of radiation oncology at Dana-Farber Cancer Institute.
"We're entering an era in which medicine is going to be much more personalized with ever more subrefinement in terms of the genetic basis of disease," said Peter Sorger, the Otto Krayer Professor of Systems Pharmacology and head of the Harvard Program in Therapeutic Science at HMS. "We will have to critically weigh the risks of disease progression against the risk of giving a drug, and to make any of this feasible, we need to move drugs through the pipeline for unmet medical needs a little more efficiently and a lot less costly. That's really the goal here—to retain the benefits of the current system, retain the efficacy and safety, but work out how to waste less money in the process."
Transforming Cancer Therapies
The overarching goal of the Center for Cancer Systems Pharmacology, part of the NCI Cancer Systems Biology Consortium, is to galvanize the development of new precision-targeted therapies and individualized treatments by giving patients the most effective drug or drug combinations for their specific tumor while minimizing side effects. To do so, this center will use systems biology approaches to build a better understanding of the mechanisms of cancer biology and further define the role of the immune system in cancer progression.
"This is an amazing time in oncology as fundamental insights in cancer and immunology are translating into therapy," said immunotherapy pioneer Arlene Sharpe, the George Fabyan Professor of Comparative Pathology at HMS and one of the center's investigators.
Despite these momentous advances, some acute challenges remain, and scientists at the center will aim to unravel them.
For example, in recent years, cancer immunotherapies known as immune checkpoint inhibitors have redefined the treatment of a range of cancers and transformed the lives of patients with hard-to-treat tumors. Yet, these treatments do not work for everyone and can cause serious side effects in some.
The center will study predictors of beneficial and adverse responses to treatment and aim to define what renders tumors resistant to therapy in three separate diseases: melanoma; glioblastoma, a deadly type of brain tumor; and triple-negative breast cancer, a particularly hard-to-treat form of breast cancer. The center aims to develop methods to overcome cancer resistance to immune checkpoint inhibitors and other targeted precision medicine drugs.
"The systematic study of therapeutic and adverse drug responses using diverse, experimental technologies and the latest data science and machine-learning methods is essential to bringing about the next wave of precision cancer medicine," Sharpe said. "This new laboratory is key to our research."
The Laboratory for Precision Medicine and Regulatory Science was made possible through the generous support of the Massachusetts Life Sciences Center (MLSC), a quasi-public agency that has been tasked with investing $1 billion over a decade to stimulate research and innovation, accelerate commercialization of new therapies and technologies, and promote job creation and student education in the life sciences across Massachusetts.
"Growing up in Brooklyn, growing up in Flatbush, you can't escape without learning a little bit of Yiddish. What this organization and this initiative remind me of is the Yiddish word 'mensch'," said MLSC President Travis McCready. "You are systems thinkers. You do it all. You approach the issue of getting therapies into the hands of patients not by remaining within a single vertical. You have decided to tear down the walls between these verticals and collaborate in ways that academia, industry and government have not seen before. For that, you are to be commended."
In 2013, MLSC funding helped HMS establish the Laboratory of Systems Pharmacology (LSP), an effort to reinvent the science of drug discovery by demolishing the silos between basic and therapeutic science. The new laboratory and the programs it houses build on the model established by the LSP, and together the laboratories serve as true hubs of collaborative, multi-institutional, interdisciplinary research that will advance therapeutic development at Harvard and in Boston in the decades to come.
"These two new centers are a continuation and an extension of Harvard Medical School's überstrategy to better integrate the translation of the wonderful science that happens at Harvard Medical School and across Harvard and bringing it to patients," said Joshua Boger, member of the Harvard Medical School Board of Fellows and founder of Vertex Pharmaceuticals. "This is not merely a new lab—it is a new model of collaboration."