News
Reede Promoted to Full Professor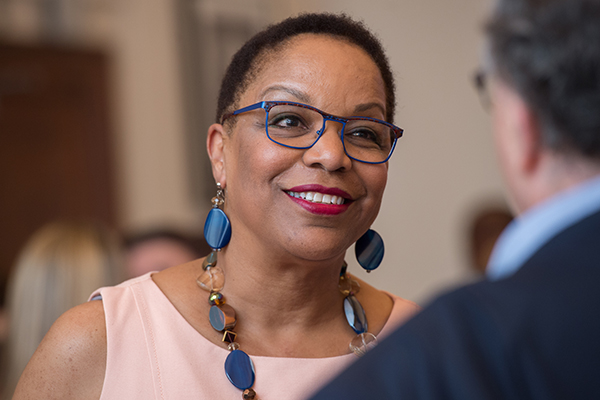 After 30 years of dedicated service to Harvard Medical School, Joan Reede, dean for diversity and community partnership, has been named an HMS professor of medicine.​
Reede, who had been an HMS associate professor of medicine since 2003, was honored in a ceremony in the Waterhouse Room at Gordon Hall on July 26.
"Anyone who knows Joan understands that she's an individual of truly exceptional intelligence and drive," said HMS Dean Jeffrey S. Flier at the event.
"We have been blessed that she's chosen to dedicate her tremendous intellect and time and energy to HMS," Flier continued. "Everyone in this room is fortunate to consider her a colleague, a mentor, a teacher and a friend."
Reede has created dozens of programs at HMS that support and promote the recruitment, retention and advancement of minorities underrepresented in medicine, as well as women, LGBT and disabled faculty.
Reede's numerous achievements include founding the HMS Minority Faculty Development Program and the Biomedical Careers Program, a collaborative, community-based organization for mentoring underrepresented minority students, trainees and professionals.
"The programs Joan has created over the years have touched so many people—not even a few hundred or a few thousand, but tens of thousands of individuals," said Nancy Tarbell, HMS dean for academic and clinical affairs.
"I thank you for creating space for someone like me. Thank you for your commitments to justice, equity, fairness and excellence, and being the best we can be, so we can be the best for others." --Joan Reede
"I say that not only because of the number of people who've participated in Joan's programs, but because of the trickle-down effect of Joan's leadership style, which embodies human kindness, empathy and encouragement," Tarbell said.
"Her intelligence, leadership and common sense have helped us creatively resolve some of the academic challenges we've faced over the last eight years together," Tarbell added.
Speaking extemporaneously, Reede thanked those in attendance and said, "This is an amazing place where we are privileged to have the opportunity to do something that we love, where we are privileged to be able to impact the lives of so many, whether it's our research, or our teaching and the students we turn out, or the service that we do."
Reede wore her late mother's jewelry and described how her mother and grandmother would talk with her about how far their family had come since the days of slavery and how far they hoped to go.
"They are here with me, the ladies, the generations of amazingly strong women who taught me that life should be about God, family and purpose. My time at Harvard has been about that purpose," Reede said.
"I thank you for creating space for someone like me. Thank you for your commitments to justice, equity, fairness and excellence, and being the best we can be, so we can be the best for others."
Reede joined the HMS community in 1986 as a clinical fellow in psychiatry at Boston Children's Hospital. She rose through the ranks from HMS instructor in medicine at Massachusetts General Hospital in 1992 to assistant professor in 1995 to associate professor in 2003, and became the first dean for diversity and community partnership at HMS in 2002.
"Along the way, she earned an MBA and a variety of other certificates and degrees, and she raised a daughter, so she has been a busy woman on her way to professorship," said Flier.
Many of Reede's programs have addressed pipeline and leadership issues for minorities and women who are interested in careers in medicine, research and the health care professions.
Reede has also mentored underrepresented minority students from the middle school through graduate and medical school levels, trained middle- and high-school teachers and developed science curricula for public schools.
In addition, Reede has implemented research and exchange clerkship programs at HMS and designed and implemented three fellowships in minority health policy for physicians, dentists and doctoral-level mental health professionals.
"Joan, we're so proud of you and you are so deserving of this professorship," said Flier.
Follow
HMS
Stay informed via email on the latest news, research, and media from Harvard Medical School.