Ramped Up for Fall
Exterior campus accessibility improvements to be completed soon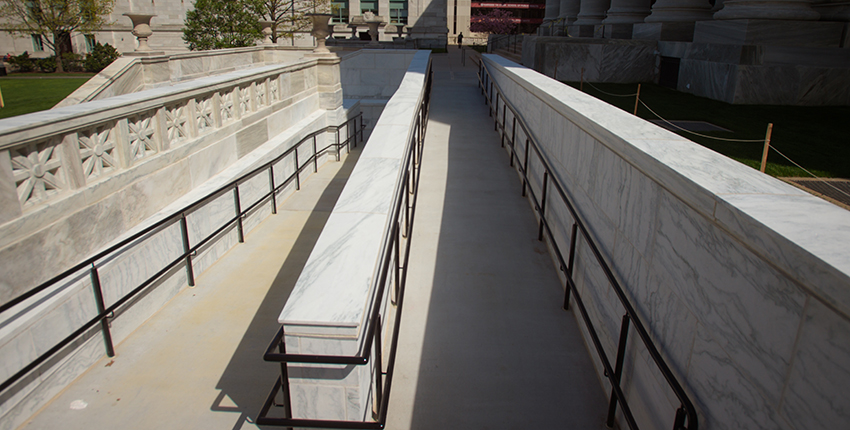 When Harvard Medical School's Longwood Campus was constructed in 1906, much thought was given to creating a beautiful new campus inspired by the architecture of Greek temples, a Quadrangle surrounded by marble buildings that would be "an expression of the intelligence and public spirit of many generations …" according to then Harvard President Charles Eliot.
Fast forward more than a century later, and while still beautiful, there has been recognition of the need for upgrades to bring buildings into compliance with the Americans with Disabilities Act (ADA), while at the same time retaining their historic character and value.
This spring, construction was completed on an access ramp outside Gordon Hall. All related construction around the building, which began in late May, is slated for completion by November, said Michael Nazzaro, associate director of operations for engineering and construction.  
Second-year medical student Gregory Galeazzi, a wheelchair user, said the ramp looks great.
"I like that when you're looking at the front of the Quad—that main beautiful building of Gordon Hall there—you can't even tell that there's anything different about the two sides," Galeazzi said.
To maintain the integrity of the 100-year-old marble quadrangle and surrounding buildings, the new Gordon Hall ramp is also made of marble. The work is one component of a 5-year plan to install five ramps around campus, said Richard LeBlanc, director of campus planning.
According to LeBlanc, the idea of the marble ramp was finalized after thoughtful discussion about potential solutions for the accessibility issues associated with Gordon Hall.
"We looked at different options, and some of them included elevators," LeBlanc said, "many of which were not feasible due to costs, or they simply did not impact enough people in our community."
Nazzaro said the School tried to reuse as much of the marble from the existing stairs as possible, but a significant amount needed to be cut from the original quarry in Danby, Vermont.
"We reused as much as we could, but being 100-year-old stone, some of it was good, some of it was bad." Nazzaro said. "We did what we could."
According to Nazzaro, the $1.6 million project was supported and approved by the Boston Landmarks Commission, the city's historic preservation agency, before construction began, specifically to ensure the same aesthetic appeal.
"The design that the architect came up with incorporated it into the existing stairway so that we could maintain the visual from Longwood," Nazzaro said.
Galeazzi said the new ramp is a good example of an aesthetically pleasing way of increasing accessibility.
"I've seen different, innovative ways to make things accessible, and it doesn't have to be that awkward," Galeazzi said. "I've seen a lot of places where it's just this nice quality material, it blends in, it's symmetrical, and no one thinks twice about it."
Galeazzi said he is glad HMS is taking steps to improve accessibility around campus.
"Every year the Medical School invests in accessibility projects across campus at varying scales, and while they are all important, I am particularly pleased that we were able to provide accessibility from the historic Quad to the upper terrace in such a seamless way, as if [the ramp] always existed behind the historic marble base of the Gordon Hall terrace," said Stephen Maiorisi, chief campus planning and facilities officer.
"This is an extremely important accessibility project for the community and will be further enhanced by the accessible ramp that is currently under construction at the Shattuck Street entrance to Gordon Hall," Maiorisi said.
"When people build a ramp, everyone can use it." Galeazzi said. "But when you build stairs, you're immediately excluding the function of wheelchairs, people with walkers and strollers, people that have temporary torn ACLs, [anything] like that."
According to LeBlanc, HMS leadership and the campus planning team are looking into other projects aimed at improving accessibility.
"There's always, always room for improvement." LeBlanc said. "This is just one thing we've identified and are working towards."
To that end, the School is also in the process of selecting a full-time director of disabilities services to be a resource for students. It will be a shared position with the Harvard School of Dental Medicine and the HMS master's programs.
"The director of disability services will define and determine standards, processes and procedures for accessible education at HMS and HSDM based on pertinent law and the field's best practices in accordance with the ADA and other federal and state regulations," said Jane Neill, associate dean for medical education planning and administration.
"This includes serving as a liaison between students, staff and faculty leaders of the MD, master's and DMD programs, determining student eligibility for disability services; making recommendations for reasonable accommodations inclusive of didactic, lab and clinical environments; and ensuring accessibility in all facets of student life."
Neill says the new director will likely be chosen by the end of August.