A Professorship Is Born
New post celebrates neonatologist, epigeneticist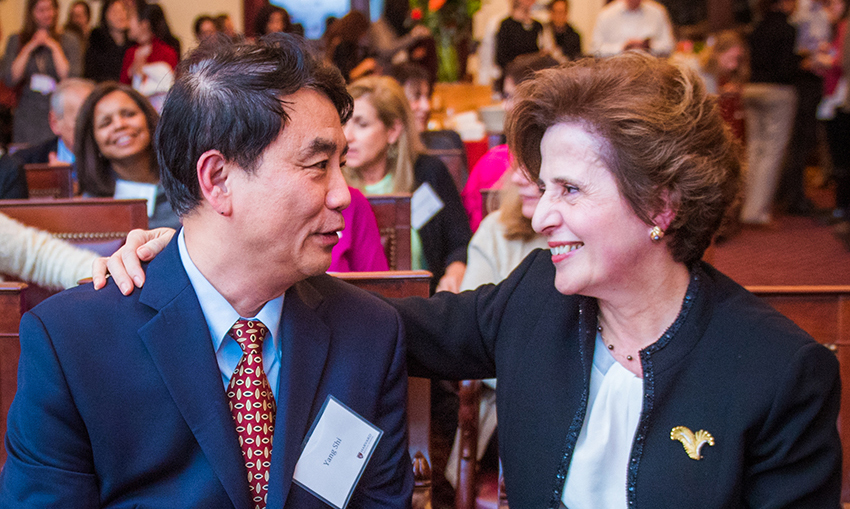 Yang Shi (left) with Stella Kourembanas. Image: Gretchen Ertl
From embryology to neonatology to the study of how changes in gene expression can be passed down from generation to generation, a new professorship at Harvard Medical School and Boston Children's Hospital connects three researchers seeking to understand the roots of disease and improve human health.
On Nov. 20, HMS community members celebrated the activation of the C.H. Waddington Professorship in Pediatrics, provisionally named in honor of a British embryologist who founded the field of epigenetics—the study of organismic changes that arise from alterations in the patterns of genes that are turned "on" or "off" rather than from changes in the DNA sequence itself.
The inaugural incumbent of the professorship is epigeneticist Yang Shi, who in addition to his new title at Boston Children's is a professor of cell biology at HMS.
Shi came to HMS in 1991 and rose to the rank of tenured professor in 2004. His research focuses on understanding epigenetic regulation of gene expression and other events in the cell nucleus, exploring the mix of stability and flexibility that epigenetic mechanisms exhibit, and investigating how a staple of epigenetic change, known as chromatin modification, relates to human health and disease, particularly neural development and cancer.
Shi's major scientific contributions include the discovery of the first histone demethylase, LSD1/KDM1A, in 2004, and many histone demethylases of the JmjC-type. These discoveries overturned 40-year-old scientific dogma that histone methylation—the attachment of a methyl group to a histone, a spool-like protein around which DNA is wound and a critical component of epigenetic regulation—is irreversible. Shi has also discovered new readers of canonical and variant histones.
"We appreciate this opportunity to join together to recognize Dr. Shi's many achievements and to thank Boston Children's Hospital for their generosity in establishing this professorship," HMS Dean George Q. Daley said at the celebration, held in the Waterhouse Room in Gordon Hall on the HMS campus.
The professorship will ultimately be named for Stella Kourembanas, the Clement A. Smith Professor of Pediatrics at HMS, academic chair of the Harvard Neonatal-Perinatal Medicine Fellowship Training Program based at Boston Children's, and chief of the Division of Newborn Medicine and interim chief of the Advanced Fetal Care Center at Boston Children's.
The professorship is "a fitting tribute, honoring her many contributions to newborn medicine and to the field of lung biology," said Daley.
Kourembanas is a physician-scientist involved in clinical care, medical education and research in lung vascular biology, pulmonary hypertension, developmental lung biology and regenerative medicine. The overall goal of her research is to investigate the molecular and cellular basis of lung inflammation and the epigenetic pathways controlling lung injury and tissue remodeling in the developing lung.
Kourembanas has led many federally funded grants, including a clinical trial of inhaled nitric oxide for newborns with respiratory failure.
She is renowned for her work on mesenchymal stromal cells (MSCs) and their secreted exosomes for the treatment of lung injury and repair. Her group was first to demonstrate the paracrine effect of MSCs on preventing and reversing neonatal hypoxic or hyperoxic lung injury in experimental models of pulmonary hypertension and bronchopulmonary dysplasia. That work has formed the basis for the first-in-human clinical trial of MSC exosomes to treat bronchopulmonary dysplasia and paves the way for regenerative approaches to treat many diseases in newborn infants.
Kourembanas also manages research programs, teaches lung biology and neonatology, and cares for critically ill neonates. In recognition of her dedication to teaching and mentorship, she received the Merton Bernfield Mentoring Award from the neonatology fellows and the prestigious Charles A. Janeway Teaching Award from the Boston Children's house staff.