News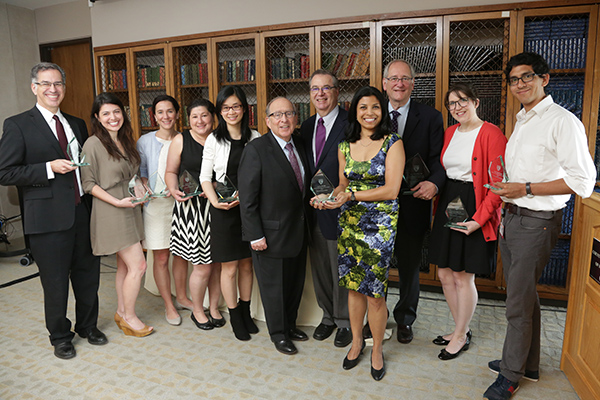 When Lipi Roy visited India with her parents as a young girl, she was struck by the sight of people living in abject poverty next to others living in opulence.
Later, as Roy trained to become a primary care doctor, she learned from the volunteer work she did in Toronto, New Orleans and Haiti that "health is more than the medicines you take," she said. "It's about your home, your clothing, the food you eat, your family and support system; it's about all these other things."
Now a Harvard Medical School instructor in medicine at Massachusetts General Hospital, Roy devotes time outside of her day job to helping meet the basic needs of some of Boston's most vulnerable residents through the Boston Health Care for the Homeless Program.
Stories like Roy's abounded at the 2016 Dean's Community Service Award breakfast on June 21, when nine HMS faculty members, staff, trainees and students were recognized for their dedication to improving the lives of people locally, nationally and internationally.
"Your efforts extend from Harvard Medical School and the Harvard School of Dental Medicine to our Boston neighbors and beyond—to the underserved, the needy, the suffering and the forgotten throughout the world," Jeffrey S. Flier, dean of the faculty of medicine at Harvard University, said at the event.
"We don't have to tell you to fulfill the School's service mission," Flier added. "You do it yourselves. All we have to do is be proud of you."
"I am grateful for the remarkable work you do in our community," R. Bruce Donoff, dean of HSDM, told the award recipients and representatives from their volunteer organizations. "Your programs not only provide services to those in need, but also provide indispensible learning opportunities for our students."
The Dean's Community Service Award was established in 1999, with a lifetime achievement category added in 2004. There have been 110 awardees to date.
This year's recipients included HMS student Tamara Rodriguez Reichberg, who cofounded the student- and faculty-run Chronic Care Clinic at Nashua Street Jail to provide medical, mental health and dental services to incarcerated patients, and Lucy Marcil, an HMS pediatrics resident at Boston Children's Hospital who cofounded the nonprofit organization StreetCred to improve child health by helping low-income families obtain tax credits through the Boston Medical Center pediatric clinic.
Another recipient, HMS doctoral candidate Hugo Arellano-Santoyo, created a program, "Clubes de Ciencia," or "Science Clubs," with the goal of improving high school and undergraduate math and science education in Mexico through unconventional teaching methods, network-building with researchers and instructors, online learning, and assistance with international internship placements and scholarship applications. The program is now expanding into Colombia, Bolivia, Brazil and Peru.
"When we first started, we never thought it would get this big. We just wanted to teach some kids about the cool stuff we're doing," said Arellano-Santoyo.
"There's a lot that still needs to be done, but the best is when you go and see how excited the students are about science and how they latch on to these opportunities we're providing that they wouldn't necessarily have otherwise. Once we get them going, the growth is exponential," he said.
The 2016 lifetime achievement award went to Harland Winter, HMS associate professor of pediatrics at Mass General, for his 25 years of service as the physician at Camp Jabberwocky, a summer program on Martha's Vineyard for children and adults with cerebral palsy, Down syndrome, spina bifida and autism. He currently volunteers at the camp as a board member and fundraiser.
"Community service comes in many forms, and one's contributions need not be heroic or hugely financial in scope," said Joan Reede, dean for diversity and community partnership at HMS. "It is about giving of your time and your talents and making a difference."
"Receiving this award is a tremendous honor," said Roy. "If I could, I would break it up into little pieces and give it to every colleague who works tirelessly and with respect and compassion to care for these populations. It inspires me to continue to do a better job every day."
As part of the award program, HMS donates $1,000 to each community organization represented by the awardees.
2016 HMS Dean's Community Service Award Recipients
Lifetime Achievement
Faculty
Trainees
Students
Staff
Follow
HMS
Stay informed via email on the latest news, research, and media from Harvard Medical School.