Oncology Accolades
Benjamin Ebert installed as inaugural Canellos Professor of Medicine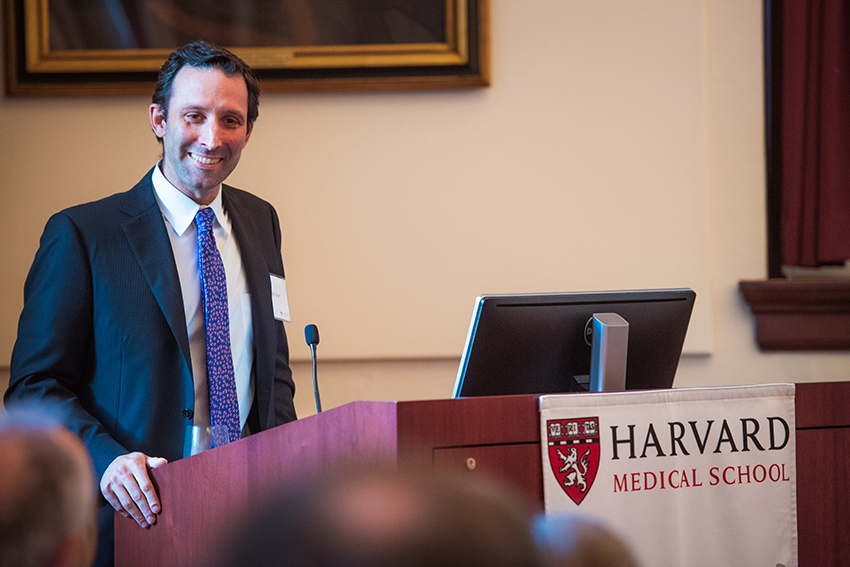 Professorship incumbent Benjamin Ebert. Image: Gretchen Ertl
On Sept. 26, colleagues, friends and family gathered in the Gordon Hall of Medicine at Harvard Medical School to celebrate the installation of blood cancer expert Benjamin Ebert as the inaugural George P. Canellos, MD, and Jean S. Canellos Professor of Medicine at HMS and Dana-Farber Cancer Institute.
Ebert earned a PhD from Oxford University as a Rhodes Scholar, followed by an MD from HMS in 1999. His training spanned Massachusetts General Hospital, Dana-Farber and the Broad Institute of MIT and Harvard.
A clinician and scientist, Ebert is widely respected for his contributions to understanding and treating hematologic disorders such as leukemia and myelodysplastic syndrome. His research focuses on uncovering the genetic mutations and mechanisms that underlie such malignancies, with the goal of informing the development of new therapies and better identifying which patients are likely to benefit from particular treatments. 
He has also helped illuminate the biological basis for how acquired mutations drive the transformation of hematopoietic (blood-forming) cells. 
In addition, as chair of medical oncology at Dana-Farber, Ebert oversees more than 200 faculty members who study the causes of, and develop new therapies for, a range of adult cancers. 
"Let me recognize you, Dr. Ebert, as an outstanding member of our faculty, an exceptional researcher and a clinician who is most deserving of this great honor," said HMS Dean George Q. Daley at the celebration.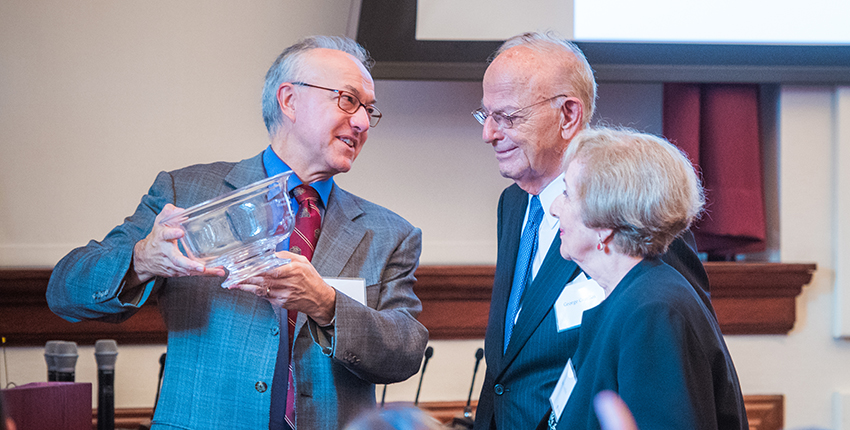 The professorship's co-namesake, George Canellos, served as founding chief of medical oncology at Dana-Farber from 1975 to 1995. He is now the William Rosenberg Professor of Medicine, Emeritus, at HMS. 
"Dr. Canellos, given the sheer number of family members, friends, colleagues and patients who contributed to this professorship, it is evident that you are held in the highest regard," said Daley.
"It is our great honor to have the Canellos name be associated with Harvard Medical School in perpetuity through this professorship," he added.
Jean Canellos, a charter member and former president of the Friends of Dana-Farber Cancer Institute, said, "It is a special pleasure that Dr. Ebert will be the first incumbent to the professorship," adding that she hoped he enjoys being part of the Dana-Farber family as much as she and her husband have.
Laurie Glimcher, president and CEO of Dana-Farber, director of the Dana-Farber/Harvard Cancer Center and the Richard and Susan Smith Professor of Medicine at HMS, said Dana-Farber is lucky to have Ebert on its faculty and that Canellos is "an oncology luminary and an icon of education."
The professorship was made possible in part by the family of the late Nicola David-Pinedo, a former patient at Dana-Farber, and the Stavros Niarchos Foundation, an international philanthropic organization that provides grants to nonprofits in the areas of arts and culture, education, health and sports, and social welfare.