Never Forgotten
Veterans Day brings reminders of HMS' long history in military medicine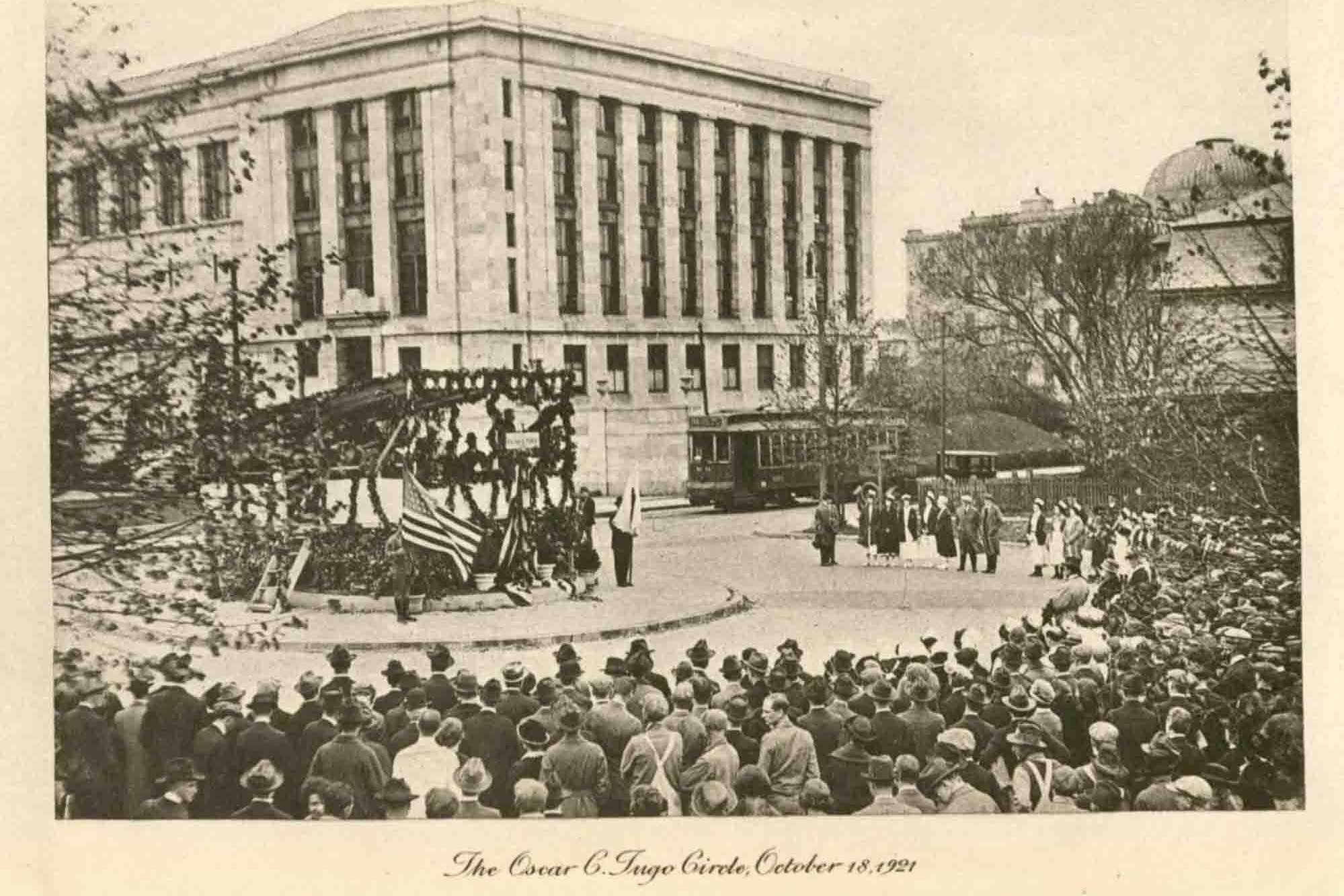 Dedication exercises of Oscar C. Tugo Circle, Pasteur & Longwood Avenues, Boston, October 18, 1921. Image: Center for the History of Medicine
On Veterans Day this year, few of the many people who walked past the Harvard Medical School Quad may have noticed the inscriptions carved in granite at its entrance on Longwood Avenue, and fewer may have known the story behind them.
The two stone parapets in front of the Quad are dedicated to men who died in France during World War I while serving with the Harvard Medical Unit at U.S. Army Base Hospital No. 5, one of the first units of the American Expeditionary Force sent overseas in the conflict. The markers reflect the long history of HMS involvement in military medicine.
Directly across from the parapets, on a small traffic island carefully landscaped with bushes and plants, a small sign with a red, white and blue wreath on it identifies the island as Oscar C. Tugo Circle.  Again, bystanders may not notice or know who Tugo was, but he was one of the men assigned to Base Hospital No. 5.
Pressing Need
According to an entry in the Boston Medical and Surgical Journal published in 1921, when the U.S. formally entered WW I in April of 1917, there was a pressing need to increase British hospital accommodations in France.
One of those who hurried to enlist was a 23-year-old Boston native named Oscar C. Tugo, a steamship company clerk who became the first enlisted man killed in the war.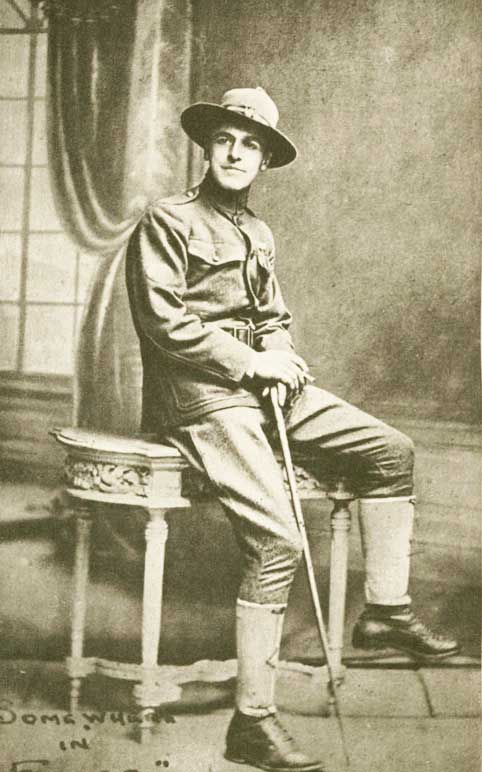 Tugo rushed to volunteer just as the Harvard Medical Unit, in an effort to spur enlistments, was planning to create a practice military hospital on Boston Common.  Before one could be established, however, the base hospitals received orders to prepare for immediate departure overseas.
Less than a full month after a May 1, 1917, telegram in Boston newspapers called for volunteers, Base Hospital No. 5 arrived in Camiers, France. Tugo was assigned to serve as a night orderly in the hospital. 
"Things are in good shape here now and everything is running smooth," Tugo wrote in a letter to his family from France. "I'm working nights, I suppose till they get more men from Boston. We haven't half enough as we have taken over the largest of the several hospitals in the vicinity."
Tugo's service was brief and ended abruptly and tragically. On Sept.  4, 1917, a German plane bombed the base hospital, killing Tugo along with Lieutenant William Fitzsimons and privates Rudolph Rubino and Leslie G. Woods. All four became the first Americans to die in WW I. 
Four years after Tugo's death, in October 1921, at the request of one of his close friends, a ceremony was held to honor his sacrifice and mark the creation of Oscar Tugo Circle at the junction of Avenue Louis Pasteur and Longwood Avenue.
"In rallying to the defense of the Nation, a grateful people should never forget that Private Tugo pointed out the way and did not die in vain," said U.S. Surgeon General Merritte W. Ireland during the dedication ceremony.
"We do honor to the memory of Private Tugo as a citizen of Boston who gave up his life on the field of far-off Flanders that the just cause of a free people, of liberty, and of humanity, might survive the onslaught of an all-devouring enemy," Merritte said.
In October 1928, the marble parapets in front of the HMS Quad were dedicated to all four of those who died in the hospital air raid.
"By war's end, over 45,000 British and American sick and wounded patients had been treated at Base Hospital No. 5," according to materials in the Noble Work for a Worthy End exhibit currently on display at the Francis A. Countway Library of Medicine.  Created by Jack Eckert, public services librarian for the Center for the History of Medicine, the exhibit illustrates the role HMS played in military medicine during World War I. 
"American medical personnel were active in war relief efforts almost from the beginning of the conflict," according to materials in the exhibit. 
The organization of the Harvard Medical Unit and Base Hospital No. 5 was noted as an "inspiration and a brilliant example of timely preparation," by Merritte during the Tugo Circle dedication ceremony.
"Their contribution to the combined cause was never found wanting," he said. "Never has the world seen a finer body of men and women than were assembled in those units," he said.
One of the other ways HMS was involved early on in the war was through the Harvard University Service, organized by Harvey W. Cushing in 1915 to provide staffing for the American Ambulance Hospital in Paris.
According to Cushing, an 1895 graduate of HMS and a major in the U.S. Army Medical Corps at the time, Base Hospital No. 5 was "one of the first Units of the American Expeditionary Force to be sent overseas; it was the first to suffer casualties at the hands of the enemy; its period in France was nearly two years, as long as that of any other United States Army Base Hospital; its list of publications on subjects relating to medical problems of the war was a most creditable one, and its standards of efficiency and loyalty were second to none."
Veterans at HMS
Today, a century later, there is a new generation of HMS students who have served in the military.
"After graduating high school or college, these students were bright enough and talented enough to pursue any career path they wanted, however, they chose to serve. Now, after they have served their country they are yet again choosing to use their talents to help humanity by healing the sick and alleviating human suffering," said Robert A. Dickson, HMS director of campus security and environmental operations, who is also a U.S. Marine Corps veteran who served in Iraq.  
Greg Galeazzi, a first-year medical student at HMS, was deployed for a year in Afghanistan, where he lost his legs and part of his right arm to a roadside bomb.
Before his injuries, Galeazzi had already decided that when he returned from his deployment, he would start taking night classes to pursue a career in medicine.
"When I got injured, it didn't deter me, it just strengthened my resolve to want to pursue this," said Galeazzi.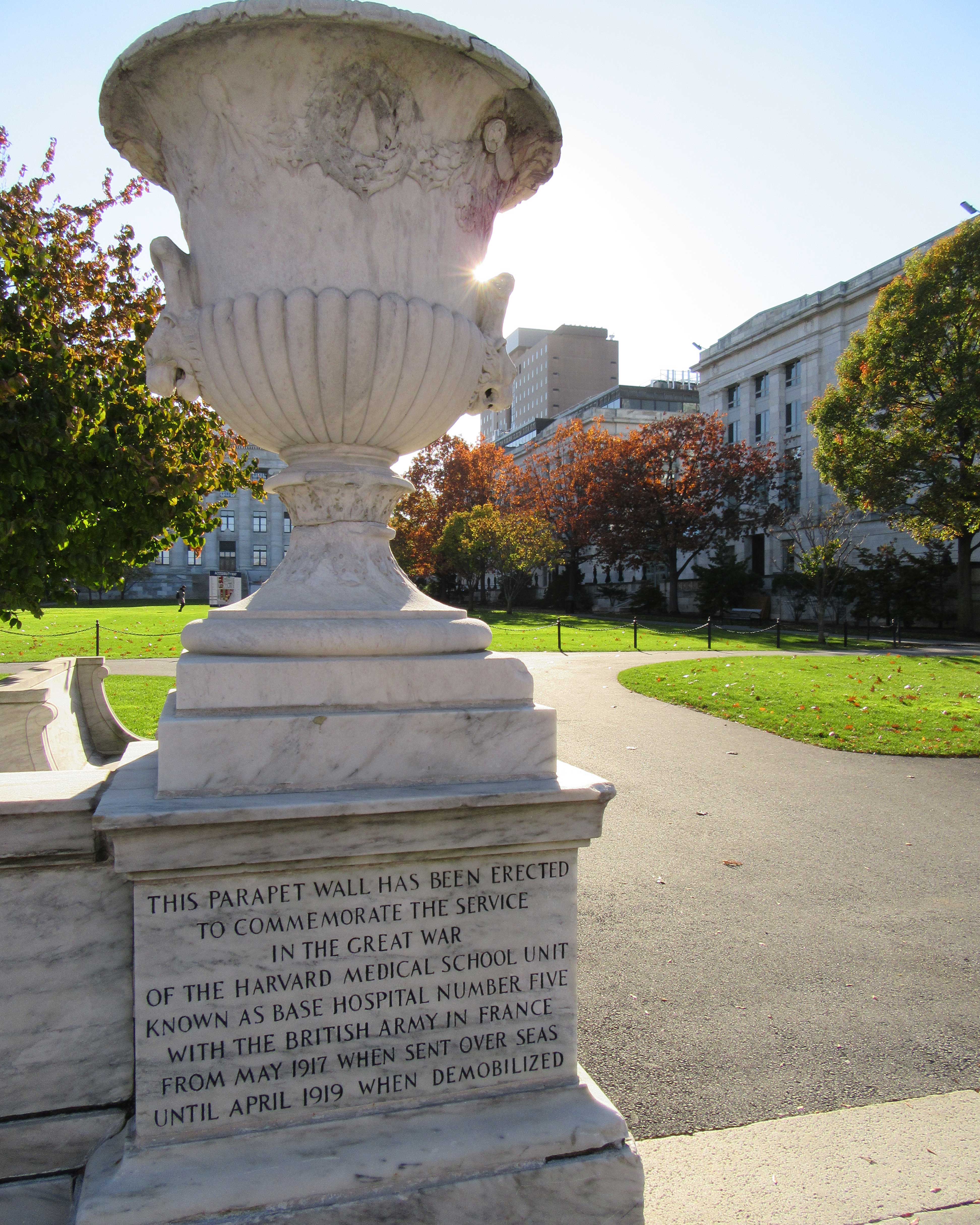 Through a long recovery process, Galeazzi gained insight into the medical field and an appreciation for the work performed by medical professionals.
"My injuries put me in a unique position to be exposed to a lot of aspects of medicine, and to have a unique insight from the patient's point of view. I have a greater appreciation for the medical community, and not just the doctors, but the nurses, medical assistants, and all those people I met while spending months on end as an inpatient in the hospital," said Galeazzi.
"If there is one thing the military does, it puts you in a lot of stressful situations that aren't always pleasant, and you learn one way or another that life goes on and you're going to get through it," said Galeazzi of the influence his military training has had on his studies at HMS.
Zachary Johannesson, a first-year student at HMS, served in the U.S. Marine Corps after graduating from high school in 2008. He was deployed twice, first on a naval ship that provided humanitarian relief after the earthquake in Haiti in 2010, and then to Afghanistan in May 2011. Johannesson left the Marine Corps in May  2012 and began his undergraduate education in North Carolina.
During his time in the military, Johannesson completed extensive trauma training that spurred his interest in the medical field and emergency care.
"When I got out, I really wanted a career where I felt like I was making a difference again, which is something I really liked about the military," said Johanesson.
Many aspects of his service have influenced his studies at HMS.  
"The military was really big in showing me what I was capable of. I learned how to be able to sit back and be calm while you have all these other factors and stressors," said Johannesson.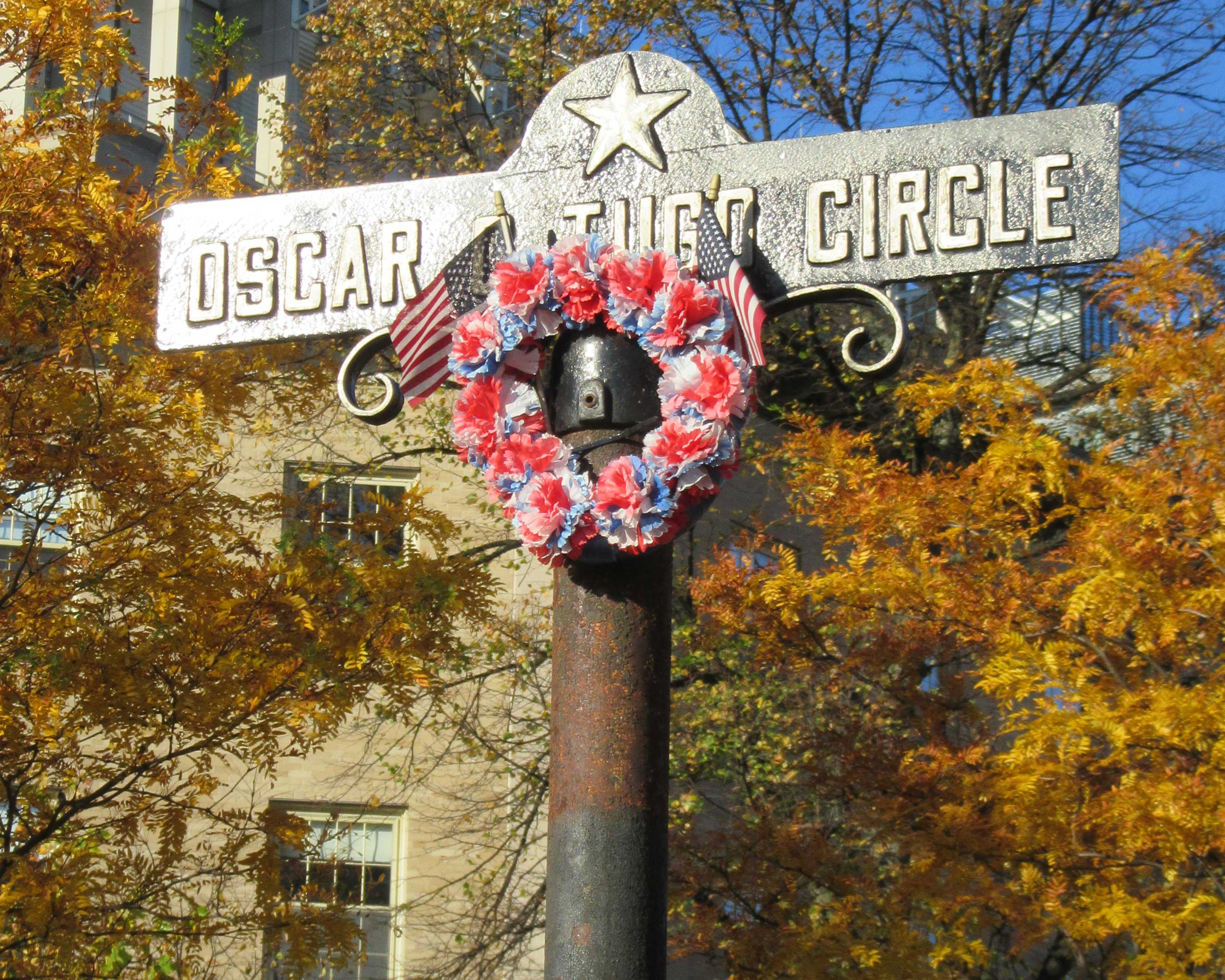 "We have a unique perspective," he added, referring to the qualities shared by HMS students who have served in the military. "Team work is second nature. You're willing to go help your classmate and not think twice about it."
Johannesson is currently working on a project that will display how military and civilian medicine are connected. 
"It's really important to see the role that this institution and other institutions played in developing military medicine, and the continuing contribution that the School puts towards military medicine," said Johannesson.