Modes of Storytelling
Program aims to help care workers tackle nation's public health problems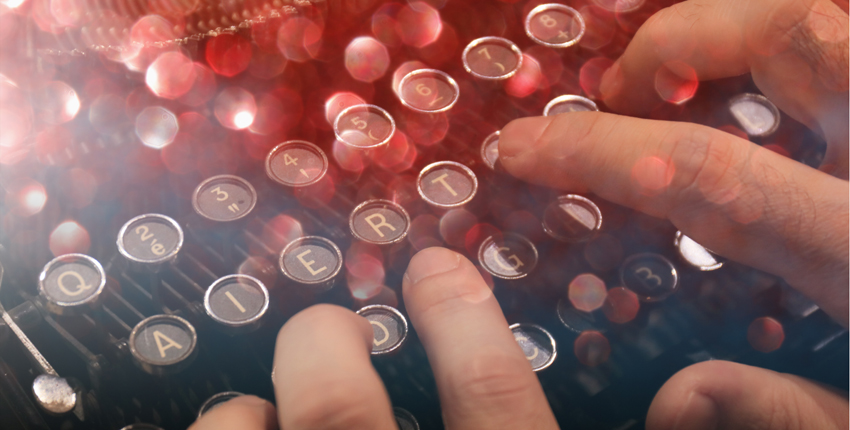 Image: iStock
Are you a health care professional using storytelling in public forums to raise awareness about some of the most pressing public health problems facing the nation? If not, you could be missing some valuable opportunities to improve the health status of individuals and communities.
With obesity rates among children and adults rising, concerns around opioid addiction persisting, and the number of measles cases in big cities growing, people with an interest in health and wellness face the monumental task of finding new ways to more broadly publicize these issues. This attention is critical to helping inform the public so individuals can make better choices, said Suzanne Koven, HMS assistant professor of medicine at Massachusetts General Hospital.
Koven is writer-in-residence at Mass General and co-director of a new intensive certificate program called Media and Medicine: How to Tell Stories that Make a Difference, which is being launched in the fall by Harvard Medical School.
The Media and Medicine program, geared to health care providers, community advocates, journalists and others with an interest in medicine and public health, will help participants use powerful storytelling techniques to tackle the most pressing national and global public health crises through essays, poems, op-eds, scripts and other creative projects, said Neal Baer, lecturer on global health and social medicine, part-time, in the Blavatnik Institute at HMS and co-director of the Harvard Media and Medicine program.
A pediatrician, public health advocate and author, Baer is also an award-winning producer and director of successful films and TV projects, including "ER," "Law and Order: Special Victims Unit," "Under the Dome" and the third season of "Designated Survivor."
In all of these programs, Baer has had a unique chance to ensure that accurate medical information is woven into storylines so viewers get a realistic portrayal of key health topics. His hope is that the lessons he imparts will also inform people's own lifestyle choices.
While most physicians already do a good job of promoting the latest medical findings and recommendations to their patients in the exam room—from sharing nutritional guidelines to promoting safe sex practices to talking about the benefits of vaccinations—the reality is that these efforts often fall short when it comes to reducing the problems on a wider scale.
Despite the increased focus on prevention in recent years in the health care setting, along with extensive coverage by the media on a variety of public health problems, the rates of many health issues are continuing to rise, signaling the need to find new and more effective approaches to further health literacy on a broader scale and have a wider impact, Baer said.
The need for improved storytelling
Baer and Koven agree that one way to bolster current efforts is for experts to experiment with new or improved forms of storytelling that will extend physicians' reach beyond individual patients to empower entire populations to make decisions based on accurate and timely information.
In fact, by strategically telling important stories in a public forum, experts may increase their impact on improving widespread health issues, they said.
"There are so many major health crises that just haven't been the subject of solid storytelling to address them effectively," said Baer.
Changing this may go a long way toward calling attention to the most serious issues so they can be addressed more effectively.
Koven and Baer said there are six modes of storytelling that clinicians can consider using through both mainstream and alternative channels to bring more attention to concerning health issues and to provide recommendations for improving the health status of Americans, as well as people throughout the world:
1. Write a personal essay: Physicians and other health care providers have a unique opportunity to extend their reach to a broader audience. Doctors are urged to think about how sharing their own experiences in the form of compelling stories can help make a personal connection with readers and spark a public conversation about timely health issues. This format lends itself "to exploring the complexity and ambiguity inherent in many medical issues, as well as to raising questions about the root causes, socioeconomical and psychological barriers, ethical implications, and other factors that contribute to why scientific advances don't always translate into improved health for individuals and communities," Koven explained.
2. Write an op-ed. Consider developing an op-ed to respond to a timely health topic that's been covered in the news and submit it to a local or a national publication. Use this as a catalyst to take a stand on current issues and to educate people on the latest research findings. Call on readers to make healthier choices or support positive programs and policies. "This is a great way to share your expertise with many readers. It can also be interactive when readers submit comments," said Baer.
3. Record a podcast: Podcasts allow originators to convey stories in their own voice, and the recorded format makes it easy to craft a targeted message. Since individuals work from a script, they don't have to think on their feet and can plan their messaging ahead. Better yet, podcasts can reach people who don't have time to read.
4. Start a blog: Health care professionals can use blogging (writing, video or both) to share personal experiences and frame them within the bigger picture. While clinicians are typically taught academic writing, the more informal style of blogging can be freeing; it can provide an opportunity to examine events more deeply through the creative process. (Journalists or community advocates should ask a physician to vet medical information to be sure it's accurate before sharing.) Add meaning to posts by sharing common-sense tips that readers can apply to their own situations. Don't be afraid to explore different styles, voices and formats.
5. Write a book: Delving into a more in-depth, full-length manuscript enables you to explore public health issues from different angles and then propose solutions. This provides an important opportunity to add voice and expertise to the national conversation. For instance, a pediatrician in Flint, Michigan, Mona Hanna-Attisha, recently wrote What the Eyes Don't See to share her story about what happened when she discovered the water supply in her city contained high enough levels of lead that it was making children sick. This effort called attention to a serious problem and reinforced the need for more vigilance in communities throughout the U.S.
6. Create a documentary or other script: There are so many channels today through which to share information with a broader audience. Develop your own project that reflects your interests and commitment to improving health. Look for ways to make your script connect with the people you hope to reach and incorporate data points that will help tell the story in a powerful voice. Recognize the importance of connecting health to lifestyle choices, so you can provide people with information they can apply to their own situation in meaningful ways.
With any type of storytelling, there are some basic, guiding elements. Most importantly, patient privacy concerns must be respected and HIPAA requirements adhered to, which will impact the information that can be disclosed, said Koven. She stressed that writers can follow the rules and still create powerful and effective essays that will resonate.
Writers are advised to take time to figure out who their audience is up front so they can determine what type of information to provide and how detailed to get. So that readers with different backgrounds can relate to the story, writers are also cautioned to avoid jargon and explain technical terms in simple language.
"You'll need to make time to find your voice. This means exploring different storytelling modalities until you find the one that best suits your style," Baer pointed out.
Both said it's important to remember that while health care providers are trained to set up personal boundaries, most forms of storytelling provide a chance to relax these boundaries in an appropriate way. This provides a valuable channel to process experiences and add greater meaning.
"This can be very gratifying," Koven said.
When professionals on the frontline of health care explore different forms of writing, they not only help address public health issues but can expect to get some very personal benefits as well. Combining art and medicine can allow health care professionals to make sense of stressful situations and can help them form deeper connections with patients and colleagues. This can help increase resilience and will go a long way toward preventing burnout on the job, too.
For more information or to register for the Media and Medicine program, visit hms.harvard.edu/media-medicine.
Harvard Medical School Labcast interview with Neal Baer