Mobilizing Moment
To combat COVID-19, Consortium on Pathogen Readiness announces request for proposals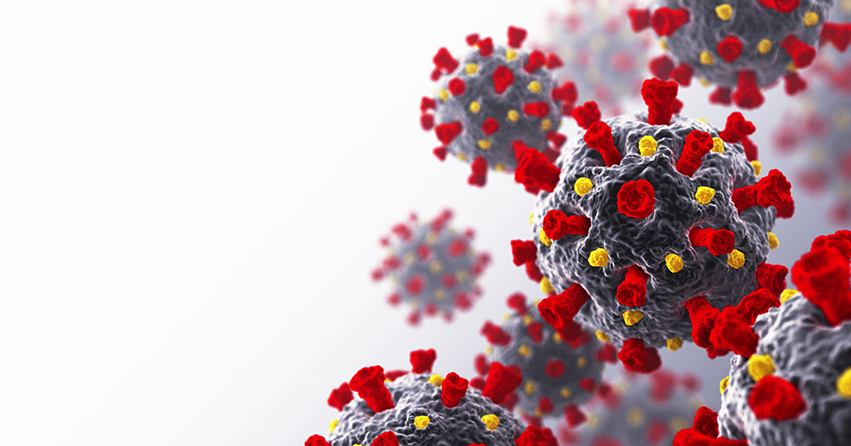 This article is part of Harvard Medical School's continuing coverage of medicine, biomedical research, medical education and policy related to the SARS-CoV-2 pandemic and the disease COVID-19.
In early March, Harvard Medical School hosted a historic workshop on COVID-19 where attendees—from clinicians, epidemiologists and virologists to biopharmaceutical and government representatives—laid out a framework for a coordinated and collaborative response to the pandemic currently sweeping across the globe.
Their efforts established the Massachusetts Consortium on Pathogen Readiness (MassCPR), a large, multi-institutional initiative to develop and invest in the research and infrastructure needed to address the threat posed by COVID-19, as well as to better position the world for future emerging pathogens.
"The outbreak of COVID-19 can be considered the single most threatening pandemic to arise in the last century," wrote HMS Dean George Q. Daley in a letter announcing the consortium. "As a leading medical school and hospital ecosystem, we have the ability to actively combat the outbreak by executing critical and timely research relevant to the pandemic."
Supported by $115 million in funding provided by the China Evergrande Group and working in partnership with the Guangzhou Institute of Respiratory Health in Guangzhou, China, the MassCPR recently announced a Request for Proposals.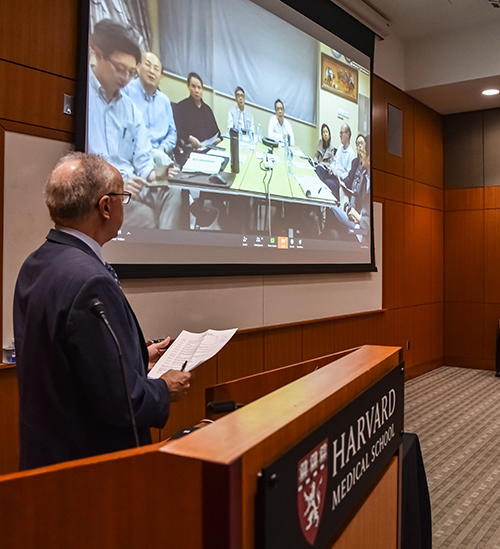 The consortium will award funding of up to $500,000 for projects on a broad range of areas related to COVID-19—including epidemiology, pathogenesis, diagnostics, therapeutics, vaccines and clinical management. Proposals are due by March 24, and funding will begin as soon as possible in April.
"Combating a global pandemic such as COVID-19 will require the combined efforts of researchers and clinicians from across the Greater Boston biomedical ecosystem and beyond," said David Golan, HMS Dean for Research Operations and Global Programs. "We have formed the Consortium on Pathogen Readiness to effectively unify our community to respond not only to this pandemic but also to prepare for the emerging pathogens of the future."
Unprecedented response
The MassCPR already involves over 100 faculty across Harvard and its affiliated institutions, MIT, Boston University, local biotechnology, pharmaceutical and research institutes, foundations, government and Chinese researchers and clinicians.
The consortium is led by Daley and faculty co-directors Arlene Sharpe, the George Fabyan Professor of Comparative Pathology and chair of the Department of Immunology at HMS, and Bruce Walker, the Phillip T. and Susan M. Ragon Professor of Medicine and director of the Ragon Institute of MGH, MIT and Harvard.
"This extraordinary, collaborative effort brings together scientists and clinicians from across the Massachusetts research community to tackle this crisis and prepare for potential future outbreaks," Sharpe said. "This response to COVID-19 is unprecedented and truly inspiring."
Areas of focus of the consortium include:
Understanding disease epidemiology and modeling

Elucidating the pathogenesis of the disease

Developing rapid diagnostic tools

Developing small molecule and antibody therapeutics

Developing vaccines

Improving the clinical management of the disease
All research approaches will be considered, from classical laboratory approaches to artificial intelligence applications and more, according to the RFP, and preference will be given to projects that are directly applicable to address the current, urgent needs of the COVID-19 outbreak.
"Our response to COVID-19 cannot be business as usual. There's a huge amount of knowledge that can be collectively and collaboratively applied, and there's no better place in the world better suited than here to bring that expertise together," Walker said. "We all feel like we have an obligation, and there is a phenomenal sense of energy and commitment from everyone involved."
Applicants must be tenure-track faculty members at Harvard University, MIT, Boston University School of Medicine, Tufts University School of Medicine or University of Massachusetts Medical School or hospitals and research institutes affiliated with these institutions. Senior scientists from biotechnology and pharmaceutical companies are also eligible under certain criteria.
Instructions and requirements for proposal submissions are detailed on the MassCPR website.
The consortium's efforts will ramp up laboratory activities at HMS related to COVID-19, to generate the insights needed to achieve short-term and long-term control of the disease.
To protect the safety of lab personnel and to reduce the spread of the disease in the Harvard and Greater Boston community, all lab activities unrelated to COVID-19 will continue to be curtailed.
The response to COVID-19 needs to be global, rapid and driven by the best science, said Harvard University Provost Alan Garber. This partnership offers the hope that we will soon be able to contain the threat of this novel virus, he added, and the lessons we learn from this outbreak should enable us to respond to infectious disease emergencies more quickly and effectively in the future.
Image: Getty Images.