Meeting the Challenge of Cancer Resistance
Ludwig Center at Harvard holds first symposium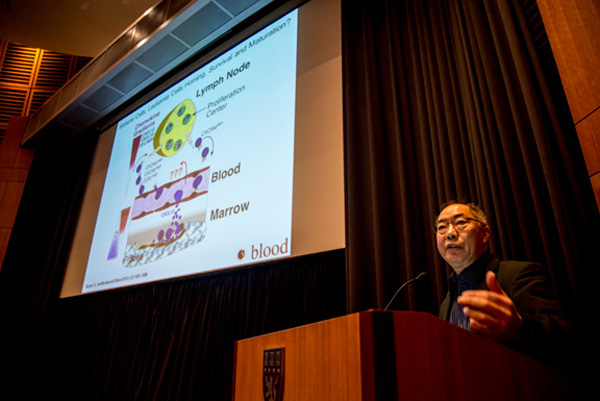 Tak Mak speaks at the inaugural Ludwig Center at Harvard Symposium. Image: Steve Lipofsky
George Demetri has called it "practical magic,"  the critical mass of scientists and clinicians working together in a cooperative research model to meet the challenge of cancer resistance.
Joan Brugge has referred to it as bringing together the best brains to solve the hardest problems.
Brugge, the Louise Foote Pfeiffer Professor of Cell Biology at Harvard Medical School, and Demetri, HMS professor of medicine at Dana-Farber Cancer Institute, are co-directors of the Ludwig Center at Harvard, a collaboration that arose from a gift made by the Virginia and D.K. Ludwig Fund for Cancer Research. It is one of six such centers in the United States, each taking aim at a particular challenge in cancer. At Harvard, that challenge is resistance to cancer therapies.
Get more Harvard Medicine News here
The Center held its first annual Ludwig Center at Harvard Symposium on Nov. 2.
"I'm personally thrilled to stand here today to recognize the Ludwig Center at Harvard as a wonderful new model for bringing together diverse scientists from across Harvard," said Jeffrey S. Flier, HMS dean, as he welcomed the audience gathered in the Joseph B. Martin Conference Center.
 "The challenge of therapeutic resistance to cancer is enormous," Flier said. "If we keep doing what we have been doing, there will be progress but it will be incremental. The goal here is to make further, dramatic progress if we gather together as a community."
Four invited speakers addressed the topic of the day, "Overcoming Therapeutic Resistance in Cancer by Targeting Non-oncogene Vulnerabilities."
Brugge explained the symposium's theme.
"One of our focuses is non-oncogene addictions that tumors depend on to adapt to the stress of the processes associated with tumor initiation, progression and therapy resistance," she said.
This is a departure from targeting oncogenes, the genes that, when mutated, turn cells cancerous.
The first speaker called the new approach putting the cart before the horse—and explained why that's a good thing. Tak Mak, a professor of medical biophysics and of immunology at the University of Toronto, said that the discovery of cancer-causing genes drove research for 25 years. These oncogenes were "horses" that went wild.
Drugs such as Herceptin and Gleevec have successfully targeted the mutated forms of these genes, as well as their counterparts, tumor suppressor genes. But although they can prolong life, this class of drugs is not universally effective, Mak said.
"Carts" are the transformed cancer cells that arise as a consequence of mutated oncogenes and tumor suppressor genes, he said, and they carry vulnerabilities that immunologists and others are now attacking.
Susan Lindquist, a member of the Whitehead Institute for Biomedical Research and professor of biology at MIT, continued the theme of non-oncogene vulnerabilities. She studies how protein folding can profoundly influence biological function.
"If proteins don't get folded right, it can be disastrous in cancer and neurodegenerative diseases," she said. "This is an ancient process that cancer cells subvert for their own survival."
Joshua Rabinowitz, professor of chemistry and integrative genomics at Princeton, spoke about metabolic targets for cancer therapy. Tumors have prodigious appetites for fueling their growth, so understanding the pathways that feed tumors will help identify new vulnerabilities, Rabinowitz said.
William Sellers, vice president and global head of oncology at Novartis Institutes for BioMedical Research, described leukemias that become resistant to targeted therapies. He studies whether resistance was always there or developed in the presence of treatments.
"Non-cross-resistant combinatorial regimens may be critical in achieving disease eradication," he said.
The symposium concluded with attendees and the guest speakers reconvening at Dana-Farber for further discussion.