Medicine in Motion
Group brings health care students, workers together through fitness, philanthropy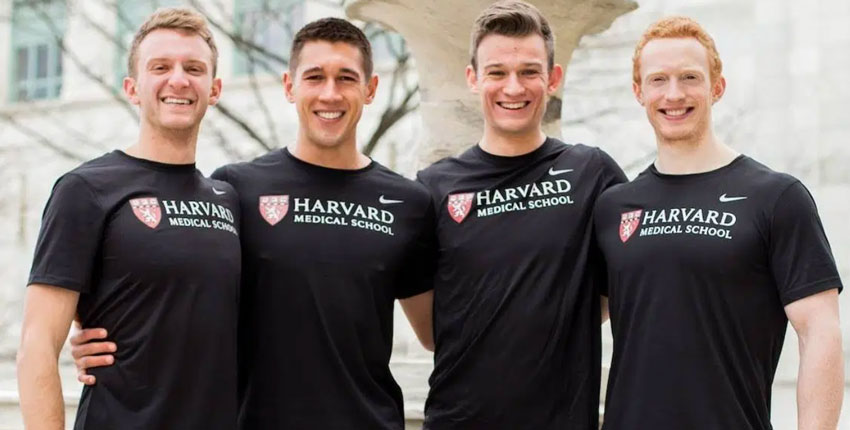 Chase Marso remembers the moment he realized Medicine in Motion, the fitness group he and three friends started during their first year at Harvard Medical School, had truly taken on a life of its own.
It was August 2019, and Marso and 18 other members of the group had just finished Bike to the Beach from Boston to Newport, R.I., an annual ride benefiting autism awareness and research. Their team raised more than $15,000.
"We had so many people that had very little biking experience on our team, and they committed to this 100-mile bike ride," Marso said. "To see so many different people with varying levels of fitness going into the summer, commit to training together and to fundraising, that was a moment where I thought, 'What we've been doing is worthwhile and worth continuing to grow to have more moments like this.'"
It had been a long journey to that Newport beach from the gym at Vanderbilt Hall.
That's where the students—Marso, Logan Briggs, Mike Seward and Derek Soled—met in the fall of 2017. What started with informal group workouts grew into a student group called Docs Who Lift, and the four recruited other HMS students to register for endurance events, like Spartan Races and triathlons.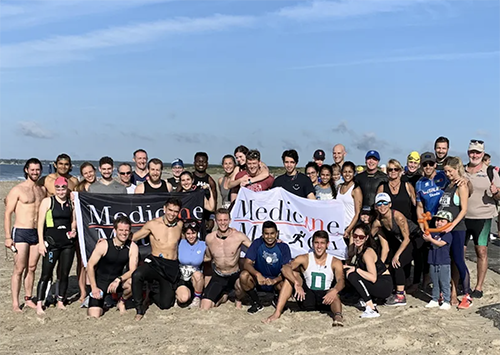 They had all been athletes before coming to HMS and had personally experienced the benefit of regular, intense physical activity.
"For me, working out is the only thing that offers a mental respite from my other responsibilities," said co-founder Briggs. "Activities like watching a movie or playing video games just leave this nagging thought in the back of my head that I should be doing something more productive. So, working out is really the only time where I feel liberated from all the other tasks on my plate and comfortable that I'm doing something productive for my body and my mind."
Co-founder Soled also sees regular physical activity as central to a balanced life for busy medical students and health care professionals.
"A lot of people wrongly look at physical activity and they say, 'How do you have time to work out? You have these long days being a student or being a doctor,'" Soled said. "But it's not like you're adding this time; it's that this time for physical activity is so integral to my day, and it's what I need to flourish in all my other activities."
In the summer of 2018, they, along with Katie Lantz, Seward's girlfriend and fellow Harvard College alum, signed up for the Pan-Mass Challenge. Together, they biked 200 miles over the course of two days, despite Briggs being the only member with any previous long-distance cycling experience.
They also gained fundraising experience as each collected donations towards the $5,500 registration fee to benefit Dana-Farber Cancer Institute. Together, racing as Docs Who Lift, they raised more than $30,000.
"When that was over, we said, 'OK, now what?'" said Marso. "How do we go about doing this in year two? How do we include others?"
That fall, the founders hosted a meeting with other interested students from HMS, HSDM and other Boston-area medical schools to brainstorm ways to combine their interests in physical fitness, health care and philanthropy. Medicine in Motion was born.
Soled says Medicine in Motion has three goals.
"First, we want to promote well-being in health care professionals through physical activity. Secondly, we want to foster a sense of community among health care professionals, at all stages of training and all types of health care. Finally, we want to use this time together to fundraise and give back."
To that end, Medicine in Motion registered as an official 501(c)(3) non-profit. The group grew to include chapters at HSDM, Boston University Medical School, Tufts University Medical School, Dartmouth Geisel School of Medicine, University of Massachusetts Medical School, and most recently, the University of Queensland in Australia.
In addition to organizing regular workouts and runs at their individual chapters, members also have also participated as teams in triathlons, long-distance bike rides and other endurance events. Within its first two years, Medicine in Motion recruited 684 medical professionals to take part in events, raising $50,000 for medical research initiatives.
Second-year HMS student Henry Ashworth, who has taken on a leadership role with the group, thinks the group's focus on community building has been key to its growth.
"It's fun to do these things, but it's so much more fun when you're with someone else," he said. "It's a much more meaningful experience if you feel connected to the people you're around."
Dylan Cahill, a first-year HMS medical student who has organized weekly group runs for Medicine in Motion, explained how the focus on physical activity provides an opportunity for medical students and health care workers of all levels to form connections.
"Maybe while jogging next to someone, you learn a little bit about what they do for a living, what they're passionate about," Cahill said. "And you say, 'Hey, that's something I'm interested in,' or, 'My buddy was looking to get into that sort of thing. Do you mind if I send you an email?'"
Soled also sees the opportunity to network with medical professionals at different points of their career as a benefit to the group.
"It brings people together who otherwise may have never interacted but are following the same trajectory," he said. "You get a first-year medical student sitting next to an attending who is 30 years older than them who is interested in the same field."
Medicine in Motion had been planning to cap off their third year with their first fully self-organized event: a 5k run along Boston's Esplanade that would be open to the public. Planning was underway when the Longwood campuses, Boston and much of the rest of the country shut down to slow the spread of the new coronavirus.
With members now separated by quarantine and finishing the semester online, planning for the 5k has been put on hold, and it seems unlikely the event will be held at the end of the summer as previously hoped.
But the group is finding ways to stay connected.
Cahill says many members use the mobile app Strava to share their runs, post selfies and leave encouraging comments for each other.
Ashworth with fellow second-year HMS student Niyi Odewade have started a workout of the day (WOD) program, devising fitness circuits people can easily do within their homes without gym equipment, encouraging people to use objects at hand—like milk jugs or a backpack full of books—to take the place of weight equipment.
"It provides a way for us to remain socially connected while physically distancing, which can take a toll on people's mental and physical well-being," said Odewade.
The two are creating a library of WODs on the Medicine in Motion website. Recently, the Dartmouth and Queensland chapters began leading weekly workouts on Zoom available to the public worldwide.
While the focus is on resistance and high-intensity interval training, Ashworth stresses that people should be sure to take the time for whatever self-care they find most necessary or useful.
"Maybe doing an intense exercise at home is not what you need today," Odewade said. "Maybe you need that extra time to yourself to relax, to just sit and read a book, to call a friend, to go for a walk. To just absolutely do nothing and eat food on the couch, because that's what you feel like you really want right then and there."
Looking ahead, group leadership would like to see chapters in every state and in more countries, with a central organization financially stable enough to provide funding to individual chapters to organize their own events.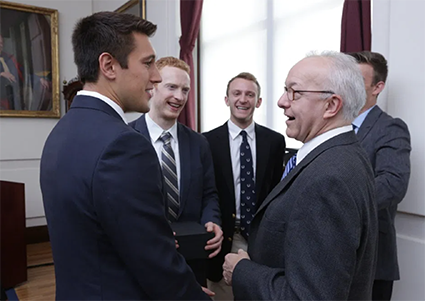 Seward said it's been most satisfying to see new members take on leadership roles, ensuring the group has a future beyond the co-founders' graduation.
"That was a goal for us this year: to get other people leading events, coming up with their own ideas," he said. "Because we think if they can come up with their own ideas, they'll take responsibility and really run with it."
Soled sees the November 2019 Spartan race as a moment when Medicine in Motion's new leadership took charge. More than 130 members participated in an endurance challenge at Fenway Park.
"The four of us [third-year co-founders] had virtually nothing to do with it in terms of preparation," Soled said of the event, which was spearheaded by Medicine in Motion's Tufts University School of Medicine chapter, captained by Jacob Klickstein. "We like to think we're creating a model for years to come, and it was just very inspiring for us to see that."
Looking at how far Medicine in Motion has come, Soled is optimistic about where the group will go.
"It's been a challenge, but an extremely rewarding experience to see people setting benchmarks and goals for themselves," he said. "That's all we're about."
Related coverage in HM News: The Best of Who We Are
Images courtesy of Medicine in Motion.