Medicine in a Changing World
2016-2017 Alvin F. Poussaint, MD Visiting Lecturer Martín-J. Sepúlveda shares insights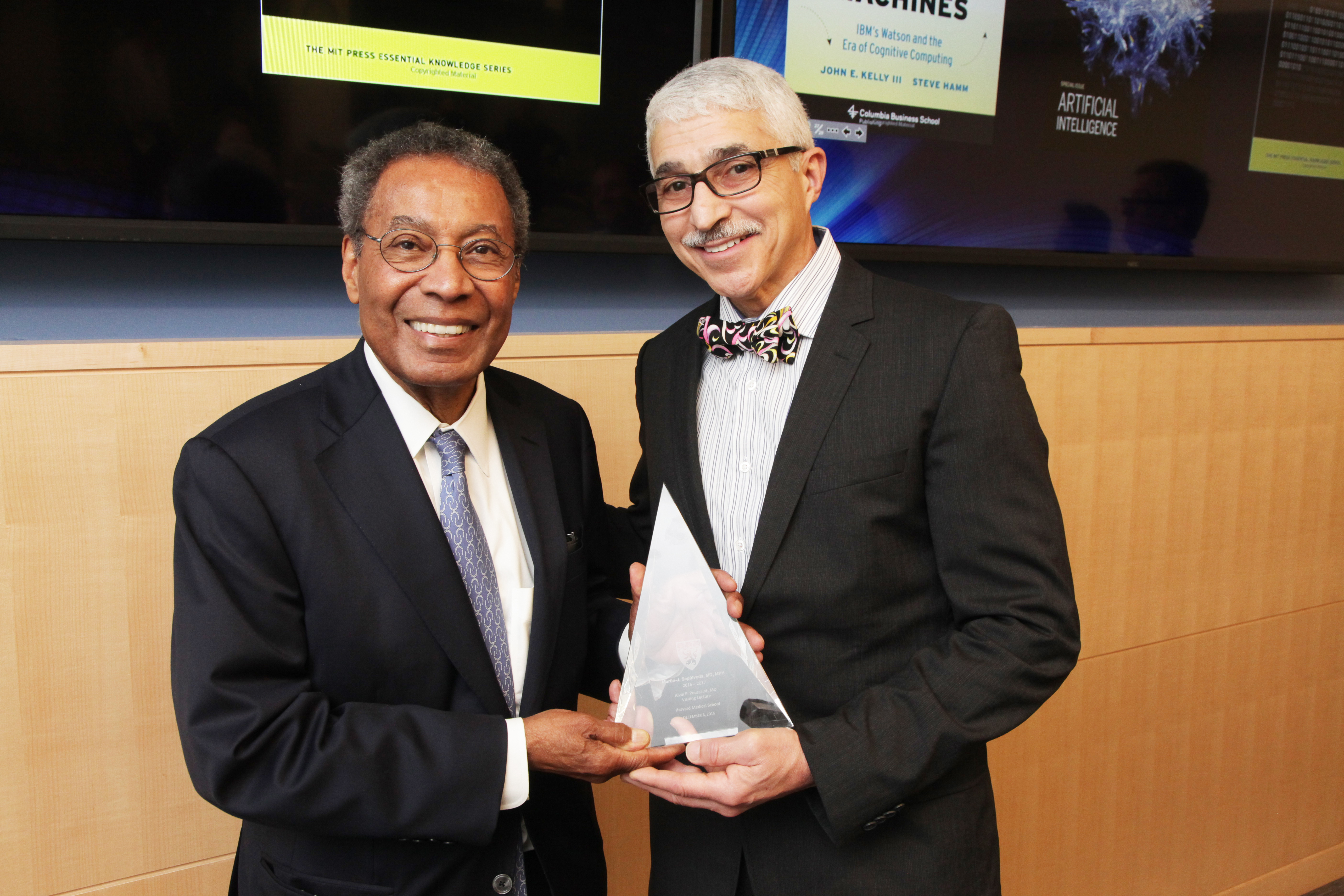 From left, Alvin F. Poussaint, for whom the lectureship is named, and Martin-J. Sepulveda, '78, visiting lecturer and CEO of CLARALUZ LLC, a firm specializing in health data, analytics, technology, health and health systems. Image: Jeff Thiebauth
In science, the term "half-life" refers to the time it takes for a quantity of a substance to reduce itself by one-half. Today, the half-life of medical knowledge is currently about 18-24 months, and it is projected that in about four years that half-life will be only 73 days.
As a result, medical decisions are becoming more complex because the volume of information is far in excess of human capabilities to retain. Fortunately, we are currently in the "cognitive computing era" and can do phenomenal things with the advent of programmable computer code. And machines can now reprogram themselves.
That was one of the messages delivered by Martín-J. Sepúlveda, '78, the 2016-2017 Alvin F. Poussaint, MD Visiting Lecturer, who spoke at Harvard Medical School in December in a talk titled "Does it Really Matter? Cognitive Technologies, Thinking and Time."
Sepúlveda, an IBM Fellow, a member of the National Academy of Medicine, former vice president of health systems and policy research at IBM, and former vice president of integrated health services at IBM, said his goal was to "stimulate thinking," and he focused his remarks on the speed and velocity of change in the world, in cognitive computing and in how we think.
He said computer-assisted creativity has conceived unprecedented opportunities, and today's cognitive thinking styles will change our world.
Illustrating the magnitude of change in technology during a recent six-year period of time, Sepúlveda stressed the rapid rate by which massive quantities of data are generated and he discussed the penetration and diffusion of technologies.
Sepúlveda also highlighted milestones in the transformation of primary care that took place in the early 2000s during his tenure at IBM. The United States operates on a specialty caregiver system, he said, unlike many other countries that understand that health care systems based on primary care perform better in a number of important domains, including health outcomes, financial outcomes, sustainability and equity.
Lowering Health Care Costs
At IBM, Sepúlveda said he was tasked with lowering costs while fostering a happy and healthy employee population.
IBM was the first large employer to take what is now called care management and coordinated care and introduce it into the larger employer marketplace, he said. The company first did this with behavioral health care, he added, because employees with behavior issues were often the most complicated, the most disabled and the most dysfunctional and they cost the company the greatest sums of money because of missed work, inability to perform at peak levels, and the dysfunction they introduced in teams.
After using this same model around chronic diseases, IBM then developed systems for care coordination with a view of primary care that was different, Sepúlveda said, with primary care visits provided free of charge. As the number of free primary care visits increased, specialist visits, emergency room visits and hospitalizations all decreased, as did prescription costs, he said.
Primary care visits were then segmented into preventive primary care visits, he said, separate from other visits, such as acute and chronic care visits. As preventive care visits increased, other visits decreased, and costs continued to drop dramatically. He said this approach inspired the concept of the advanced medical home and, in 2010, it inspired the Patient Protection and Affordable Care Act.
Sepúlveda went on to say that opportunities—or apertures for opportunities—differ more today than yesterday with respect to the speed with which they open and close. He said that as we encounter these opportunities in the world we don't have time to waffle because each one is fleeting.
The Alvin F. Poussaint, MD Visiting Lecture was established in 2004 with an inaugural gift from HMS alumni in honor of Poussaint.
The purpose of the fund is to provide an annual lecture and forum for connecting HMS alumni leaders in medicine and science with youth; HMS students; HSDM students; residents, fellows and faculty of HMS; and HMS-affiliated institutions.
Sepúlveda thanked Poussaint for the opportunity to lecture at HMS, calling Poussaint "an extraordinary man that students of color at HMS got to know very early in their careers … He met people like us and helped us understand what the vision was for coming out of our communities … in going back and serving, and how the world could be different ..."
The importance of having representation by underrepresented minorities brings balance to the health care professions, Sepúlveda said, because they provide different viewpoints along with a set of experiences that extend and expand the thinking of all.