Masters of HMS
128 students graduate with master's degrees in variety of specialties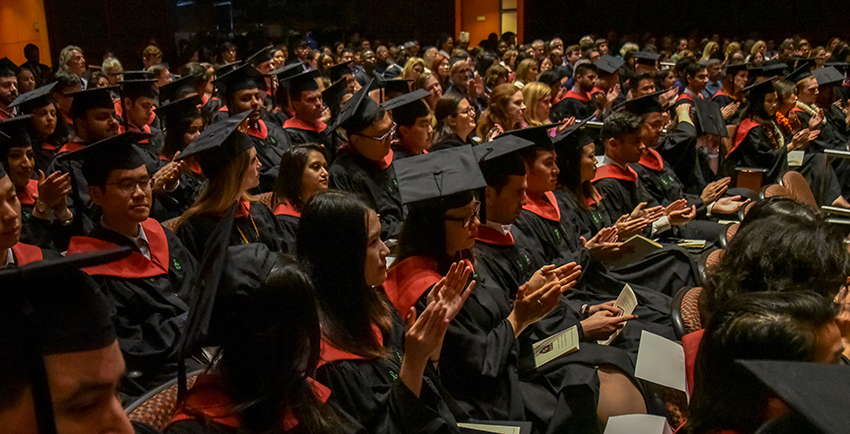 Image: Steve Lipofsky
It's a philosophy expressed throughout the ages, from the Bible to Voltaire, Churchill to Spider-Man: "With great power comes great responsibility."
Newly minted master's degree graduates from Harvard Medical School would do well to follow similar principles, according to Margaret (Peggy) Hamburg, president of the American Association for the Advancement of Science and an alumna of the HMS Class of 1983.
Read more about HMS/HSDM Commencement and Class Day.
The power to improve lives through research, medicine, public health and public service brings with it "responsibilities that we all must take on—as individuals, as a scientific community and as citizens of the world," Hamburg said in her keynote address at the eighth annual HMS Master's Degree Programs Graduation Ceremony on May 29.
"We must focus carefully on how best to ensure that science serves society, as well as that science and society are aligned in ways that will help us all to move forward on a path of growth and progress to address the pressing challenges before us," said Hamburg, who previously served as U.S. Food and Drug Administration commissioner and New York City health commissioner.
From ethically thorny medical advances, such as germline gene editing and artificial intelligence-assisted health care, to difficult societal issues, such as confronting bias and navigating a "post-truth" era, our rapidly changing world should both worry graduates and inspire them to engage with people beyond the lab bench or the clinic, she said.
Not only should graduates expect to "save lives, unlock answers to medical mysteries and develop scientific and technological wonders," but they should also consider ways to stand up for science and help reduce inequities, she said.
The packed audience in the Joseph B. Martin Conference Center celebrated 128 master's degree recipients, including the first class to graduate from HMS with Master of Healthcare Quality and Safety degrees.
David Golan, dean for basic science and graduate education at HMS, congratulated the students, teachers and advisors on "the culmination of one, two or more years of creative and diligent work in advanced biomedical and health studies."
Master's programs at HMS strive to meet a growing demand for advanced cross-disciplinary education in the health sciences, Golan said.
"There is a continuing need for investigators and other health and science professionals who are rigorously trained at the interfaces of modern biomedical science, clinical medicine and health delivery," he said. 
"Our strong belief at HMS is that a portfolio of master's programs spanning the range of scholarly activity in biomedical science will fill the need for this extraordinary training for the generation of investigators to come," he added.
On a bittersweet note, Golan remarked that this would be his last opportunity to preside over the master's graduation ceremony, as he will soon be transitioning into the role of dean for research operations and global programs at HMS.
"Developing, shaping and implementing master's programs at HMS has been one of the highlights of my career," he said.
Golan thanked those whose "passion, dedication and persistence" have fostered the growth of master's degree programs at the School over the past 10 years. 
Enrollment rose from 188 students last year to 224 this year, and the size of the 2019 graduating class represented a 49-percent increase over 2018, Golan reported. Forty-three percent of the students now have international backgrounds, he said.
Existing programs have received outstanding evaluations, he noted, while new programs continue to be added; spring 2020 will mark the first class of master's graduates in Clinical Service Operations.
This year's graduates specialized in the following areas:
33 - Master of Bioethics

19 - Master of Biomedical Informatics

10 - Master of Healthcare Quality and Safety

21 - Master of Medical Science in Clinical Investigation

13 - Master of Medical Science in Global Health Delivery

20 - Master of Medical Science in Immunology

12 - Master of Medical Science in Medical Education