Marking Milestones with Emergency Medicine
New MGH Trustees Professorship celebrated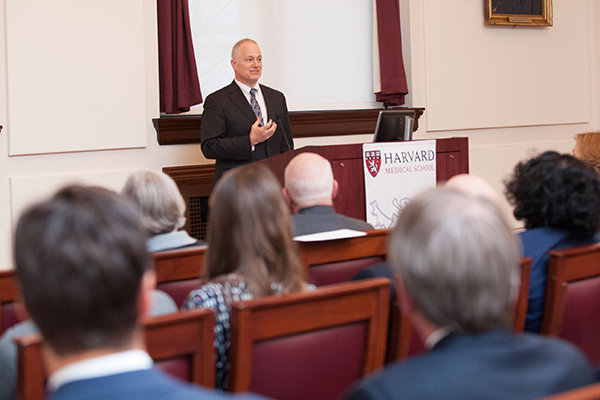 Professorship recipient David Brown speaks to gathered colleagues and family. Image: Brown Dog Studio
Harvard Medical School and Massachusetts General Hospital celebrated the appointment of David F. M. Brown as the inaugural incumbent of the MGH Trustees Professorship in Emergency Medicine.
Family, friends and guests attended the celebration on Oct. 31 in the Waterhouse Room at the Gordon Hall of Medicine at HMS.
"This is the first Harvard professorship in emergency medicine at Massachusetts General Hospital—truly a milestone for the field and the department," said Nancy Tarbell, HMS dean for academic and clinical affairs.
"It is fitting that the inaugural incumbent is Dr. David Brown, an outstanding leader, clinician and mentor," Tarbell added.
As head of the Mass General Department of Emergency Medicine, Brown has led process redesigns that have improved patient care and management and been widely cited and emulated.
Brown's primary academic interest is in cardiovascular emergencies; he publishes and lectures internationally and has written two textbooks on the subject. His clinical interests also include acute coronary syndromes, emergency medicine administration and education. He has been honored with many teaching and mentorship awards by his residents.
The professorship was made possible by Mass General.
Tarbell said, "Under Peter Slavin's leadership, Mass General has chosen to establish a number of endowed professorships at the medical school—demonstrating his commitment to continuing the strong bond between our two institutions and honoring our exceptional faculty, like Dr. Brown."
Richard Wolfe, HMS associate professor of medicine and chief of emergency medicine at Beth Israel Deaconess Medical Center, who led, with Brown's help, the creation of the first residency in emergency medicine at HMS, spoke at the event, as did Slavin, president of Mass General and HMS professor of health care policy.