Marching for Science
HMS community rallies to defend, support science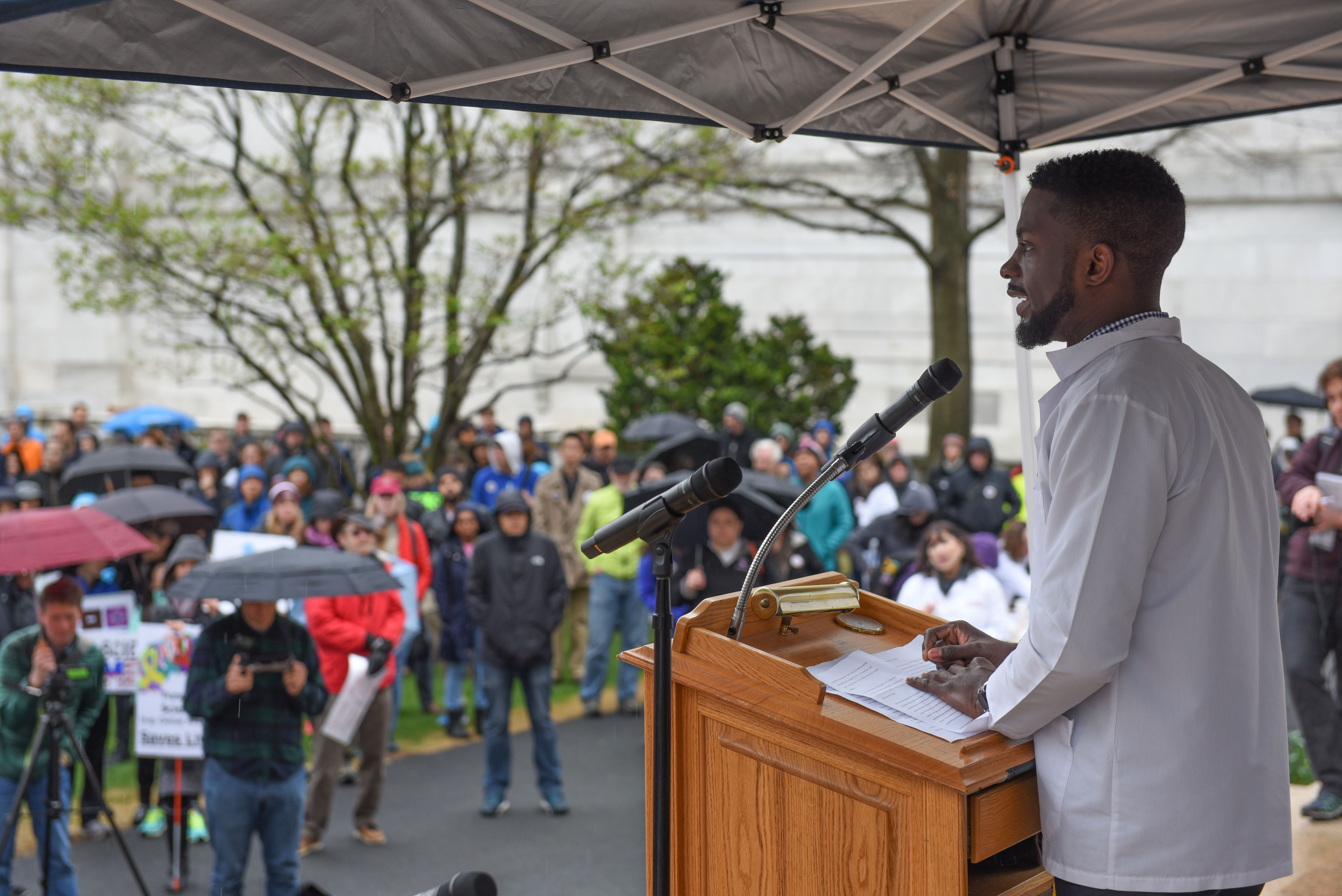 Elorm Avakame speaks at the March for Science rally on the HMS Quad. Image: Rick Groleau
On a chilly Earth Day filled with intermittent rain, hundreds of demonstrators gathered on the Harvard Medical School Quad on Saturday to hear and tell the stories of why science matters, and why everyone on the planet should care that it does. 
Among them, a young Cape Cod girl diagnosed with stage four brain cancer when she was 4 years old, who wouldn't have been there to tell her tale if not for advances in medical science.
Dressed in a light jacket and colorful sneakers, 11-year-old Emily Coughlin spoke about her dogs, Obi and Agnes, and how she likes to play basketball and soccer and draw comics. And how she loves pizza even more.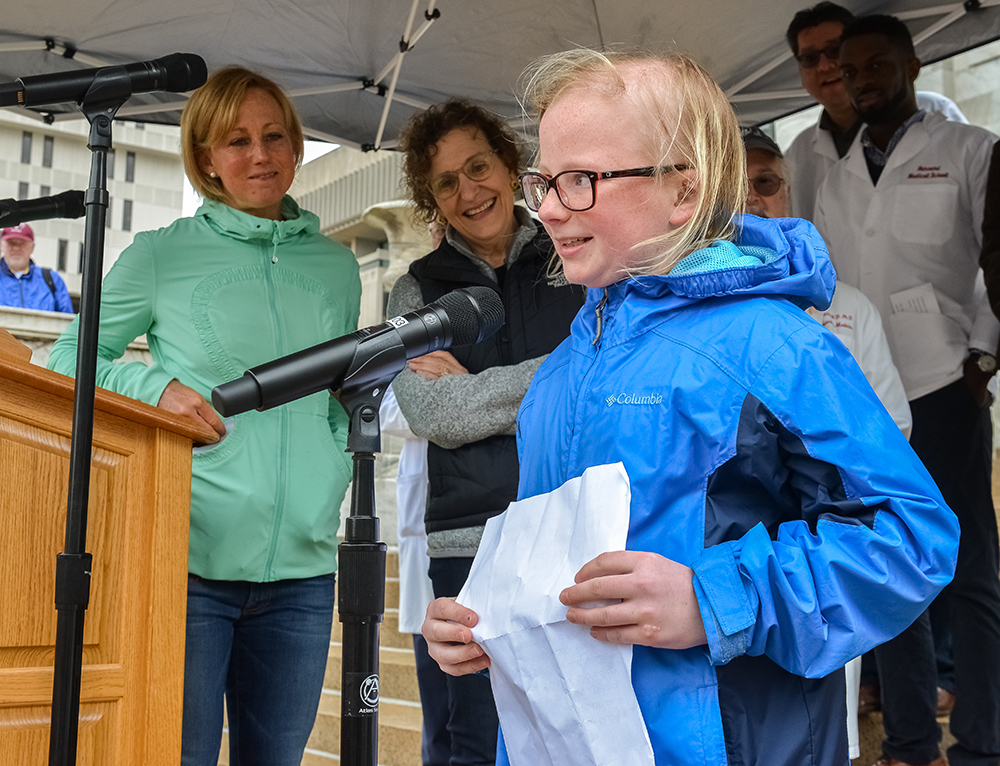 Emily underwent back-to-back stem cell transplants in a 2009 clinical trial run by her doctor, Lisa Diller,  HMS professor of pediatrics and chief medical officer of Dana-Farber/Boston Children's Cancer and Blood Disorders Center. Today, Emily's cancer is in remission.
"Research saved Emily's life. It gave me the gift of my spunky little girl, who regularly argues with me about what's for dinner, what she's going to wear and why I won't let her on social media," said Amy McHugh, Emily's mother. "Research gave me the gift of a middle-school daughter, when there were many dark days that I didn't know if I would have one."
Spurred by proposed government budget cuts to federal agencies that fund scientific endeavors, such as the National Institutes of Health, as well as a cultural climate in which scientific data and evidence increasingly seem challenged by political and ideological beliefs, Emily and her mother were among the thousands of people who massed at March for Science rallies in Boston, Washington D.C., and more than 500 other locations across the U.S. and around the world.
"This is not a fight for our livelihoods. This is a fight for human lives" - Elorm Avakame
In Boston and Cambridge, they met at Harvard and in the Longwood Medical Area, in Kendall Square and Kenmore, at Massachusetts General Hospital and the Boston Public Library. From many different venues they converged on Boston Common, united by a singular, powerful purpose—to defend and support science.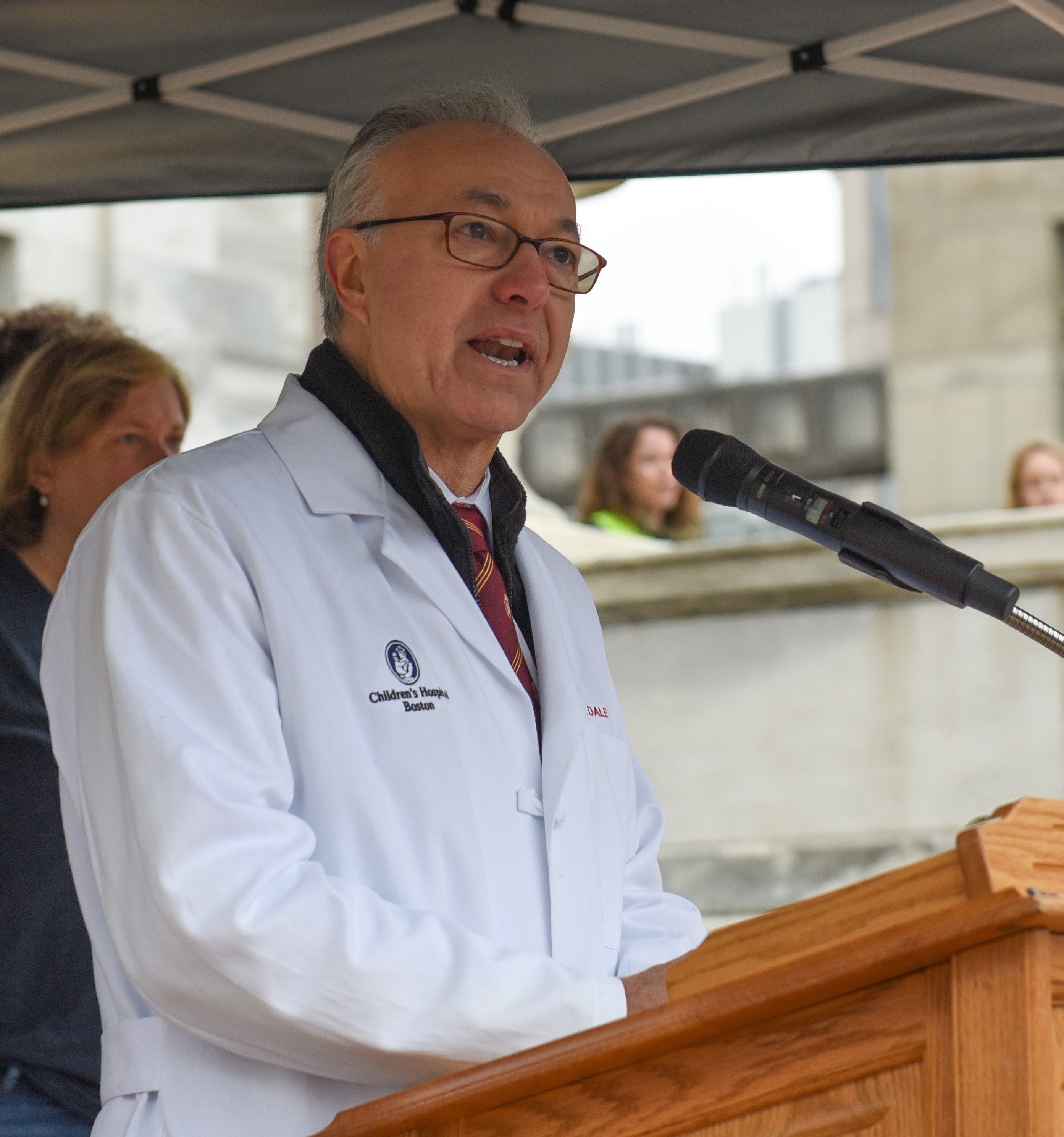 "Scientific progress and discovery has been an enduring symbol of what's best and most noble about this nation, its humanistic values [and] its relentless pursuit of knowledge for the betterment of humanity," said HMS Dean George Q. Daley, on the steps of Gordon Hall.
"As an American, I am outraged. As a physician, I am terrified of what humanity will suffer in the future because of the problematic policies being considered today," Daley said.
For science, not by scientists
All of the speakers at the HMS rally shared deeply personal stories, historical perspectives and even a science anthem written by Thomas Michel, HMS professor of medicine at Brigham and Women's Hospital and an HMS rally organizer.
"This is a march for science, not a march by scientists," Michel said. "It doesn't matter whether you are a surgeon or a soprano, a chemist or a carpenter, a student or a senior citizen. We march together to affirm the importance of science and science-based policies for the good of our towns, our cities, our states, and for our beloved country and for our only planet."
Katherine Helming-Walsh, a research scientist at the Broad Institute of MIT and Harvard, said she experienced many dark days after being diagnosed with leukemia when she was 23. An HMS doctoral student at the time, she was studying cancer biology at Dana-Farber. From her lab, she said, she could look across the street into the hospital where she went every week for chemotherapy.
"My world shifted in a radical and ironic way … I went from being a busy graduate student researcher in one of Dana-Farber's laboratories to a very sick patient in one of the hospital rooms," she said. "I am here today, cancer-free and back in the laboratory, conducting the research that I originally set out to do, now with a renewed passion and vigor. I would not be here today if it were not for the persistence, creativity and courage of the many scientists who came before all of us."
"We have to come out. If not us, then who?" - Ben Doyle, research assistant
Elorm Avakame, an HMS student and Sheila C. Johnson Leadership Fellow at Harvard Kennedy School's Center for Public Leadership, spoke about his experiences getting to know Elena, a young patient suffering from sickle-cell anemia.
"As I was rounding on my patients at the crack of dawn, I saw Elena again, in that same pose, fists clenched by her side, breathing those same painful breaths, crying those same silent tears. And my heart shattered into a million pieces," Avakame said. "But around that same time, I came across an article describing experimental techniques for treating patients like Elena. Sitting alone in my room, reading about procedures to alter the marrow in her little bones, I felt something stirring in my soul. I felt hope."
"Hope for a day when patients like Elena would be free from pain forever. Hope for a day when patients like my own cousin, whose blood sickled in his veins, would not have to leave this world before their time," Avakame said.
"In an era in which funding for scientific research dwindles with each new presidential budget, we form a potentially large and powerful constituency that has yet to be activated. But if we are to maintain the pursuit of discovery for the betterment of humankind, we must make our voices heard in the halls of power," Avakame concluded. "This is not a fight for our livelihoods. This is a fight for human lives."
Fidencio Saldaña, HMS dean for students, said the greater public may not fully comprehend the importance of science, not just for those who have made it part of their life's work, but for all who benefit from the advances in human health that science has made possible.
"We can no longer take for granted that our roles in discovery and health care will continue to be a national priority, and we must prepare to affirm the importance of science and access to health care throughout our careers. We need to respond to the reality that we now need to engage (and resist when necessary) as scientists and doctors and nurses and patients—and as students—in order to affirm the importance of science in guiding policy and improving the health of our country," Saldaña said.
Science, not silence
After the Longwood rally, the crowd of hundreds of marchers headed to Boston Common, carrying signs down Huntington and Commonwealth avenues. They were joined along the way by fellow marchers from Harvard, MIT, Boston University and other rallies across Boston.
"We have to show solidarity that science equals health, that science equals innovation. We truly should stop any budget cuts. That's why we're were," said Navid Madani, an HMS researcher at Dana-Farber, marching with her son, 6-year-old Kayhan Tanner, who carried a sign that read "Remember Polio? I don't."
"And we have to tell the next generation that they have to stand up for justice. That's why my son is here," Madani said.
Michelle Rossi, a student at Tufts University's school of nutrition and public health, and Ben Doyle, a research assistant in the lab of Clifford Woolf, HMS professor of neurology at Boston Children's, attended together.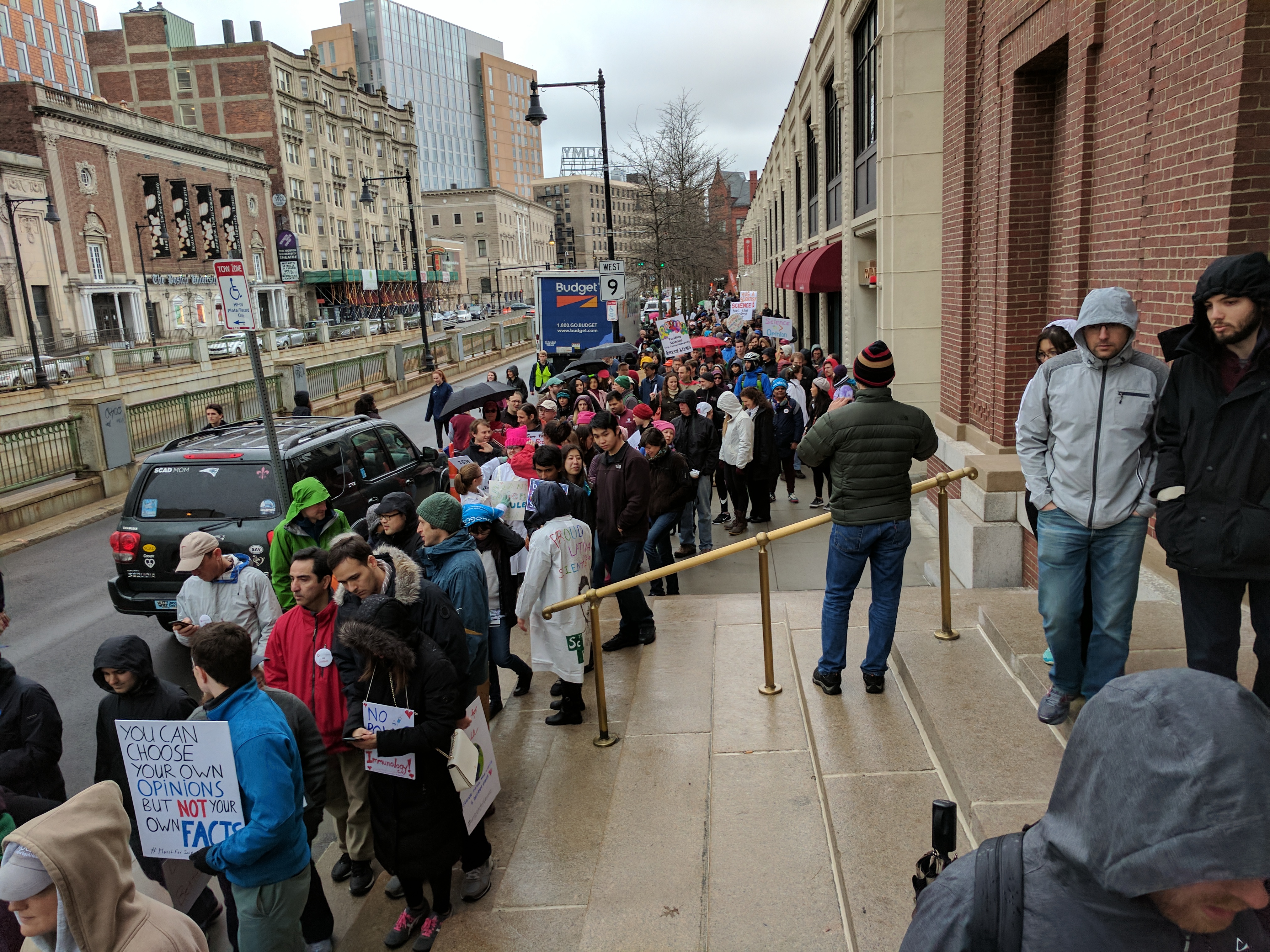 "We both believe so much in science and the arts. They're things that have carried us through both of our lives, and we're both pursuing careers in it," Rossi said.
"We have to come out. If not us, then who?" Doyle added.
Stephania Libreros, a postdoctoral fellow at Brigham and Women's and chair of the advocacy committee of the Harvard Medical Postdoc Association, marched for her peers and for their future.
"We're actually the heart of labs. After so much time invested in working to improve human health, it is so worrying that we might not be able to continue our research," she said. "If funding gets cut, it's almost over if you want to have an academic career."
Michael Super, a senior staff scientist at the Wyss Institute, attended because he feels that polices currently being discussed are "not respecting knowledge, not respecting learning, not respecting considered opinion. It's just going from gut feelings and made-up facts, and so what I'm marching about is to get real, considered debate going in this country."
"We'd rather be in our labs or our offices doing our work, but we have to do this," said marcher Elizabeth Dugan, associate professor of gerontology at UMass Boston. "We're here to give witness that science matters. Every major advancement that we've seen in the last 200 years has stemmed from science."
Science is not optional
An enormous crowd filled Boston Common, where a festive atmosphere featured music, booths, interactive activities for children and countless signs. The attendees listened as patients and physicians, pharmaceutical CEOs and students spoke about the importance of science to human lives and for the planet.
Among the speakers was George Church, Robert Winthrop Professor of Genetics at HMS.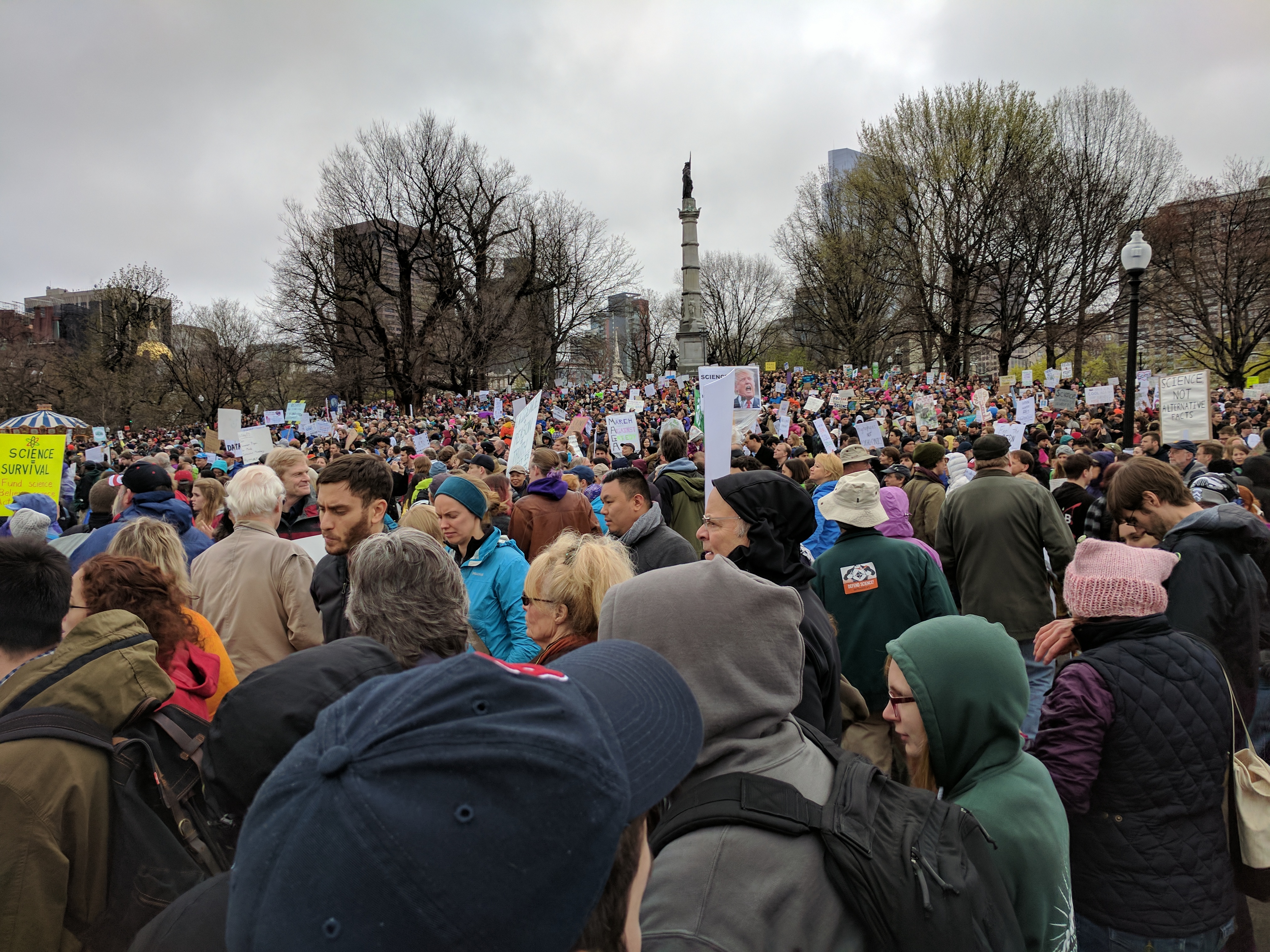 "Science literacy, awareness, enthusiasm … what prevents us from having the technology know-how on par with our knowledge of sports, fictional characters, celebrities?" asked Church. "Why is it in some countries, like China, 89 to 90 percent of elected officials have degrees in science and technology? Maybe that's a bit too much, but in the United States that number is 1 percent. All of you nerds, start running for office."
"Today we show both gratitude and concern for science funding and immigrant scientists from all over the world that enable us, their home country, to remain an innovative world leader. Science is not optional," Church continued. "I encourage you to get involved. The best way to extend this day, Earth Day, and the March for Science, to the rest of the year, is to participate in medical research, and to participate in general. "
And HMS dean George Q. Daley spoke again, urging the crowd to take action to defend science.
"If you are taking a pill to control heart failure or a drug to keep HIV infection at bay, you are the beneficiary of therapies spawned by federal investment in science," he told the crowd. "Millions of Americans, and billions of people the world over, are alive today because of life-saving, life-sustaining or life-altering therapies that emerged from basic, curiosity-driven research, the exact type of research that will be affected most severely by the proposed budget cuts."
"This is the fight for our future. And it's a choice we'll have to answer for—to our children, to their children's children," said Daley.