Making Mental Health Care a Priority
Patel named inaugural Pershing Square Professor of Global Health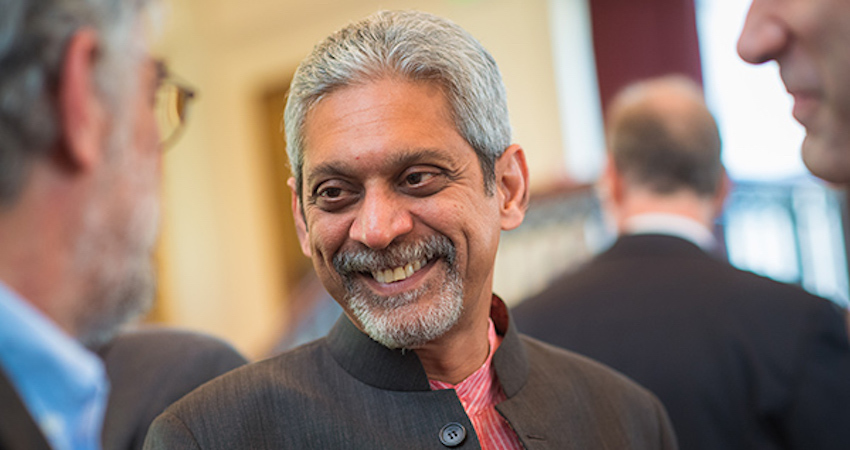 Vikram Patel. Image: Gretchen Ertl
There are three pervasive myths about mental health care, says Arthur Kleinman, professor of medical anthropology at Harvard Medical School.
Myth 1: Mental illnesses are not as important as other health issues, such as infectious diseases.
Myth 2: There are no cost-effective solutions for improving mental health on a broad scale.
Myth 3: Even if there were good solutions, they wouldn't translate to low-resource settings.
A growing number of clinicians and researchers around the world are working to combat these misconceptions and implement systemic programs to improve mental health care for people of all socioeconomic backgrounds. 
Among the most well-known and widely respected of these leaders is Vikram Patel, whom Kleinman and others recruited to the HMS faculty in April 2017. 
One year later, on May 7, 2018, colleagues and family gathered in Gordon Hall to celebrate Patel's installation as the inaugural Pershing Square Professor of Global Health at HMS.
"In measuring the impact on the relief of suffering and the improvement of human well-being, I can think of few faculty who've had the extraordinary influence of Professor Patel," said HMS Dean George Q. Daley at the event. 
"You have brought much-needed support and succor to those who have suffered the ravages of these disorders," Daley said to Patel. "You bring great honor to this institution and great pride to me as dean. We're so fortunate to have you here at HMS."
"If there is someone who has made a greater contribution to health and well-being, all the way from implementation to scholarship to training, then I don't know who it is," said Paul Farmer, Kolokotrones University Professor and chair of the Department of Global Health and Social Medicine at HMS.
"This will change not just Harvard Medical School but the profession of medicine, and, more importantly, ease the suffering of all those who face mental illness," added Farmer, who is also co-founder and chief strategist of Partners In Health.
Patel came to HMS from the London School of Hygiene and Tropical Medicine, where he co-founded the Centre for Global Mental Health. He also co-founded Sangath, an Indian non-governmental organization that won awards from the MacArthur Foundation and the World Health Organization. Patel has served on several WHO and Government of India committees. 
The focus of Patel's research has been on the sociocultural determinants and treatment of mental disorders in impoverished regions of India and other resource-poor settings. His studies have illuminated the burden of mental disorders and suicide in young people, the association of poverty and gender-based violence with depression and suicide, and the effective integration of interventions for mental disorders into routine care settings.
"It seems to me that mental health is one of the most neglected areas of human development today. That has always baffled me," Patel said at the celebration. "It's something each and every one of us prizes. It's central to the stories of our lives and who we are as people. Why don't we care about it? I guess it's like that old song: You don't know what you have until you lose it."
"We have remarkably effective solutions for preventing these problems and for enabling recovery," Patel continued. "What's astonishing is how little we do with that science, so that every day we're assaulted by stories of neglect, suffering and human rights abuses."
"This country is wealthier than any I've lived in, but it continues to neglect a large portion of its own citizens because they have mental illness," said Patel. "We're going to have to do many things to address the enormous challenges that face populations in diverse contexts."
The professorship was established by The Pershing Square Foundation, a philanthropic organization that invests in "outstanding individuals and organizations with the goal of catalyzing change on a global scale." Founded by Harvard College and Harvard Business School alumnus Bill Ackman and Harvard University Graduate School of Design alumna Karen Herskovitz in 2006, The Pershing Square Foundation has stimulated breakthrough achievements in many fields, including global health and social justice.
Ackman, now a trustee of the foundation; his sister Jeanne Ackman, HMS assistant professor of radiology at Massachusetts General Hospital and an advisor to the foundation; and Olivia Flatto, president of the foundation, attended the event. 
"By establishing this professorship, The Pershing Square Foundation is ensuring a long legacy of impact here at HMS," said Daley. "This will support a lineage of scholars and practitioners who will be making contributions to the discipline and practice of global health." 
"This kind of chair puts protective perpetuity to our ability to learn more about how social suffering is engendered and what we can do to reverse it," said Farmer.