Magnificent Four
HMS scholars elected to American Academy of Arts and Sciences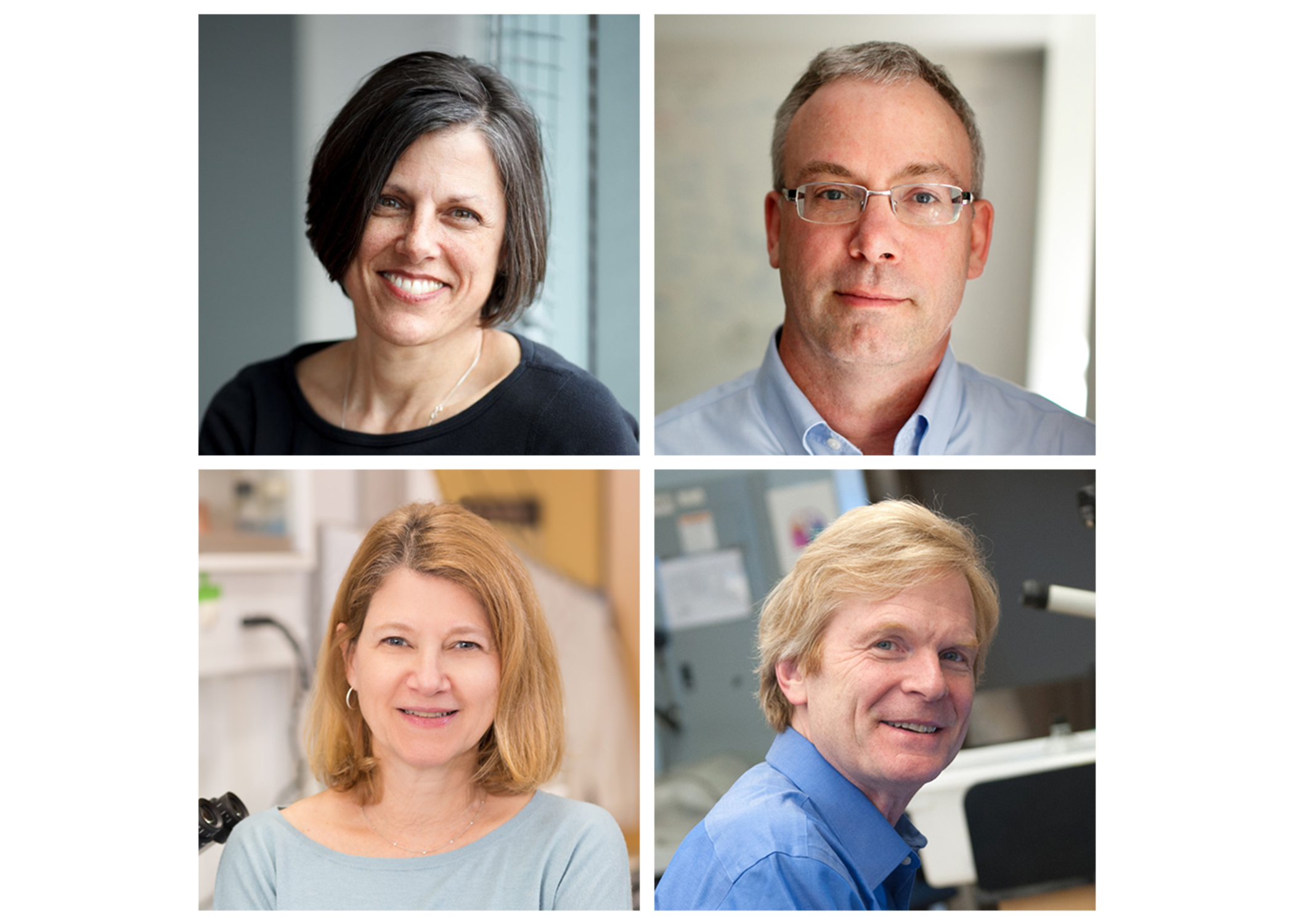 Clockwise from bottom: D'Amore, Dymecki, Harper and Walsh
Four Harvard Medical School scientists have been elected to the American Academy of Arts and Sciences Class of 2018 for exceptional scholarship in the field of biomedicine. 

Founded in 1780, the Academy recognizes and celebrates excellence by honoring scholars, leaders, artists, and innovators and engages them in sharing knowledge and addressing some of the most vexing challenges facing the world.
The four HMS honorees are: 

Patricia D'Amore, the Charles L. Schepens Professor of Ophthalmology and Professor of Pathology at HMS and Massachusetts Eye and Ear
Susan Dymecki, professor of genetics at HMS

Wade Harper, Bert and Natalie Vallee Professor of Molecular Pathology and head of the Department of Cell Biology at HMS 

Christopher A. Walsh, Bullard Professor of Pediatrics and Neurology at HMS and Boston Children's Hospital 
The HMS quartet joins 209 other new members of the Academy who hail from a wide range of disciplines and professions, including former President Barack Obama, actor Tom Hanks, Supreme Court Justice Sonia Sotomayor and many others.The new members of the Academy were elected in 25 categories and are affiliated with 125 institutions. 

The Academy's projects and publications generate ideas and offer recommendations to advance the public good in the arts, citizenship, education, energy, government, the humanities, international relations, science and more. 
"This is a tremendous honor for these brilliant scientists whose work reflects a broad range of interests and expertise. They have dedicated their lives to unraveling the biology of disease and by doing so are solving some of humanity's most confounding medical and scientific problems," said George Q. Daley, dean of Harvard Medical School.
D'Amore, who is also the director of research and development at The Schepens Eye Research Institute and a research associate at Boston Children's, isan internationally recognized expert in vascular development and pathology. One of her foremost contributions is characterization of a protein involved in abnormal blood vessel growth seen in certain types of blinding eye diseases such as age-related macular degeneration and diabetic retinopathy. D'Amore's research findings have formed the basis of the development of a number of therapies currently used to treat various vascular diseases of the eye.

Dymecki's work elucidates the basic mechanisms underlying the function and development of neural circuits in the brain in health and disease. She has developed novel genetic tools for neural cell mapping in the mouse brain to characterize neural cell type, structure and behavior. Dymecki uses these methods to analyze neural systems in the brain stem and identify the architecture and function of specialized neurons that control respiration, body temperature and emotional states. Defining the richness and diversity of these neural cells and neural networks has yielded critical insights, including the role of specific serotonin-producing neurons in processes relevant to conditions such as autism-spectrum disorders, sudden infant death syndrome, depression and others.
Harper's work is dedicated to unraveling the astoundingly complex interactions between proteins within cells and the way in which collections of proteins assemble into signaling networks to control cell function. Additionally, Harper's work seeks to understand the mechanisms by which cells remove damaged proteins and other cell structures to maintain cellular health. Alterations in removal of damaged proteins and organelles underlies many types of neurodegenerative diseases.
Walsh, who is also chief of the Division of Genetics at Boston Children's Hospital and an investigator of the Howard Hughes Medical Institute, studies the foundational mechanisms that direct human brain development. Specifically, his research focuses on the development, function and evolution of the human cerebral cortex—the area of the brain responsible for high-level cognitive functions, including reasoning, thought, perception and language. He has pioneered the development of genetic analysis for diseases that affect the developing brain. His laboratory has identified genetic causes for dozens of brain diseases in children, such as those associated with autism, intellectual disability, seizures and cerebral palsy.
 
"This class of 2018 is a testament to the Academy's ability to both uphold our 238-year commitment to honor exceptional individuals and to recognize new expertise," said Nancy C. Andrews, the chair of the Board of the Academy. "John Adams, James Bowdoin and other founders did not imagine climatology, econometrics, gene regulation, nanostructures or Netflix. They did, however, have a vision that the Academy would be dedicated to new knowledge—and these new members help us achieve that goal." 
The newly elected members will be inducted at a ceremony in Cambridge, Mass., in October and join the Academy members who came before them, including Benjamin Franklin (elected 1781) and Alexander Hamilton (1791); Ralph Waldo Emerson (1864), Maria Mitchell (1848) and Charles Darwin (1874); and Albert Einstein (1924), Robert Frost (1931), Margaret Mead (1948), Milton Friedman (1959) and Martin Luther King, Jr. (1