Leading the Way to Wellness
Academic health systems can help entire populations achieve better health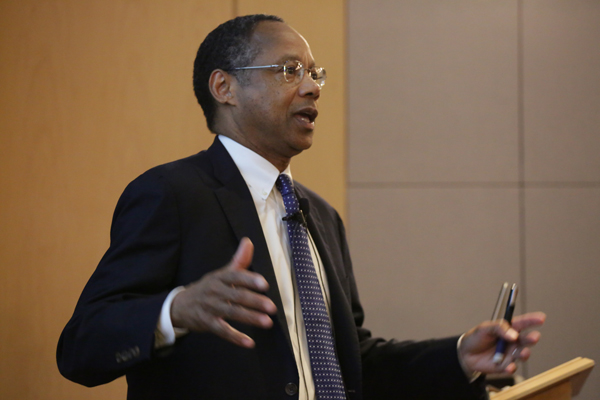 A. Eugene Washington. Image: Jeff Thiebauth
Academic health systems have an unprecedented opportunity to contribute significantly to population-wide health improvement efforts, said A. Eugene Washington, chancellor for health affairs at Duke University, during his address at the Harvard Medical School Leadership Forum on March 22.
Speaking to students, trainees, faculty and leaders from the medical campus and affiliated hospitals, Washington explained that academic health systems today are evolving from the delivery of individual patient care to population-specific management. He is also the president and chief executive officer of the Duke University Health System.
Under many new health care payment and delivery models being rolled out around the country, hospitals and physicians groups are held responsible for the overall health of their entire population of patients, he said.
Because many providers don't have access to all of the different facilities that would be necessary to treat the full spectrum of illness in a given population, this shift is driving providers to team up with new partners. If done correctly, the new partnerships will benefit the health of the providers' current patients while also improving the health of the greater community.
Population health management emphasizes that the health system is responsible not only for providing the best possible care for those that come in the door of the doctor's office but also for the wellness of the entire population, even when they are not yet sick, Washington said.
"The role of the academic health system is to achieve this ultimate mission by using good business sense and by adopting a broader social responsibility," he said.
Washington noted that many analysts believe that government public health departments should shoulder the broader social responsibility of developing more-coordinated population health efforts, yet in many communities, academic health systems often take the lead.
In developing new policies, Washington said, it is crucial to include all of the stakeholders in the conversation. Community members who are crucial to the conversation are often left out of the discussion.
Academic health systems can leverage policy by not only doing the research but also by approaching policy makers and legislators and asking them to articulate their greatest problems so that research can be focused on solving these problems.
Washington also addressed the criticism that the academic health system is too decentralized, asking the audience, "How do we bridge public health with the academic world? Leadership at a high level," he concluded, "must build the bridge."
In addition to delivering the lecture, Washington met with physicians participating in the Commonwealth Fund Mongan Fellowship in Minority Health Policy for a breakfast discussion and shared lunch conversations with medical and public health students.
Washington also met with a student-run group, the HMS chapter of Citizen Physicians, to share insights into his work as a leader and innovator in academic medicine.