Leading Edge
GE explores health care leadership in HMS course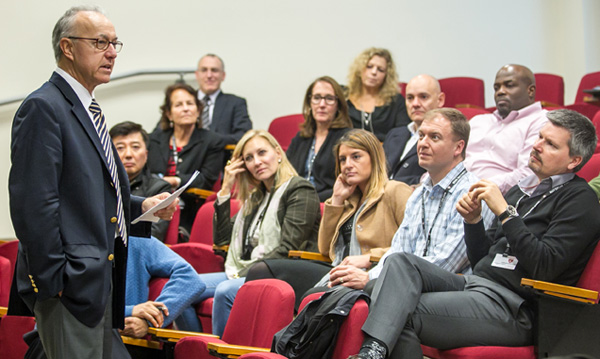 GE professionals from around the world heard George Q. Daley, HMS dean designate, speak during a medical school Executive Education program called "Journey Through Health Care." Image: Bethany Versoy
For nearly two dozen General Electric professionals who took classes at Harvard Medical School in November, study was far removed from a typical day at the office. They operated on (simulated) patients, shadowed health professionals serving homeless people, evaluated an ethical dilemma and even grabbed a hula hoop during an activity break.
"You are taken out of your normal context and allowed to reframe your thinking on a particular topic," said Raghu Krishnamoorthy, vice president of human resources for GE Healthcare, referring to one of the company's approaches to creating transformational leadership experiences.
"When we learn about courage, we go to Normandy," he said. "When we learn about speed, we go to Silicon Valley."
And when they learn about health care, they come to HMS.
'Journey Through Health Care'
The GE professionals from around the world were taking part in a three-day "Journey Through Health Care," an Executive Education program at HMS presented by the Office for External Education. The majority of the attendees were not based in health care businesses but were interested in learning about medicine as a metaphor to study leadership, innovation and empathy for their clients.
The sessions and other talks and tours fit into a company-wide model of leadership development that gives GE executives an opportunity to stretch beyond their usual domains, participants said. 
"I love getting outside my comfort zone," said Lorraine Bolsinger, vice president of GE's accelerated executive leadership program (XLP). "I think when you push yourself, you expand your learning agility."
David Roberts, HMS dean for external education, reached out to GE as soon as he heard in January that the company was moving its international headquarters from Connecticut to Boston.  
The invitation resulted in the latest program in a growing suite of customized offerings created through the HMS Office for External Education. The first program, for Google executives, debuted in October 2015.
"We're opening our doors to teach you about health care and advances in medical science," Roberts, the Steven P. Simcox, Patrick A. Clifford, and James H. Higby Associate Professor of Medicine at HMS and Beth Israel Deaconess Medical Center, told the class. "We know that your innovations are likely to lead to significant changes and opportunities in health care."
Themes of trust between doctors and patients as well as contributions from data, devices and genetics bubbled up during the class's vibrant discussion sessions and later during reflections that covered what participants had seen and heard at HMS.
Patient's perspective
To understand a patient's perspective, the GE class heard from Linnea Olson, who was diagnosed with lung cancer 12 years ago. So much of her continuing cancer care depends on the bond she shares with her doctor, and on the amazing way that science and research have helped her, she told them. She now calls herself not just a cancer advocate but a cancer activist because she is fighting for every patient to receive the best care.
John Halamka, HMS professor of emergency medicine, chief information officer and senior vice president of information systems at Beth Israel Deaconess, told the GE class that, in many ways, health care and its gaps in connectivity make it state-of-the-art—for 1998. As an international authority in health care information systems, Halamka highlighted opportunities for GE to influence improvement.
Stanley Shaw, HMS assistant professor of medicine at Massachusetts General Hospital and associate dean for executive education, said that as much as he hopes better technology will help people lead healthier lives, health care will always rely on personal encounters between doctor and patient.
"We have a lot of work to do to improve how all of that—technology plus personal connections—can work together," said Shaw, who directs the program with Roberts.
Humility and compassion
After visiting the Boston Health Care for the Homeless Program and hearing physician and founder Jim O'Connell, HMS assistant professor of medicine at Mass General, and the program's Chief Medical Officer Jessie Gaeta explain the organization's mission, the GE leaders said they were struck by the humility and compassion O'Connell, Gaeta and their colleagues show to people who need basic necessities as well as health care.
"What can we learn from that?" Courtney Guyton McBurney, leader of executive learning and development at GE, asked the group when she led a discussion back at HMS. What makes that organization work? And what could GE learn from it?
Homeless people had a voice in their care, through an advisory board that values them, came one answer.  The health providers were living the mission, responded another observer.
One lesson resonated with all the GE participants: The providers treated the people they served with respect; for example,  asking them to choose among donated clothing items, instead of expecting them to just take whatever garment was given to them.
"It was surprising on so many levels," said Bolsinger in a later interview.  "First is the altruistic nature of these providers. Their broad concept of service reflects the highest aspirations of the industry, and of leadership, and brings an incredible level of care to those in need."
Health care and leadership
In every setting over the three days, the GE people asked detailed questions about health care and leadership. They brought fresh perspectives from their various specialties, such as the oil and gas or aviation industries.  They pondered questions surrounding life-and-death decisions that physicians face when allocating scarce resources.
Krishnamoorthy said he saw the program as an opportunity to learn about health care not just from a business point of view but also from the vantage point of standards, policy and service.
"I think the heart, for me, is the appreciation of the complexity of what we are dealing with in health care, the fact that there are multiple truths in this area, depending on who's the stakeholder," he said. "This requires an ongoing, evolutionary conversation across many parties. It's not simple."
Near the end of their stay, the GE participants heard from George Q. Daley, HMS dean designate, the Robert A. Stranahan Professor of Pediatrics, and professor of biological chemistry and molecular pharmacology at Boston Children's Hospital.
Embracing innovation
Daley, who will officially take over as HMS dean in January, called GE both an iconic company and a model for leadership. Comparing it to HMS, he said both institutions are known for embracing innovation.
"HMS has been at the cutting edge for two centuries," Daley told the GE participants.
"How do we continue to evolve? How do I get the disparate centers at HMS to be more than the independent sum of its parts?" Daley asked.
A true leader ensures that every person feels a personal connection to the shared mission, Daley said.
"We have that at HMS, that shared sense of purpose," he said. "I hope we can amplify and enrich that."
People say they are proud to work at GE, too, Daley added. "That's worth its weight in gold."