Laying the Foundation
Soma Weiss Student Research Day showcases the future of medicine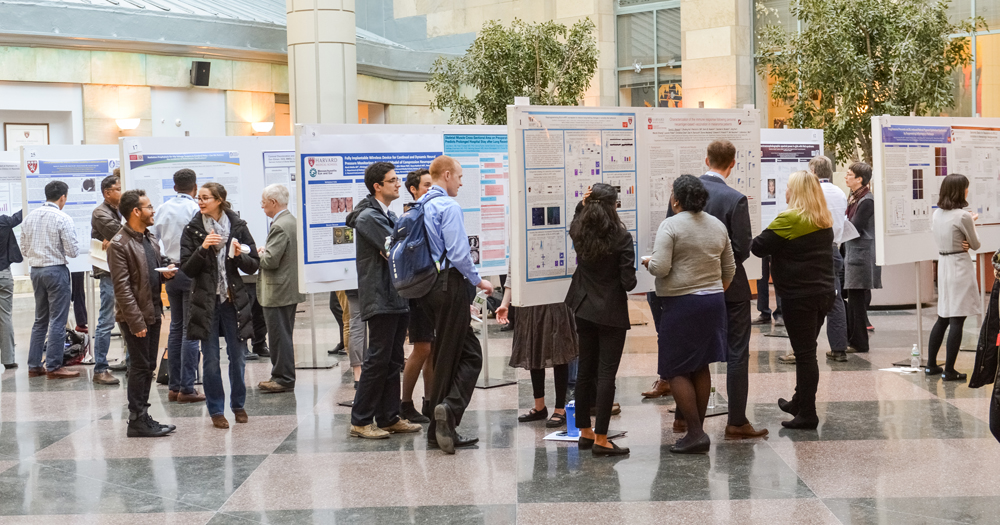 Students presented a diverse range of research projects at the 77th Soma Weiss Day. Image: Steve Lipofsky.
Few areas in medicine have sparked as much excitement in recent years as cancer immunotherapy, an approach that releases the "brakes" that tumors place on the immune system to avoid destruction.
For patients who respond to treatment, the results can be a dramatic reduction in tumor size and number, or even complete remission, although only a relatively small percentage of patients currently experience such a response.
Harvard Medical School student David Bozym presented research at this year's 77th Soma Weiss Student Research Day on March 16 that focused on the genetic mutations that turn normal cells into cancerous ones.
Working with a mentor, Catherine Wu, an HMS associate professor of medicine at Dana-Farber Cancer Institute, Bozym studied how proteins produced by these abnormal genes could be used as unique flags that focus a patient's immune response on tumor cells—a step toward a personalized cancer vaccine.
"Immunotherapy is on its way to becoming a foundational pillar of cancer care, right alongside surgery, radiotherapy and chemotherapy," said Bozym, who this year received the Elizabeth D. Hay Prize for Basic Science Research at Soma Weiss Day for his study.
View the related photo gallery
"Soma Weiss Day is one of the highlights of the academic year. It's very inspiring when you think of some of the scientific discoveries, many of which have transformed medicine, that students who have presented at Soma Weiss Day went on to make," said Edward Hundert, dean for medical education and the Daniel D. Federman, M.D. Professor in Residence of Global Health and Social Medicine and Medical Education at HMS.
"I come every year to learn a lot of science and celebrate the brilliant students who are launching incredible careers as physician-scientists," he said.
"Immunotherapy is on its way to becoming a foundational pillar of cancer care, right alongside surgery, radiotherapy and chemotherapy," — David Bozym
Held each year since 1940 in honor of Soma Weiss, a beloved HMS educator and physician and an ardent supporter of student research who died at the age of 43, the event showcases the work of HMS and Harvard School of Dental Medicine students and encourages networking and cross-pollination across the Harvard medical community.
Despite a last-minute rescheduling due to a late winter blizzard, more than 30 students gave talks and presented posters in the sun-filled atrium of the Tosteson Medical Education Center.
"If we could get through World War II, we can get through a little snowstorm," Hundert joked, referring to the research presentations' uninterrupted run even during the war years, 1941 through 1945.
The diverse array of research topics ranged from the basic biology of cancer to improving diabetes care in Rwanda.
HMS student Kirsti Campbell investigated whether encouraging optimism and positive emotions can be an effective intervention to improve a patient's recovery after an acute cardiac event.
Cerebral palsy patients who have hip surgery can develop bone in soft tissues where bone should not exist, a complication that HMS student Eric Davis found may be safely and effectively prevented with radiation treatment.
Student Stacy Jones looked at barriers in medical education that lead to the underrepresentation of individuals with disabilities. After interviewing dozens of students, residents and physicians with disabilities, Jones identified action items that could help reduce obstacles to equal access and create more inclusive training programs.
"As one of our participants said, doctors are very good at seeing problems, but we need to be better at seeing solutions," Jones said.
As part of Soma Weiss Day, the second annual Martin Prince Scholarship for Student Innovation Prize was awarded to student Maria Duarte for her work on developing an optically-driven auditory neuroprosthetic, which may someday help deaf patients hear through light. Poster prizes were then announced after judges evaluated the students' work.
2017 Soma Weiss Day Student Speakers
Stacy Jones: The AAMC lived experience project: Accessibility, action, and inclusion in medical education
Prashant Rajan: The cost-effectiveness of surgical fixation of distal radius fractures: a computer model-based evaluation
Elisa Walsh: Changes in the propofol-induced frontal electroencephalogram in pediatric patients with autism spectrum disorder 
David Bozym: Characterization of the immune response following neoantigen-based vaccination in melanoma patients
2017 Soma Weiss Day Poster Winners
Elizabeth D. Hay Prize for Basic Science Research
David Bozym: Characterization of the immune response following neoantigen-based vaccination in melanoma patients
Kavitha Anandalingam (honorable mention): Reprogramming BLA-vHPC synapses to reduce anxiety-like behavior in mice
Judah Folkman Prize for Clinical/Translational Science Research
Alicia Smart: Intron retention as a novel source of tumor neoantigens associated with response to checkpoint inhibitor therapy
Ivy Franco (honorable mention): Use of frailty to predict survival in elderly patients with early stage non-small-cell lung cancer treated with stereotactic body radiation therapy
Robert Ebert Prize for Health Care Delivery Research or Service
Iman Berrahou: Improving the cervical cancer screening experience for LGBTQ patients: A community-based media campaign
Leon Eisenberg Prize for Medicine in Society Research
Albert Ha: A population-based analysis of the incidence, cost, and outcomes of postoperative delirium following Major urologic cancer surgeries