Johnson Named Young Family Professor of Medicine
Honors leadership in women's health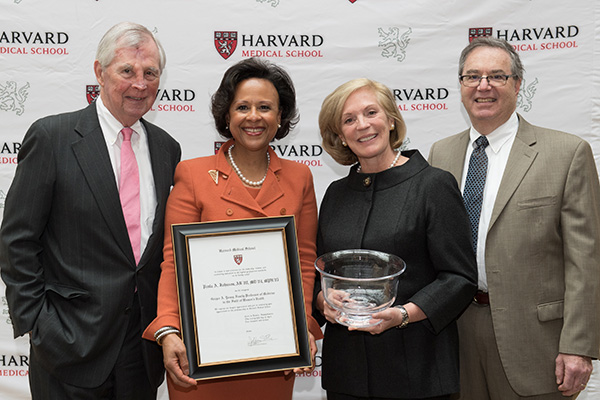 From left: Amos Hostetter, Paula Johnson, Barbara Hostetter and Jeffrey S. Flier. Image: Gretchen Ertl
Paula Johnson '85, Harvard Medical School professor of medicine at Brigham and Women's Hospital, was honored as the first incumbent of the Grayce A. Young Family Professorship in Women's Health in a ceremony on April 25 in the Gordon Hall of Medicine at HMS.
Jeffrey S. Flier, dean of the faculty of medicine at Harvard University, called the afternoon's event a "bittersweet occasion" because Johnson is due to leave HMS and Brigham and Women's to become president of Wellesley College in July.
"Paula, we are thrilled for you and eager to see what is to come with this new appointment, but we also recognize that there will be a great void in the Harvard medical community left by a talented, passionate and well-respected colleague and friend," Flier said.
The professorship title currently honors Johnson's mother but will ultimately be named in honor of Johnson, who has earned international recognition for improving the health of women through her experience as a physician, researcher, teacher and expert in public health and health policy.
Among many achievements, Johnson founded the Mary Horrigan Connors Center for Women's Health and Gender Biology at Brigham and Women's in 2002 and now serves as its executive director. The center is dedicated to eradicating gender inequities in biomedical research and health care by pursuing scientific advances, translating discoveries into clinical innovations, creating delivery models to transform women's health care and advocating for changes in public policy to improve the health of women.
A cardiologist by training, Johnson is also chief of the Division of Women's Health at Brigham and Women's, a professor of epidemiology at the Harvard T.H. Chan School of Public Health and an elected member of the National Academy of Medicine.
"As a graduate of Harvard's Radcliffe College, Medical School and School of Public Health, followed by a distinguished career on the HMS faculty at the Brigham, it is fair to say that Paula represents the very best of our alumni and faculty and truly could not be more deserving of this distinctive honor," said Flier.
The professorship was supported by Amos and Barbara Hostetter, founders of the Barr Foundation, one of the largest private foundations in New England. They have a longstanding relationship with Brigham and Women's and Harvard University.
Elizabeth Nabel, president of Brigham and Women's and professor of medicine at HMS; Ingrid Katz, HMS assistant professor of medicine at Brigham and Women's who was a mentee of Johnson's; and Barbara Hostetter spoke at the event, as did Johnson.