John Halamka Celebrated as Inaugural International Healthcare Innovation Professor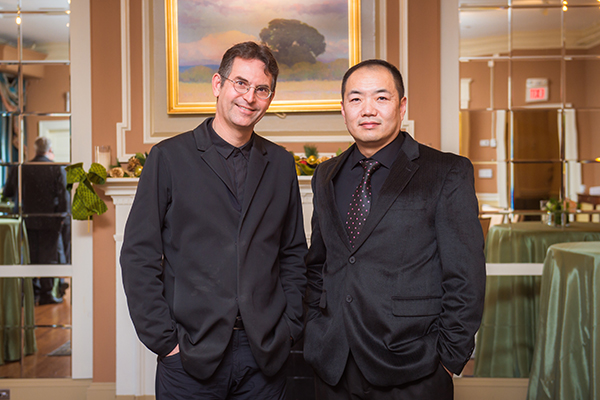 John Halamka (left) and Ben Zhou. Image: Gretchen Ertl
Friends and colleagues from Harvard Medical School and Beth Israel Deaconess Medical Center gathered at the Harvard Club of Boston on Dec. 11 to celebrate the activation of the International Healthcare Innovation Professorship and the installation of John Halamka as the inaugural incumbent.
Halamka is a practicing emergency physician and a respected leader in medical innovation and health care technology. In addition to his new role as the International Healthcare Innovation Professor of Emergency Medicine at HMS, he is chief information officer of the Beth Israel Deaconess health care system and senior vice president of information systems at Beth Israel Deaconess, where he is responsible for all clinical, financial, administrative and academic information technology.
As chair of the New England Healthcare Exchange Network, Halamka oversees clinical and administrative data exchange among payers, providers and patients in Massachusetts. He has also helped national governments around the world plan their health care information technology strategies.
The professorship was made possible by HAVY International and its president, Ben Zhou. HAVY International is a consulting firm based in Hong Kong and Shenzhen, China, that is working to establish the health care infrastructure of Shenzhen. Zhou was previously director of Perot Systems Healthcare China and Asia Pacific Perot Systems, where he worked with the provincial government to establish the regional health information platform of Hunan province in alignment with China's national health care reform.
"Through the establishment of this professorship, Beth Israel Deaconess Medical Center, HAVY International and Dr. Zhou are ensuring that HMS, Dr. Halamka and all future incumbents of this professorship continue to advance medical innovation and progress in the international health care information technology landscape, while honoring Dr. Halamka's commitment to the field," said Nancy Tarbell, dean for academic and clinical affairs and the HMS C.C. Wang Professor of Radiation Oncology at Massachusetts General Hospital.