Improved Hospital 'Handoffs' Cut Adverse Events by Almost Half
I-PASS encourages structured written, spoken communication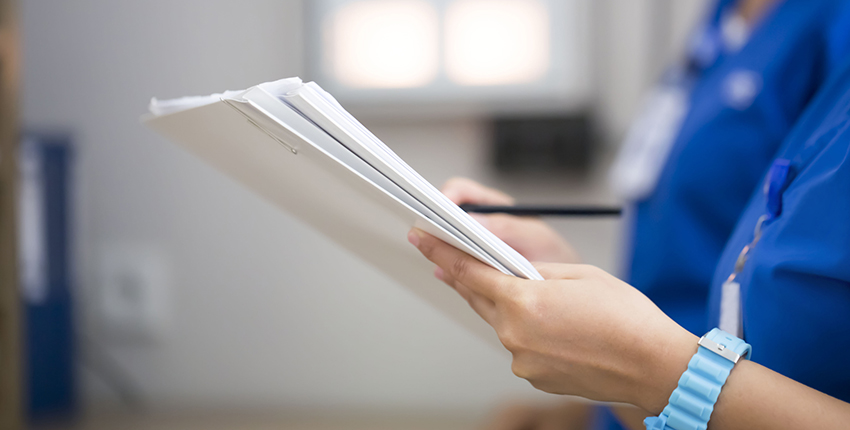 A system of structured communications during patient handoffs reduced adverse events by 47 percent in a new study. Image: ShotShare/iStock/Getty Images Plus
About 15 years ago, pediatricians Christopher Landrigan and Amy Starmer observed a weak link in hospital care: Medical residents were rigorously trained to take patient histories with standardized templates and to present cases in a structured format during daily rounds, yet such structured communication was largely absent during shift changes, when patients' care was handed off to new providers.
Patients admitted to the hospital typically have multiple provider teams caring for them, with information handoffs occurring frequently during their stay. These handoffs "are a common source of vulnerability for patients," said Landrigan, now chief of the Division of General Pediatrics at Boston Children's Hospital.
Miscommunication contributes to about two-thirds of serious adverse events in hospitals, according to the Joint Commission, a leading health care quality assessment organization. And handoffs are especially prone to communication lapses. Providers finishing a shift may be tired and rushed and more apt to omit key information important to the patient's care.
Wanting to improve this process, Starmer and Landrigan created the I-PASS handoff program, which consists of a package of communication and training tools that prompt providers to pass on crucial information — both verbally and in writing — in a reliable, structured fashion.
Science & Medicine, Delivered
Harvard Medicine magazine in your inbox
Handoff is a universal issue in health care. We think we've created a universal language for handoffs.
Christopher Landrigan
Fifteen years ago, there was much more resistance. But now there's recognition that handoff communications are important to safety.
Amy Starmer