'I am Fiercely Committed to Our Collective Vision'
Incoming HMS Dean George Q. Daley addresses School as he takes office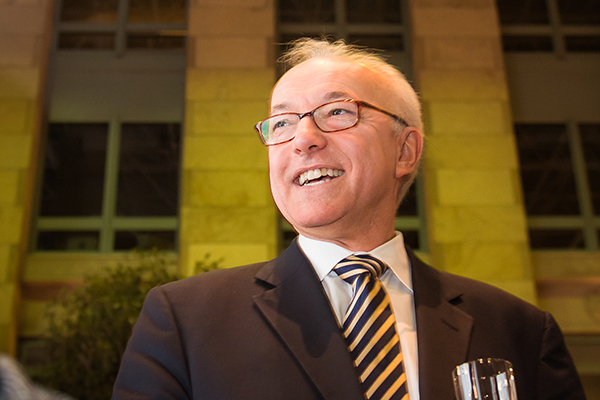 The following is the text of the speech given by Harvard Medical School Dean George Q. Daley on the occasion of his welcoming reception at the School on Jan. 4, 2017. Daley's remarks followed an introduction by Harvard University President Drew Faust. 
I give a lot of talks and I get introduced a lot. Sometimes it gets a little hyperbolic, and I often quip, "God, I wish my mom were here to hear that." Well, my mom is here today, and I'm just thrilled to see so many very close friends and colleagues coming out to celebrate the beginning of my tenure as dean. My whole lab is here, two of my college roommates, my first graduate student, Eugene Koh, now a distinguished spine surgeon. My five brothers and sisters, I believe together for the first time since my father's funeral. My wonderful wife, Amy. My two great sons Jack and Nick, and my mom. I love you all.
"After four decades as a student, as a scientist and as a clinician, I'm assuming this new role as dean with the aspiration of working with you to make what is arguably the worlds greatest biomedical community even stronger." —George Q. Daley
I want to start by recognizing and thanking Barbara McNeil, who has served in a very gracious role as interim (HMS dean) twice, in the last many years. She's been tremendously graceful and helpful to me during the transition. I also want to give a shout out to (previous HMS dean) Jeff Flier. He was — under difficult circumstances, difficult financial times — a visionary and influential dean over the last nine years. I think we all owe him a debt of gratitude. Gratitude for his services and his many accomplishments, on which we will build over the coming years. I have to say that over the last many months, Jeff has given tirelessly of his time. We've met together no fewer than six different times for many, many hours—and he's shared his perspective, his good counsel.
I want to thank (Harvard President) Drew Faust again and (Harvard University Provost) Alan Garber. During the many discussions that led to my becoming dean, I heard again and again from Drew and Alan about their tremendous respect for Harvard Medical School and their recognition that this community is essential to the pre-eminence of Harvard University. They understand that HMS has a tremendous responsibility to serve not only our local community, but also our global community, in our role as scholars, practitioners and caregivers.
I think you can see, it's humbling and daunting to be asked to serve as dean of Harvard Medical School. I'm thrilled, I'm nervous, but I accepted this role because I am fiercely committed to our collective mission. Our mission is to advance fundamental inquiry, to translate research into new insights into disease and new treatments, to educate the next generation of leaders in science and medicine, and to work tirelessly and selflessly to improve the health and the vitality of patients—not just here in Boston but, increasingly, across the globe. For me the deanship is a call to service.
A Call to Service
As Drew mentioned, I've been at Harvard for almost 40 years. In 1978, I left a small town of 4,000 people, Catskill, New York, to arrive at Harvard as a freshman and I pursued my entire academic career in this community. I consider myself remarkably diverse in that I actually obtained a PhD at MIT. They do things differently over there, believe it or not. After four decades as a student, as a scientist and as a clinician, I'm assuming this new role as dean with the aspiration of working with you to make what is arguably the worlds greatest biomedical community even stronger. At Harvard Medical School, each of us, each of you, is charged with upholding the highest standards of scientific excellence, academic rigor and selfless service to others. Each of us is expected to make a difference in this world, and now, as dean, I am committed to working diligently to facilitate and enhance your capacity to excel in all that you do.
We all know that there are many challenges. Collectively, as scientists, we must aspire to build upon the extraordinary opportunities for advancing our research agenda at a time of great uncertainty about scientific funding. As educators, we must strive to provide the most inspirational and enduring educational experience for our students when the sheer volume of information that is required to be a productive scientist or a productive clinician has accumulated at a pace that is far surpassing any individual's capacity to absorb or retain it. As clinicians, we have to dedicate ourselves to providing the most efficacious and compassionate care for an increasingly ill, increasingly complex and aging population, at a time when dwindling reimbursements and regulations threaten our great medical centers.
Harvard Medical School feels the duress of these trends; but Harvard Medical School is a strong institution, and we have formidable resources and limitless potential. For our Quad faculty, our ambition must be to build upon our research excellence, to make our scientific enterprise richer and deeper. We can do this by embracing collaboration with colleagues in our affiliated hospitals and our neighboring biotech and pharma communities. And I'm committed to setting clear priorities so that we can invest heartily in exciting new directions that will transform biomedicine, all the while acknowledging the need to remain fiscally sound.
For our students, we must cultivate their remarkable idealism. We need to prepare them for a life of learning and service, and we're currently restructuring our curriculum in a bold and novel way. This will continue to actively take shape over the next few years. For our many faculty members — believe it or not totaling over 11,000 — whose good work is responsible for the renown of our peerless medical centers, we must ensure that you identify strongly and proudly as members of the Harvard Medical School community. I'm committed to making Gordon Hall and Harvard Medical School more valuable to you.
For our many staff members who bring unique skills and selfless dedication to work every day in our community, I'm committed to providing you with an enriched work environment, so that you can take pride in being central contributors to our mission. In my last five months, since being announced as dean, I have listened to literally hundreds of you. What I've heard is a strong spirit of optimism. Yes, we face formidable challenges, but we enjoy even greater opportunities. Given the remarkable talent that you all represent, the future for Harvard Medical School is bright indeed.
Embracing Collaboration
I need your help and I'm going to seek your counsel. I'm going to ask for your partnership and I pledge that I'm going to listen. I'm going to listen so that I can take advantage of the great ideas that you all have that will help shape the direction of this great institution. As a start — and I think particularly fitting given that my transition is coming at a time of other very significant transitions in our leadership — it is important that each of us accepts and lives the HMS Community Values statement. That we embrace collaboration and service, diversity and respect, integrity and accountability, and that we strive for lifelong learning, wellness and balance. We must celebrate and, indeed, be enriched by our heterogeneity, be moved by the multiplicity of talent and perspective that makes us collectively stronger.
Harvard Medical School convenes some of the planet's greatest thinkers. As I look out and see so many of you, I am in awe. This vibrant community has the potential to transform the human condition, and it also has the responsibility to act. Just as the vitality of my own laboratory has been dependent upon robust funding, such as funding from the likes of the Howard Hughes Medical Institute and funding through the generous philanthropic support from Children's Hospital, Harvard Medical School will only flourish if we can provide adequate resources. I'm standing here today to say that as dean, fundraising will in fact be a major priority.
In conclusion, let me just say that today I've highlighted just a bit of my philosophy and some of my aspirations. On Jan. 17, I will be holding an all-school community meeting and a reception where I plan to outline in more detail my vision for HMS and some of the exciting plans for our future. These plans will include an enriched focus on therapeutics, further development of our core strengths, and I'll also share how I'm planning to work with you to solve some of our organizational and fiscal challenges. I'm looking forward to your partnership with me in the days, months and years to come.
For over two centuries HMS has been synonymous with unparalleled excellence in science and medicine, education and service. I hope you, like me, are inspired by this extraordinary institution. Going forward, we're going to do good work and together. We're going to achieve extraordinary results. I'm deeply grateful for all of you being here today.
Thank you.