Huskamp Named 30th Anniversary Professor of Health Care Policy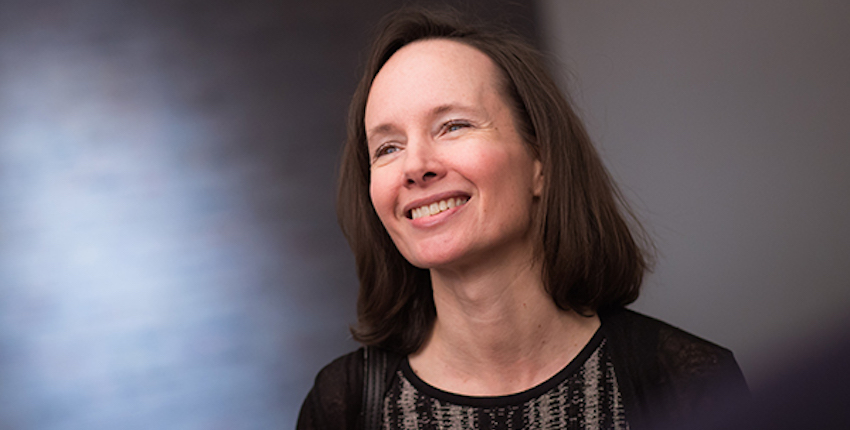 Professorship incumbent Haiden Huskamp. Image: Gretchen Ertl
Haiden Huskamp, a health economist whose research focuses on mental health and substance use disorder policy, prescription drug policy and the financing and utilization of end-of-life care services, was installed in December as the inaugural incumbent of the 30th Anniversary Professorship in Health Care Policy in the Department of Health Care Policy.
Huskamp co-directs the social and population science course at HMS, which is required of all first-year medical and dental students.
"At Harvard Medical School, endowed professorships represent the highest honor we can bestow upon our faculty members," said HMS Dean George Q. Daley at the Dec. 20 event, held at the Hotel Commonwealth. The new professorship, he said, "will be among these venerated titles, honoring and supporting a lineage of incumbents in the field of health care policy."
The professorship was established to commemorate the 30th anniversary of the HMS Department of Health Care Policy, founded by Barbara J. McNeil.
"Chairing the Department of Health Care Policy has been gratifying and amazing," said McNeil, the Ridley Watts Professor of Health Care Policy at HMS and professor of radiology at HMS and Brigham and Women's Hospital, who has twice served as acting dean of HMS.
"Thank you, Barbara, for your unparalleled leadership," said Daley. "You have been a tremendous resource to me and an inspiration to us all. Through the establishment of this professorship, HMS, Dr. Huskamp and all future incumbents will continue to advance research on critical health care policy issues that will ultimately improve public health."
McNeil praised Huskamp as an extraordinary researcher and "a model of grace and competence."
Richard Frank, the Margaret T. Morris Professor of Health Care Policy and a longtime mentor of Huskamp's, agreed that, in addition to conducting important research, Huskamp stands out for her leadership qualities, thoughtfulness and generosity.
"She will make the planet better for all of us," he said.
Taking the podium to warm applause, Huskamp thanked McNeil, Frank, fellow mentor and professor of health care policy Joseph Newhouse and "the two strong women who raised" her: her mother and grandmother.
At HMS, "I've been fortunate to focus on issues I care about," she said. "It's a privilege to teach health care policy."