Human Touch
Artist's work questions relationship between nature, modern world
Drawing by Joo Lee Kang in the HMS Transit Gallery. Image: Eileen Moynihan
The mutated animals are almost hidden among the flowers and plants in the still-life drawings. At first glance, a viewer might not notice the mutations, both genetic and caused by injuries. 
"From afar, it looks like china - like traditional English china plates," said Tania Rodriguez, community engagement curator at Harvard Medical School. 
Rodriguez is commenting on the art of Joo Lee Kang, a Boston-based artist and a 2011 graduate of the School of the Museum of Fine Arts at Tufts University, whose "Blue on Blue" exhibit is on display in the Transit Gallery in Gordon Hall through May 8. 
Kang, originally from Seoul, South Korea, uses her art to examine the relationship between nature and the modern world. Much of her art, done in ballpoint pen, includes depictions of mutated animals."They show how I feel at loss to describe what is natural in our present day," Kang said. "Cross-breeding, genetic engineering, and so on; the ways in which humans can control and reconfigure the natural process become more abundant as technology advances."
The work in this exhibit shows the effect human carelessness has on marine animals, Kang said. One piece shows an image of a seal with a plastic water bottle in its mouth, another a fish wrapped in wire, and yet another a turtle with a cotton swab in its mouth.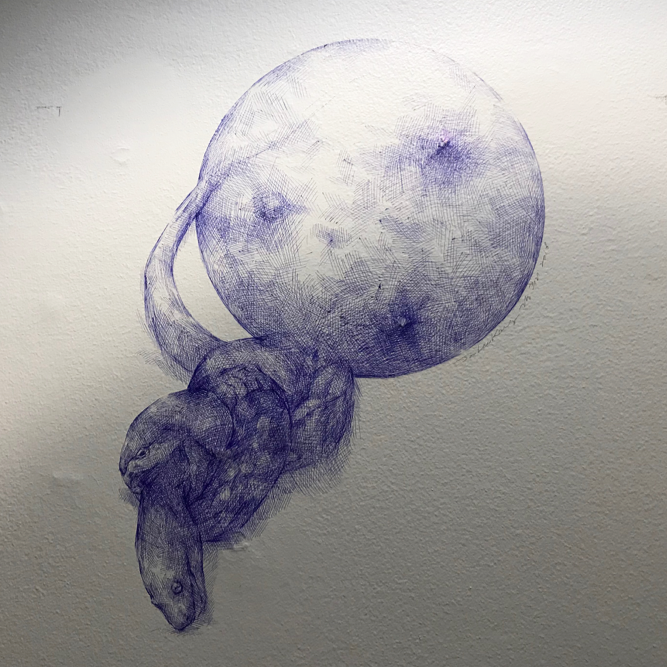 "Blue on Blue" is about marine debris in our ecosystem, said Kang, adding that she decided to cut and draw the series using circles that reminds her of windows of a submarine or the lens of a microscope.
Kang's pieces are spaced out throughout the gallery, almost like blue bubbles. The works are done in blue ballpoint pen, the medium that Kang most prefers. 
"They show how I feel at loss to describe what is natural in our present day," Kang said.
"I fell in love the characteristics of ballpoint pen: non-erasable, could have multiple layers, beautiful grayness tones, and so on," said Kang. "The accessibility was definitely one big reason that I like to use ballpoint pen and paper for my drawing."
Kang said she also loves the permanence of the pen and how the medium forces her to concentrate on fixing her mistakes, rather than erasing them. 
"If I obsess and keep working on the wrong part, it reveals more. I need to let it go and work on other parts first, give myself distance so I can see it right, and come back later," Kang said. "I think it's [the] exactly same way that I'm dealing with my life."
Kang is one of many Boston-based artists who have been featured in the Transit Gallery since 2007, when the idea for the gallery became a reality. 
"There was an exhibit at [Massachusetts College of Art & Design]. It was a photographic retrospective of the work Partners In Health had done," Rodriquez said. "They asked us if we wanted it here at HMS."
Rodriguez said she and her colleagues in the space planning office, where she worked at the time, thought the newly-renovated hallway would be the perfect setting to display the pieces.
"Knowing that we had just renovated this quarter, everybody in the office [thought], 'What better way to remind people that work here, why we work here?'"
The gallery was an immediate success, in a small but significant way: people were slowing down and stopping to look at the work. 
"People stopped, people talked to people they didn't know," Rodriguez said. "Smartphones weren't everywhere yet, so it wasn't about getting people to look up, but it did make people slow down."