Honoring David Hubel
Symposium celebrates late Nobel-winning neurobiologist's scientific and personal legacy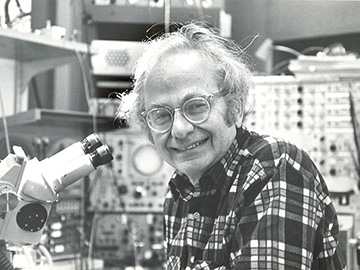 He was always snapping pictures, whether in the lab, at home or traveling. He worked on experiments for 24 to 36 hours straight. He insisted that his research partners take meticulous notes on everything down to the sandwiches they ate in case it jogged their memories later.
So reminisced a dozen former students, colleagues and family members at Eye, Brain and Vision: A symposium to honor the life and science of David H. Hubel, on May 5 at Harvard Medical School. The HMS Department of Neurobiology hosted the event to commemorate the scientific and personal legacies of Hubel, the HMS John Enders Professor of Neurobiology Emeritus, who died in September at the age of 87.
Hubel and longtime research partner Torsten Wiesel shared half of the 1981 Nobel Prize in Physiology or Medicine for their groundbreaking insights into the structure and function of the visual cortex and the importance of experience for normal vision development. Their work changed the way childhood vision conditions are treated and ushered in the modern study of the cerebral cortex.
The symposium touched on many of the paths Hubel's successors have taken over the past few decades, some of them unexpected—including hearing, Alzheimer's disease and smartphone camera technology. Presenters described how Hubel's discoveries have informed research into visual processing in animal models such as mice and zebrafish, embryonic retinal and neural development, the ability of the visual cortex to recover after central nervous system injury, and how the brain produces stable visual perception even when the eyes are moving.
Symposium speakers colored their scientific presentations with personal remembrances of Hubel. They fondly recalled a colleague, teacher and father who was brilliant, witty, no-nonsense, alternately spirited and grumpy, and a generous mentor. Many also waxed nostalgic for a time when scientists could stay up all night doing experiments themselves and expressed hope for a return to what Hubel saw as the "power of the individual scientist."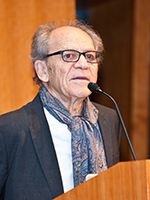 "The essence of this day was that we in different ways could celebrate David—to have his former students come here and tell their stories," said Wiesel, who collaborated with Hubel for almost 20 years, much of that at HMS. "We are here as a big neurobiology family."
Now president emeritus and Vincent and Brooke Astor Professor Emeritus at The Rockefeller University, Wiesel gave opening remarks and then presided over the daylong program with HMS professor of neurobiology Margaret Livingstone, who was also a longtime collaborator of Hubel's.
Livingstone recalled how she once had to duck out of a marathon lab session with Hubel to give birth. She timed her contractions in the lab notebook. He continued the experiment himself after she went to the hospital.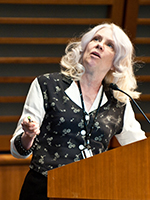 At the symposium, she spoke about investigating the relationship between location and function of cells in the primate visual cortex. She has found that areas of the cortex that appear to specialize in the recognition of either text, faces or abstract angular shapes seem to correspond to the visual object's curvature, with cells for central vision responding to high curvature and cells for peripheral vision responding to straight contours.
Neuroscientist and science writer Simon LeVay read from a book he is writing about Hubel and Wiesel. He entertained the audience with anecdotes about various pronunciations of Hubel's name and the trials of making the tricky Hubel electrode that allowed him to study the firing of individual neurons in the visual cortex.
Paul Hubel, one of David Hubel's three children and a senior image specialist at Apple, Inc., spoke about aspects of his career that were influenced by childhood conversations with his father about photography, astronomy and woodworking.
"He worked on one visual system and I work on sort of another," said Hubel, referring to advances he has engineered or overseen in iPhone cameras to make digital photographs look more like what the eye sees. Among the recent improvements he described was automatic image stabilization, which he was inspired to tackle because of his aging father's frustration with shaky hands when he tried to use his beloved camera.
Even those who weren't related to Hubel by blood or mentorship conveyed their appreciation of his influence and methods.
"I was blown away by the beauty of the work. In two or three hours, he largely changed what I thought was important in science," recalled Robert Wurtz, a senior investigator at the National Eye Institute, who met Hubel in 1961. Hubel and Wiesel, he said, "did the right experiments at the right time, and they were in the best neurobiology department in the world."
"All these individuals have their own careers and you wouldn't necessarily know they had anything to do with David because they're all still themselves," said Wiesel. "I think he was a model. We are here to celebrate his way of doing science, and the new spring in American science where the individual is coming back."