High School Soccer Player Makes Huge Save: Her Coach's Life
Harvard Medical School course played decisive role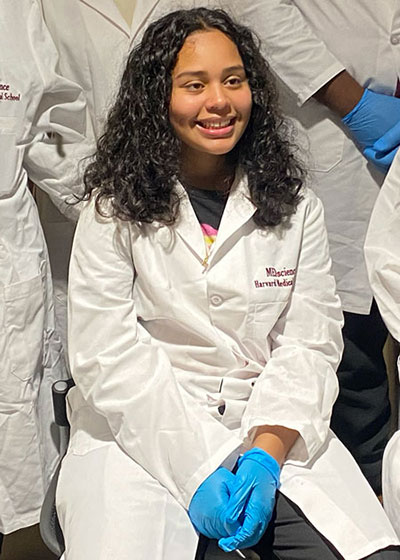 During a high school soccer tournament last April, goalie Jasmine Canas made some really nice saves — but her most crucial save was on the sidelines.
Canas, her coaches, and some of her teammates were hydrating, grabbing lunch, and talking about soccer in between games when their head coach began choking on her medication and a sandwich.
"I kept looking at her to see if she was gonna actually swallow it," said Canas. "But she wasn't swallowing."
Although Canas said she was scared, she was prepared to intervene because of a CPR class she took through Harvard Medical School's MEDscience program.
"This is exactly what they taught us," Canas thought as the lifesaving training kicked in.
Running through the steps in her head, she hit her coach on the back 10 to 15 times with the heel of her hand; paused 5 to 10 seconds to listen for breath; got her to stand up; and performed the Heimlich technique repeatedly, striking harder until the food was dislodged from her coach's throat.
Canas' actions allowed her coach to breathe, speak, and swallow the pill that was blocking her airway.
During the crisis, Canas even had the presence of mind to get consent from her coach to intervene.
Canas said that while everyone gathered around and commended her, all she could think was, "I can't believe what just happened."
"There's nothing more we can ask," said Obi Onochie, an HMS MEDscience assistant director and lead teacher. "Jasmine applied what she learned in the classroom to an actual, real-life setting, staying calm enough to be able to assess the situation and try different techniques. We can't praise her enough. It's just an incredible thing."
This is not a drill
Canas participated in MEDscience in fall 2021. This 16-week advanced biology program is designed for students from Boston-area public high schools.
The program combines classroom biology instruction at students' home schools with immersion learning once a week at HMS in emergency medicine, medical research, forensics, or medical-device technology tracks.
Team-based simulations based on the scientific foundations of medical care and research methods teach students problem-solving, critical thinking, and biomedical skills. Students learn by practicing medicine on lifelike mannequins and performing hands-on lab techniques while earning credit for school.
"It makes a huge impact as an introduction to health careers because they are wearing scrubs while learning to draw blood, intubate, and diagnose a patient on the HMS campus," said Gretchen Lahey, director of early college and career pathways at New Mission High School in Hyde Park, Mass., where Canas goes to school.
In addition to the standard MEDscience coursework, Lahey arranged for the students to receive certifications in first aid and CPR through the program so they would come away with credentials and skills they could add to their resumes and use in their daily lives if needed. Canas took the additional training in January 2023.
Canas started in a pre-engineering track as a freshman but said she quickly realized it wasn't for her. Searching for a learning experience that involved helping people and was more hands-on, she switched to MEDscience, even though she was not interested in going into medicine. She said she "can't deal with blood."
Onochie and co-­­­instructor Tim DiMario, HMS MEDscience assistant director of curriculum, said Canas was a natural leader, knowing when to step up during crucial times and when to step back so other students could share their ideas and contribute in the medical emergency simulations.
DiMario said it was remarkable that Canas worked so hard in the semester-long program and during the CPR training even though she knew she was not interested in a career in health care.
An open field for futures in health, medicine
William Thomas, principal at Canas' school, said hands-on experiences like MEDscience get their students excited about exploring careers early.
Even if MEDscience doesn't "put them on the path to becoming a doctor, it does put them on the path of figuring out what they want to do — and don't want to do — without having to wait until college to figure it out," he said.
MEDscience opens up STEM career possibilities for public high school students, who can begin to see themselves in these jobs by mastering the curriculum and hands-on learning
"We've seen a lot of students moving forward in the health field and seeing the value in pursuing those careers," said Thomas.
In the more than two years that MEDscience has been offered through Canas' high school, six students have gone on to internships at HMS-affiliated hospitals.
Leveling the pitch throughout the world
Since the COVID pandemic began, leaders have expanded MEDscience so the curriculum is also available through virtual and hybrid programs. Students work as a team with a live-actor patient on a telehealth video call and receive vital signs via their smartphones.
During the summer of 2023, MEDscience engaged 360 students from 27 states and 8 countries. This academic year, more than 2,200 in-person and 500 virtual learners will participate in programming.
Although the goal is to inspire students to go on to college and careers in science and medicine, Onochie said that it's still wonderful if those not interested in health care "come away with some health literacy, an understanding of the body and vital signs, and essential things like CPR or the signs to look for with stroke."
Canas certainly did — even though she never imagined she'd be called on to use those lifesaving skills.
"I was just shocked," she said.