Helmets in Longwood
Cyclists lined the Quad to support commuter safety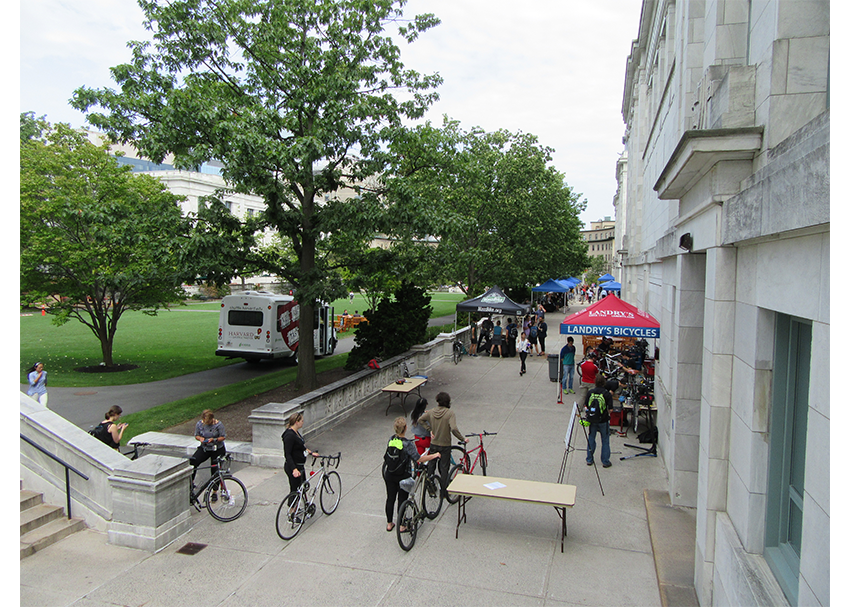 Bicycling isn't always easy and can be nerve-racking for new cyclists, especially along the congested streets of Boston. Every year, the Harvard Longwood Bicyclists supports cyclists, especially those commuting to campus, by providing free bike maintenance and safety advice.
On Sept. 11, the HMS Quad was bustling with activity as more than 300 cyclists attended the Harvard Longwood Bike Fair to promote and celebrate commuter safety.
"Our goal is to appreciate the cyclists of Boston, let them know we care and raise awareness about the different safety options cyclists have," said Anne Arsenault, officer manager at the HMS Parking and Commuter Services Office and a member of the HMS bike fair planning committee.
This year, the fair included something new—an opportunity for cyclists to practice loading their bikes onto shuttles. The Harvard Shuttle was parked on the Quad and open to all to load their bikes onto the vehicle without pressure from traffic. Attendees also had a chance to sit in the driver's seat to gain an understanding of what blind-spots they would be in if they were potentially riding their bike behind a large vehicle.
Other cyclists were able to get involved with the multiple speakers and events. A total of six mechanics provided mini maintenance tutorials and free tune-ups. The HMS Parking and Commuter Services Office offered free helmets. More than 200 helmets were given away from 11:30 a.m. to 1:30 p.m., making it one of the more successful giveaways at the annual fair. Each helmet was fitted for each individual's head size.
Blue tents lined the quad with exhibitors who provided goods and services for cyclists, including AAA Northeast, the American Cancer Society, MASCO, Longwood Area Cyclists and Landry's Bicycles. Harvard students and employees were also given discount cards for Bluebikes, as well as free sunglasses.
"When biking, you get the chance to commute while having fun and while exercising. It's cheaper than using public transportation," said Laura Smeaton, Harvard Longwood Bicyclists member, part of the bike fair planning committee and a biostatistician at the Harvard T.H. Chan School of Public Health.
The fair was organized by volunteers and members of the Harvard Longwood Bicyclists, who are composed of students, staff and faculty at the Harvard Chan School, Harvard Medical School, and Harvard School of Dental Medicine.