'Hearing' Autism
Newborn hearing test may enhance early detection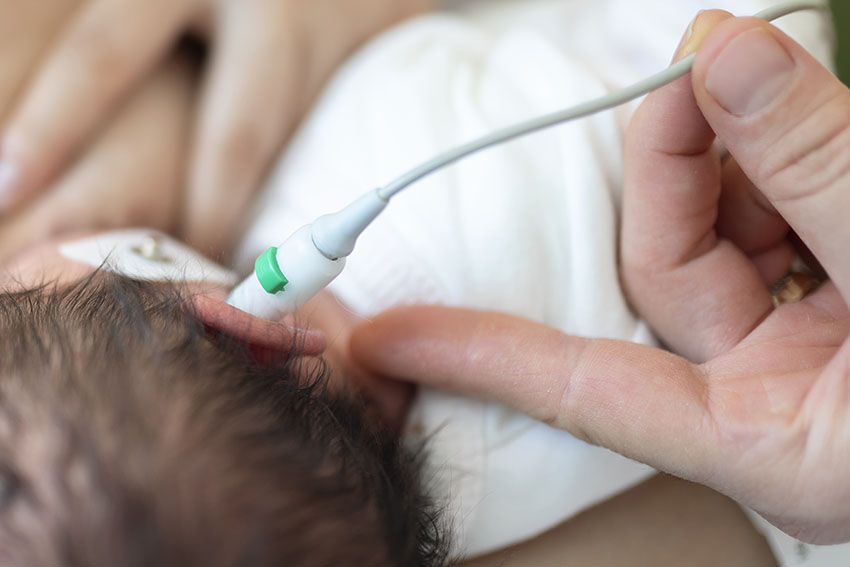 Autism spectrum disorder, estimated to affect one in 54 children in the United States, encompasses a range of complex neurodevelopmental conditions that typically emerge in the first few years of life. Yet for a variety of reasons, these conditions could be challenging to diagnose early when interventions are most likely to avert or mitigate some of the more serious long-term developmental consequences.
Now research led by Harvard Medical School investigators and conducted in collaboration with colleagues at the University of Miami suggests that a relatively simple hearing test—already used in newborns worldwide—could enhance screening efforts.
The study, published in Autism Research, shows that newborns with abnormal scores in their hearing results are at increased risk for a subsequent diagnosis with an autism spectrum disorder.
"Research has shown that if we could detect autism and start treating it at age 2 instead of 4, we could drastically improve outcomes among children with the condition," said study lead author Oren Miron, a former research associate in biomedical informatics in the Blavatnik Institute at HMS who is now pursuing a doctoral degree at Ben-Gurion University of the Negev. "Universally administered newborn hearing tests could represent an untapped opportunity to enhance screening efforts and improve early detection, and we hope that our work could set the stage for doing so."
The researchers emphasize that the test is not yet ready for frontline clinical use and their work needs to be reaffirmed in subsequent studies.
All newborns in the United States undergo a hearing screening to identify those at risk for hearing loss. The test measures how well a newborn's inner ear and brain respond to sounds when the baby is exposed to a series of clicks. Newborns who have abnormal scores are deemed at high risk for hearing loss and other hearing disorders and are referred for further testing.
For his research, Miron, colleagues from HMS, and investigators from the University of Miami analyzed data from newborn hearing tests administered to nearly 140,000 babies born in Florida between 2009 and 2015. Then, they matched the hearing-test data with records from the Florida Department of Education to look for cases of autism spectrum disorder.
The analysis showed that 321 of the 140,000 were subsequently diagnosed with autism. The analysis further revealed that children who went on to be diagnosed with autism spectrum disorder had abnormal newborn hearing tests—their brains detected sounds with delay.
If affirmed through further research, the study findings could inform the development of an autism-specific hearing test for newborns or infants that could identify those at heightened risk during their first months of life. Such a test would not be an actual diagnosis, the researchers cautioned, but rather a screening tool to determine who needs further testing and diagnostic workup.
Despite the encouraging early findings of the research, improved accuracy and specificity are needed, said Miron, who plans a prospective follow-up study. The newborn hearing test, which is currently optimized to detect hearing impairment, needs to be refined for autism detection.
Future studies with higher-intensity, stimulus auditory brainstem responses may achieve more accurate predictions of risk, the researchers said.
Zak Kohane of HMS was senior investigator on the study. Kun-Hsing Yu of HMS was co-author on the study.
Other authors included Christine Delgado, Elizabeth Simpson, Anibal Gutierrez, and Guangyu Zeng and Rafael Delgado of the University of Miami and Jillian Gerstenberger of MEDNAX's Pediatrix Medical Group.
The work was supported in part by the National Institutes of Health (grant 1R43DC018430–01), National Science Foundation Career Award (no. 1653737), and Harvard Data Science Fellowship.