Gray Receives Marks Professorship
Honors work in medical oncology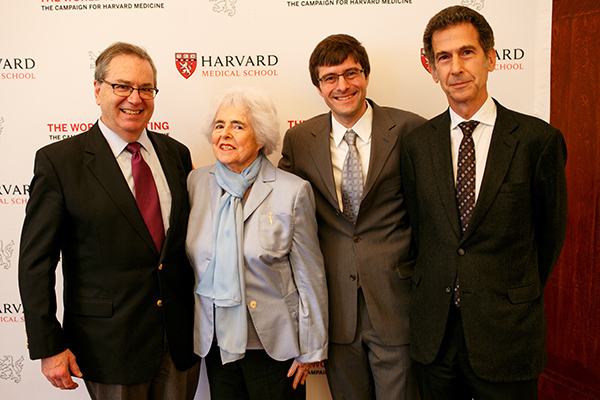 From left: Jeffrey S. Flier, Nancy Lurie Marks, Nathanael Gray and Barrett Rollins. Image: Channing Johnson
Harvard Medical School and Dana-Farber Cancer Institute researcher Nathanael Gray was installed as the first incumbent of the Nancy Lurie Marks Professorship in Medicine in the Field of Medical Oncology in a ceremony on June 8 in the Gordon Hall of Medicine at HMS.
Gray's laboratory combines numerous scientific specialties to discover and validate new strategies for inhibiting cancer. His team has discovered many first-in-class kinase inhibitors that have been widely adopted and have inspired drug-discovery programs. In addition to his success in developing and translating experimental anticancer agents into candidates for clinical development, Gray's work has had broad impact in circumventing drug resistance.
When he was a doctoral student at the University of California at Berkeley, Gray discovered Purvalanol, one of the first selective inhibitors of cyclin-dependent kinases. Following six years at the Genomics Institute of the Novartis Research Foundation, Gray joined the faculty of HMS and Dana-Farber in 2006.
"In 2011, a mere five years later, Dr. Gray had achieved full professor status in record time—a true indication of remarkable success as a researcher and leader," Jeffrey S. Flier, dean of the faculty of medicine at Harvard University, said at the celebration.
Gray's new title is the Nancy Lurie Marks Professor of Biological Chemistry and Molecular Pharmacology in the Field of Medical Oncology. 
The professorship was made possible by Nancy Lurie Marks, a pioneer in funding basic research to enhance quality of life for people with autism, and the Nancy Lurie Marks Family Foundation, established in 1977 to help people with autism lead fulfilling and rewarding lives and to fund biomedical research as a means to discover treatments and cures for numerous diseases. Marks is chair of the board and principal donor of the foundation.
Gray's professorship is one of three that Marks and the foundation have established at HMS in partnership with its affiliate hospitals. The first, the Nancy Lurie Marks Professorship in the Field of Autism, was awarded to Christopher McDougle of HMS and Massachusetts General Hospital in 2012. The appointment for the third professorship, also reserved for faculty at Mass General in the field of autism, is pending.
Barrett Rollins, the Linde Family Professor of Medicine at HMS and chief scientific officer at Dana-Farber, also spoke at the event.