A Grand Tradition
Student research showcased at 79th annual Soma Weiss Day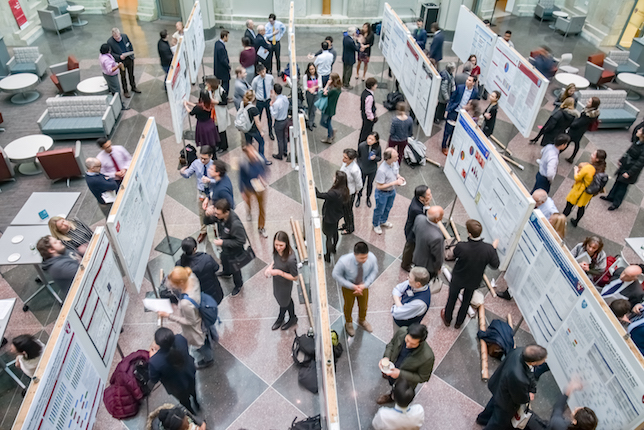 In April 1940, during the depths of World War II, Soma Weiss, a legendary Harvard Medical School professor of medicine, along with a group of students and faculty, hatched the idea for an annual student research day.
That year, 12 students presented their research, each taking about 15 minutes. Three hours later the first HMS student research day entered the history books.
Now, nearly 80 years later, Harvard medical and dental students are still at it, presenting their research during the annual Soma Weiss Student Research Day, named to honor the HMS investigator, teacher, administrator and clinician who was an ardent supporter of student research. Some of the student discoveries presented each year will, perhaps, lead to the therapies or medical innovations of the future.
"They're all really good, aren't they? HMS students are really outstanding," said poster judge Simon Robson, the Charlotte F. and Irving W. Rabb Distinguished Professor of Medicine at Beth Israel Deaconess Medical Center, as he evaluated the students' research.
One of 18 judges at the event, Robson was charged with evaluating the clinical and translational research posters among the 53 entries crowding the floor of the Tosteson Medical Education Center atrium on March 12.
Level of innovation, the significance of the disease being addressed, the research approach, and how well students laid out their studies and their data, along with who their mentors were and where the research was conducted—all were among the criteria Robson said he used to assess the merits of each entry.
Because all of the work is outstanding, he said, judging can be "very subjective," adding that, in the end, it's key for a poster to simply "get a discussion going."
The process
"What we're trying to do is understand why it works and how it works," said Ricardo Ortiz, a fourth-year student who was presenting on his entry, Migraine surgery at the frontal trigger site: An analysis of intraoperative anatomy.
Ortiz spent about a year researching his topic, which was inspired by his mentor, William G. Austen Jr., HMS professor of surgery at Massachusetts General Hospital. He said Austen has been performing this type of surgery to treat migraines for seven years, and the procedure itself has been practiced since about 2001.
Essentially, Ortiz said, there are multiple nerves around the human head that can become compressed, triggering migraines. The surgery removes the cause of the compression, whether it be bone or muscle. It has about an 80 percent effectiveness rate in reducing symptoms, he added.
"By understanding it better we can improve on it and improve the patients we select for it," Ortiz said.
Marissa Shoji, another fourth-year student, also spent about a year on her research project at Massachusetts Eye and Earwith the help of her mentor, Lucy Q. Shen, an HMS assistant professor of ophthalmology.
Shoji said she enjoyed every aspect of the project, Correlation of optic nerve head and peripapillary microvasculature with nailfold capillary measurements in patients with primary open angle glaucoma, from the development of the study design and recruitment of patients to eye and nailfold imaging, data analysis and drawing conclusions from the results as well as working as a member of the glaucoma research team. Her goal was to detect new potential biomarkers for glaucoma.
"In research, sometimes the results don't come out the way you predicted so you have to reevaluate and pursue a different approach, which is a valuable learning experience and may also lead to better outcomes," she said, adding that the same is true for patient care.
The work is worth it, however, Shoji said, if she can find a way to innovate and devise better methods for helping people managing vision problems or blindness.
"I aspire to provide hope and the best possible clinical care for patients through continuing innovative research," she said.
2019 Soma Weiss Day Poster Winners
Elizabeth D. Hay Prize for Basic Science Research
Sean Wang
Soluble CX3CL1 gene therapy improves cone survival and function in mouse models of retinitis pigmentosa
Honorable mention:
Constance Wu
Investigating transcriptional CDK13 and its putative substrate ZC3H14 in BRAF-driven melanoma
Judah Folkman Prize for Clinical/Translational Science Research
Katherine Redfield Chan
Fusion protein therapeutic for pancreatitis
Honorable mention:
Dana Callahan
Will it hurt? The intrauterine device (IUD) insertion experience and long-term IUD acceptability among adolescents and young women
Charles Janeway Prize for International Research or Service
Michael Lindeborg
Task-shifted speech therapy and quality of life in post-palatoplasty patients in rural Nepal
Honorable mention:
Mark Yost
Dominican Republic Diabetes Project: Insulin delivery to a rural community and a retrospective review
Leon Eisenberg Prize for Medicine in Society Research
Mubeen Shakir
Differences in health and health care between rural and urban counties in the United States
Honorable mention:
Kira Seiger
Private equity acquisition of dermatology practices in the United States
Scholars in Medicine Excellence in Mentoring Award
Jeffrey Holt, professor of otolaryngology and neck surgery, Boston Children's Hospital
Nicte Mejia, assistant professor of neurology, Mass General
Vinod Nambudiri,assistant professor of dermatology, Brigham and Women's Hospital
Vijay Sankaran, assistant professor of pediatrics, Boston Children's
Martin Prince Scholarship for Student Innovation
Laura Banashek,William Bosworth Castle Society, A behavioral study of digital technology for improving post-operative incentive spirometer adherence