Got Curiosity?
Explorations program sparks an interest in science for Boston students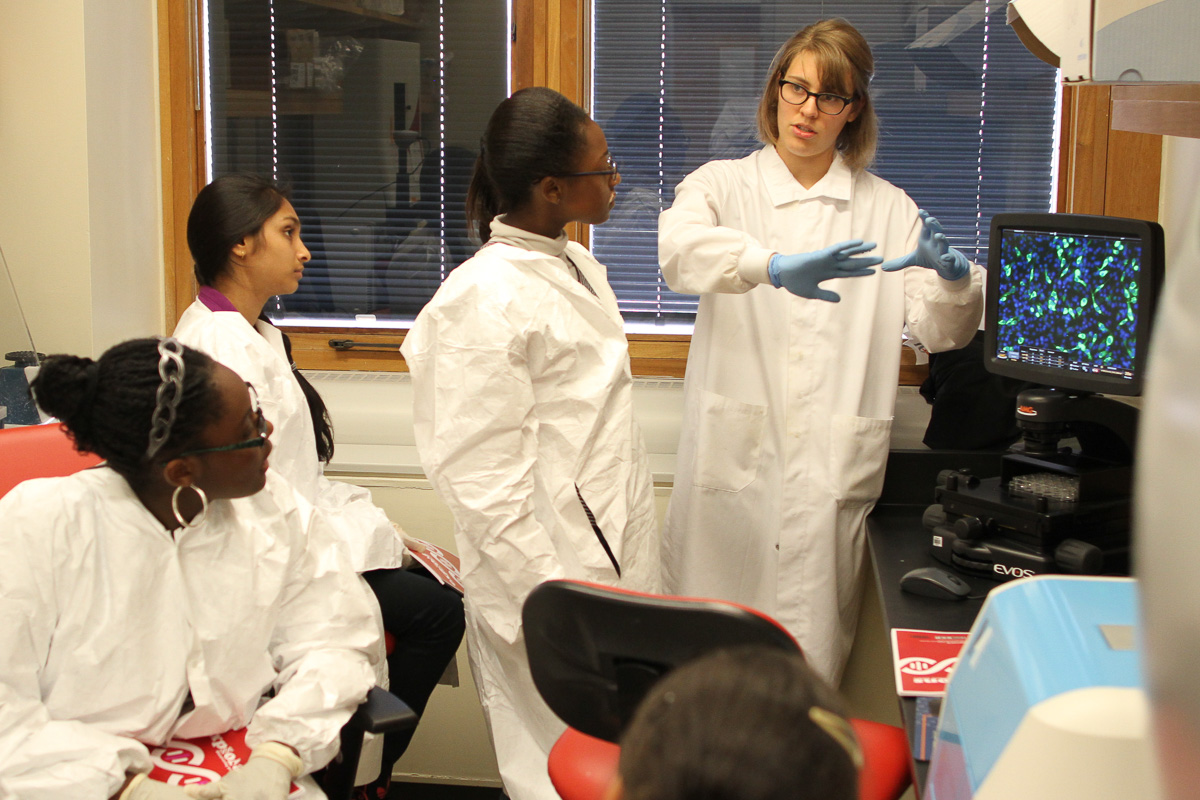 Explorations at the Gerhke Lab at Harvard and MIT. Image: Robert Simpson
"Curious" was the word of the day at laboratory breakout sessions during this year's 15th annual HMS Explorations: Discovering Paths to Biomedical Science program. The day-long event, sponsored by the HMS Office for Diversity Inclusion and Community Partnership, is geared toward students from Boston and Cambridge middle schools and aims to spark their interest in science and medical careers.
The goal is to provide sixth-, seventh- and eighth-grade students with enriching math and science experiences outside of the classroom by exposing them to science career paths and giving them an opportunity to meet role models, engage in research activities in laboratories and learn about the importance of academic preparation.
"The value of Explorations is multifaceted," said Joan Reede, dean for diversity and community partnership and associate professor of medicine at HMS. "Students often express that they were never really interested in science until they came to the program. Explorations also gives Harvard Medical School the opportunity to open its doors to young individuals in the nearby communities, providing interactions between these students and Harvard faculty."
Reede founded Explorations to give back to the community. Since its inception 14 years ago, the program has brought more than 3,000 middle school students to HMS. At the 2014 program in October, more than 300 students from 11 schools visited the HMS campus.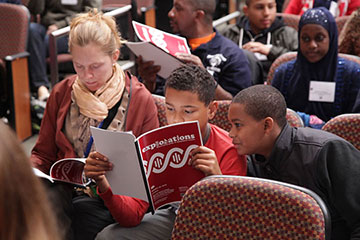 The students attended a general session in the morning at the Joseph B. Martin Conference Center in the New Research Building and then participated in lab activities at 15 research sites at HMS and at HMS-affiliated hospitals and partner institutions in the afternoon.
"We are extremely grateful to the faculty at HMS and the staff at the affiliated hospitals who hosted the students in their laboratories and took time from their busy schedules to share their work with a middle school student who may know nothing about careers in the biomedical sciences. These 'Explorations partners' expand the worldview of our students far beyond what they read in a textbook. Without them, the program would not exist," said Reede.
In opening remarks, Reede told the students that she decided in seventh grade—the same age as many of the students in attendance—that she wanted to become a doctor.
In creating Explorations, Reede said that she wanted to create a pipeline for Boston and Cambridge students to explore the biomedical sciences.
"I hope that this is not the only time that you will be on the Harvard Medical School campus and that you will return for other programs," she said.
Acknowledging the community partners who invited students into their labs, Reede added, "These institutions believe in you. You are the future."
Moderator Edward Brown, Jr., an instructor at Harvard School of Dental Medicine, introduced four guest panelists representing four different career paths, including a third-year nursing student at Massachusetts College of Pharmacy and Health Sciences, who is planning on working toward a doctorate in nursing studies, and a pharmacy student at Mass Pharmacy, who is looking forward to a career in researching and developing drugs and testing them for safety.
A scientist at the Charles Stark Draper Laboratory also spoke, explaining that the work he does is not taught in textbooks and that it takes up where the textbooks leave off, so he's constantly having to figure things out.
Among other speakers, there was a practice manager at Massachusetts Eye and Ear who started out as a photojournalist and studied at home before working in an ophthalmology laboratory.
Brown encouraged the students to consider the variety in the panelists' education paths and career choices and keep their minds open as they begin to explore their own career options.
Keynote speaker Christina Rosenthal, who has a private dentistry practice and is the 2014-15 Joseph L. Henry Oral Health Fellow at the Harvard School of Public Health, told the students that it wasn't too long ago that she herself was a middle school student.
Rosenthal's personal story was one of rising from poverty and a single-parent family in Memphis, Tenn., to become first a teacher and then a dentist.
"Not all doctors are born to rich parents," she told the students.
She told the students that it didn't matter that she grew up in a tough neighborhood, adding that she wasn't the only one to grow up in poverty and to a single parent household. She pointed out President Barack Obama and Oprah Winfrey also had less advantaged childhoods.
Rosenthal explained that she was able to succeed through strength, resiliency, problem solving and a drive succeed.
She told the students, "You can become anything you want to be, but you must focus and do your best."
One student remarked, "The keynote speaker was awesome! She gave me hope for the future."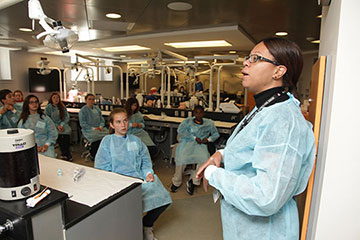 Rosenthal advised the students to ignore naysayers and to find something good to focus on about themselves and their goals, reminding them that they have full control of their destinies. She added that most things appear the way people choose to view them, so her advice would be to choose to be happy and always take the initiative.
Students participated in hands-on activities in small groups with faculty and staff mentors in basic science, biomedical and clinical laboratory settings at Beth Israel Deaconess Medical Center, Brigham and Women's Hospital, Boston Children's Hospital, Cambridge Health Alliance, HMS, HSDM, Harvard School of Public Health, Harvard University, Joslin Diabetes Center, Mass Pharmacy, Mass Eye and Ear, MIT, Merck Research Laboratories Boston, Simmons College and Wentworth Institute of Technology.
"It was so awesome to look through the machine and see how my eyes work!" one student who visited Mass Eye and Ear said.
For more information on Explorations and other programs in the Office for Diversity Inclusion and Community Partnership, visit the website: https://mfdp.med.harvard.edu.