The Good Shepherdess
Caretaking comes naturally to HST student Jessica Ruiz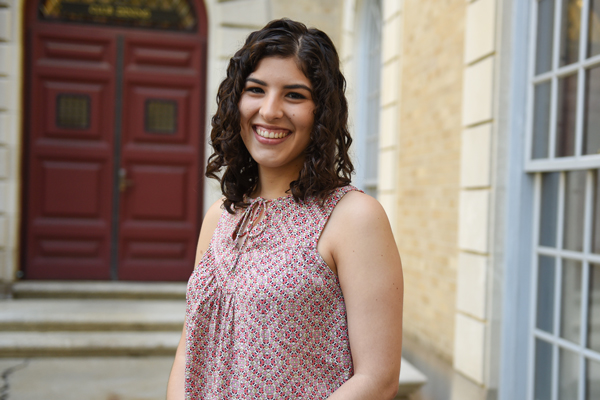 Jessica Ruiz. Image: Rick Groleau
For Jessica Ruiz, HMS Class of 2018, being a caretaker has always been a familiar role. The oldest of three children in a Mexican-American family in Texas, Ruiz learned from her parents, aunts and uncles the importance of setting a good example and being responsible for her younger siblings and cousins.
"Being the oldest influenced how I approached life," Ruiz said. "I want to take care of other people and be a source of both advice and comfort."
Ruiz has spent years guiding others; however, her own path—at least in biomedical science—hasn't always been so clear. She is thankful that throughout her undergraduate and medical school years others have also looked out for her. The mentored research she has participated in as an undergraduate and at HMS, and the support she's received from friends, have helped her find her own way in research and medicine.
Watching over others
Throughout high school and college, Ruiz cared for others by volunteering as a youth leader at her church, tutoring middle-school math students in an after-school program, and tutoring adolescents at Texas Children's Hospital who needed help with their homework.
At HMS, the London Society student has been involved with the PHACE (Prevention Health Awareness and Choice through Education) program, providing sexual education counseling to Boston youth at high risk for teen pregnancy or sexually transmitted diseases. She thinks the program's value lies in providing facts and information, clearing up rumors about sexual issues, and allowing teens a safe environment in which to ask a physician-in-training questions about sex and get a candid answer.
Hearts, young and old
As a junior at Rice University, Ruiz shadowed a pediatric cardiothoracic surgeon at Texas Children's. What started as a one-time visit turned into a semester-long experience, with Ruiz visiting the hospital several times a month to observe in the clinic and the operating room.
"Just seeing those tiny, little hearts—babies a couple months old—and being able to help completely change their life, was an incredible experience," she said.
Although Ruiz hasn't decided on a specialty, she said pediatric cardiology is now one of her top choices for a residency.
This past year at HMS, Ruiz, as a Howard Hughes Medical Institute Medical Research Fellow, did research on vascular calcification in the Aikawa-Aikawa lab at Brigham and Women's Hospital.
Although the work involved adult cardiology, Ruiz said her experiences in the lab have been integral to her scientific training and valuable no matter what area of medicine she chooses to pursue. She said the guidance she has received from principal investigator Elana Aikawa, mentor Joshua Hutcheson, and others in the lab has been kind, dedicated and encouraging.
As a woman in science, Ruiz said it has been great to be mentored by a female physician and to have had the opportunity to observe Aikawa's leadership in academia and science. Because of her experience in the Aikawa lab, she is now also seriously considering a career in research.
Learning the art of science
In order to pursue research work as an undergraduate, Ruiz applied to several programs as a freshman. She was accepted into the National Science Foundation's Research Experiences for Undergraduates program and was paired with a senior Rice University researcher who was just beginning a new research project.
"It taught me how the whole scientific method starts from the very beginning," said Ruiz.
The research combined biology and materials science and gave Ruiz an understanding of experimental methods she can bring to future research, such as how to do chemical analysis and spectroscopy. Ruiz has presented on her work at a scientific conference.
Ruiz was able to stay on at the lab working a few hours a week until graduation. Over two summer breaks as an undergraduate, she also participated in research at the Yale School of Medicine as part of their Biomedical Science Training and Enrichment Program and at MIT as an Amgen Scholar.
At HMS, Aikawa has given Ruiz the opportunity to see how the scientific publishing review process works. Ruiz has been able to contribute to review articles as well as help revise articles under review—both important skills for researchers.
"I've been able to get some initial experience in the other side of being a scientist," said Ruiz.
Finding her own flock
At HMS, Ruiz has found a niche in the Harvard-MIT Health Sciences and Technology program (HST) where the students form close bonds and help each other through the pressures of med school.
"I know we're all going to maintain those friendships throughout the rest of our careers," she said.
Ruiz found further support from the network of students she met as an HHMI fellow. In addition to her year of mentored research training in the Aikawa lab, the fellowship program included travel, giving her the chance to learn from top researchers who talked with her about their most recent research and residency directors who answered her questions about the residency application process.
In addition to mentoring sessions and other activities, HHMI fellows were able to share their aspirations and uncertainties with each other.
Exploring new pastures
Ruiz said that she applied to the HST program so she could get her MD while focusing on lab research, without having to elect to pursue a PhD quite yet.
Besides pediatric cardiology, she is also interested in pediatric endocrinology and maternal-fetal medicine.
"I haven't found the one, big motivating question that I want to pursue for the rest of my career," Ruiz said.
She thinks the answer to that question may come when she decides what she will do clinically during her third-year Principal Clinical Experience.