Going the Extra Mile
HMS Class Day speakers exhort new physicians to listen and to serve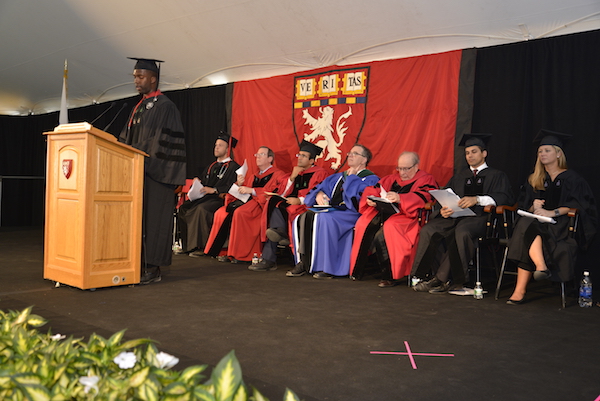 Image: Steve Gilbert
Speakers at the May 28, 2015 Harvard Medical School and Harvard School of Dental Medicine Class Day ceremonies encouraged new physicians and dentists to be respectful of the power of selfless acts, and urged them to remain curious and employ the power of teamwork in the healing arts. Excerpts from the day's speeches appear below.
Keynote Speaker Raj Panjabi
Rajesh Panjabi, HMS instructor in medicine at Brigham and Women's Hospital and co-founder and CEO of Last Mile Health, spoke of the many benefits of selflessness for caregivers.
"Selfless acts have power. As you step into the sleep-deprived world of after-hour pages, night call and the stress of the clinic, these selfless acts can become an antidote to the pressures of caregiving—and serve as a source of inspiration and courage.
"Selfless acts can heal us. And they can transform us. One way or another, the people with you in this tent—your parents, your partners, your friends, your relatives, your children, your mentors—acted selflessly to help you reach this turning point. Selfless acts don't only transform each of us; selflessness is contagious and selfless acts give us—caregivers—the power to change the world. 
"Illness is universal, but access to care is not. And the fight to change this … the fight to bring modern health care to all people, including the billion people who live without any real access to care in most remote villages, remains our greatest challenge.
"You and I have watched too many die and suffer anonymously—from malaria, from childbirth, from untreated dental abscesses; conditions that you and I know people shouldn't die or suffer from in the 21st century.
"And you and I have been told too many times by those who are cynical and complacent: It's not possible to deliver care to people in the most remote stretches of our planet. The economics don't work, there are too many villages spread too far apart, it's too expensive, it's not sustainable. It's impossible to deliver health care to all.
"Fellow caregivers: I challenge you to practice selflessness as a discipline. And I challenge you to start tonight. At your graduation dinner, turn to those who carried out selfless acts, one way or another, to help you reach this turning point. Turn to them, and ask why they went the extra mile for you. Then reflect on how you will respond when your pager goes off and you are asked to go the extra mile for others.
"Fellow caregivers: I believe selfless acts lie at the center of the caregiver's soul. I believe selfless acts give us the power to change the world. And I believe in you."
HMS Dean Jeffrey S. Flier  
"During your time at HMS, you have posed questions and you have taken the initiative to find answers. You have displayed aggressive curiosity. And that's a good thing to have in our profession.
"Curiosity about the individual patient before you is essential to your ability to understand their cultural background, their personal and health priorities and their deepest values.  
"In a world of 15-minute clinical visits, both during your training and beyond, finding the opportunity to exercise your curiosity, to ask non-routine questions and to probe the non-obvious aspects of a patient's history can all too often get short shrift.
"Far more than in the past, your future in medicine will likely include being skilled at, and comfortable with, teamwork. Medical care is, and will increasingly be, delivered through team-based models that include physicians and other health professionals.
"So, on this important and life-changing day, I have the privilege of welcoming you all to the profession of medicine.
"May you remain curious, while contributing to this exceptional profession, and wherever technology takes us, may you always find great joy in caring for your fellow human beings."
HSDM Dean R. Bruce Donoff
"I will remember you, the Class of 2015, because of the record snowfall of the past winter and, more importantly, for your deep passion for improving the lives of others, especially those with the greatest need.
"This can mean integrating oral health into primary care at the MGH-Chelsea HealthCare Center, expanding oral health services at the Cambridge Health Alliance's Windsor Street Health Center or helping Rwanda start its first dental school. Through your compassion, your talents and your time, you have put into action your belief that dental medicine and oral health is a public good that has a vital place in public health, both locally and across the globe.
"I expect that each of you graduating today will, in your own way, contribute to making the world a better place. We, the faculty, have been privileged to help you learn, grow, and develop your potential up to this point. The rest is up to you.
"Always remember that we are privileged to take care of people. Treat them well, treat them kindly and treat them with respect. Above all, treat them all equally, with one high standard of care."
HMS Students
Shekinah Elmore
"We, as a class, have found our way together. We love medicine. So much so that we want to change it. More precisely, to make it live up to the ideals that brought us to this profession. The ideals that will keep us here. Each of us is unique in what we want to contribute, but equal in our sincerity and our audacity.
"I myself have a fairly simple, self-centered story. I had cancer as a child. Cancer as an adult. And I have been so lucky by the accident of my birth that these battles with illness have defined me in ways largely positive.
"I had cancer and I get to practice as a physician and, eventually, as a radiation oncologist. I can guarantee that there must be another young girl somewhere who could have done the same if she'd had access to the outstanding care that I have had. I have been lucky. But I am not more deserving.
"I feel unimaginable good fortune standing here with you today. Readying myself to step into the heaviness of what a friend of mine has marked as the most meaningful year of his life. Crossing over with all of the empathy that I can muster as a patient and a provider. And as a survivor."
Nworah Ayogu
"If we are to believe all we are told, we are the future leaders of medicine and will have a significant role in shaping the direction of our profession. Doctors are seen as heroes. In all cultures and faiths, medicine is revered for its dedication to service, to caring for others and being stewards of life. 
"However, in the age of modern medicine, institutions must balance their principles and mission with the need to generate money to keep the doors open, do research and provide lunch for hungry residents. This balance is one of modern medicine's existential crises.
"We will be faced with a parallel decision. We have spent the last four to nine years focused on what we will become, but now it is time to focus on the who and the how.  Who we will we serve, how will we practice."
HSDM Student
Hope Johnson
"I'll be the first to admit that it took an army to get me here. Most of that army is here today, and I hope that they all know just how incredibly grateful I am.
"On behalf of my class, we would like to thank each and every one of you. Thank you to our families and partners for your relentless support. Thank you to our mentors, faculty and staff for your time, your knowledge and especially for putting up with us. I know that last one couldn't have been easy.
"And last, but certainly not least, we would like to thank our patients, because without them none of this would have been possible. 
"In closing, as I stand in front of such a truly accomplished class, let me say that I am so proud. I'm proud to be joining this profession, I respect all of those who've come before us, and I sincerely value the service we are all now able to provide."