The Future of Medicine
Symposium highlights the promise of life sciences innovation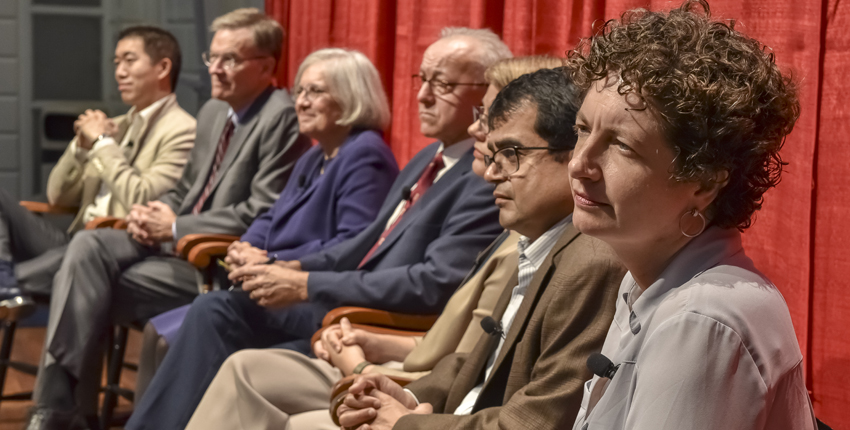 Life sciences researchers from across Harvard University discussed their vision for the future of medicine at a symposium celebrating the installation of Lawrence Bacow as President of Harvard.
As part of the celebration of Lawrence Bacow's inauguration as Harvard University's 29th president, six world-renowned life scientists from across the university came together to discuss their vision for what is possible in life science, medicine, global health and care delivery in an Oct. 5 symposium, "Life Sciences and the Future of Medicine."
The panel, moderated by Harvard Medical School Dean George Q. Daley, presented work that spanned the spectrum of biomedicine, from curiosity-driven fundamental research to translational science and therapeutics. The symposium was held in Askwith Hall at the Harvard Graduate School of Education.
The panelists emphasized their passion for turning research findings into treatments that benefit patients and society, and highlighted the importance of working together across diverse communities to build something for the common good. The wide-ranging conversation focused on transformational research, therapies and care delivery methodologies and on the importance of ethics, communication and collaboration.
"Together, this diverse, vibrant, brilliant community is united by the audacious goal of transforming the future of human health and well-being, and I can think of nothing more worthy of their efforts," Daley said at the start of the event.
The symposium was part of a series of eight symposia celebrating Bacow's installment, highlighting the potential that the research, education and actions of the Harvard community have for improving lives around the world.
In his opening remarks, Daley welcomed the new president, noting Bacow's ardent support for those working within the Harvard community to improve health and lives, both for the current generation and for generations that will follow.