Into the Future
2018 HMS, HSDM grads celebrate achievements, prepare to change the world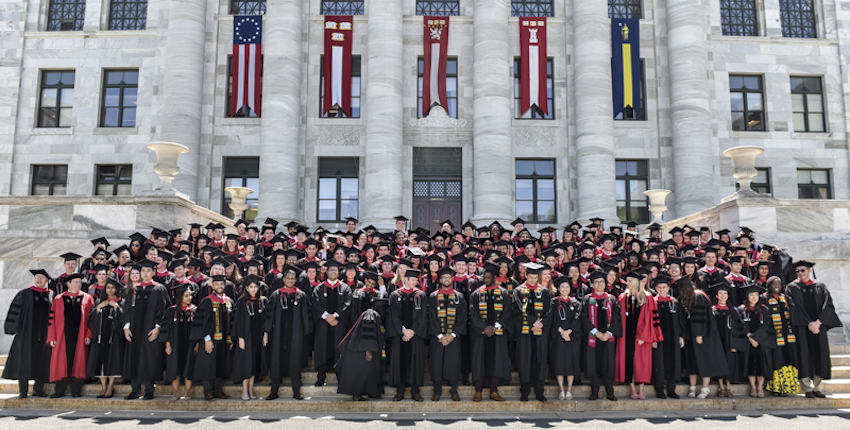 Image: Steve Lipofsky
More than 200 medical and dental school graduates gathered under a whimsically arched tent on the Harvard Medical School Quad on May 24, joined by faculty, family and friends to celebrate their new degrees as they look forward to beginning the next phase of their careers as researchers, educators and caregivers.
Read more about HMS/HSDM Commencement and Class Day here
On Class Day 2018, 174 students received Doctor of Medicine degrees from HMS, including many who also earned master's or doctoral degrees—13 MBAs, 1 MBE, 1 MMSc, 6 MPHs, 4 MPPs and 24 PhDs—and dozens of students in the School's science, ethics and education programs who earned doctorates and master's degrees from the medical school. The Harvard School of Dental Medicine awarded 34 DMDs, 4 DMScs and 13 MMScs.
As families and friends gathered on the Quad early in the day, finches sang from the tops of the oak trees and flags and banners billowed on Gordon Hall, the sound system in the tent was playing Bill Withers' "Lovely Day."
The consensus of friends, family and faculty was that this year's graduates were an inspiring group, with impressive accomplishments and great potential.
Darenae Evans, a cousin of cum laude MD grad Eric Austin Davis, said she was thrilled to see him graduate.
"He came to Harvard with his eyes wide open, ready to succeed and achieve, and he's done that," Evans said. "He's an impressive role model for us all."
"This day is all about celebrating the individual stories of what the students have achieved, and about reflecting on the struggles and victories of their time here," said Fidencio Saldaña, HMS dean for students. "It's amazing to think what an accomplished group they are and how much potential they have to affect the way medicine will be practiced in the future."
For their part, the grads insisted that this day was about much more than their personal achievements.
"It's not just about us, it's about all of the people who've gotten us here today—the family and friends who have showered us with love and made it possible for us to be where we are," said Mary Tate, a 2018 MD/MPH graduate who was one of the recipients of the 2018 Multiculturalism Award for seniors who have done the most to exemplify or promote multiculturalism and diversity, and the recipient of the Leonard Tow Humanism in Medicine Award, presented by The Arnold P. Gold Foundation to a graduating medical student who consistently demonstrates compassion and empathy in the delivery of care to patients.
"Today we're celebrating the long road that we've been traveling," said Jennifer Bido, a cum laude MD graduate who also earned her MPH last year. "It's not just about the few years we spent here at Harvard, it's about 20 years of school and hard work, and there's a lot further to go."
Past, present and future
The Class Day ceremony marked the 230th graduation for HMS, and the 149th for HSDM. There was a rich mix of the old-fashioned and the contemporary, with faculty and graduates bedecked in academic regalia and guests wearing traditional clothing from their cultures, cool casual and haute couture from several continents while many of those gathered used digital devices to send photos and videos to loved ones around the world.
Leaders from the two schools joined graduate and faculty speakers in addressing the audience, sharing moments of reflection, inspiration and good cheer.
Class Day keynote speaker Neal Baer, MD '96, an award-winning television writer and producer, spoke about what matters in life and medicine.
Although their degrees were conferred today, many of the graduates have been contributing to efforts to improve human health and deepen fundamental biomedical knowledge throughout their medical and dental school years.
While they were students, many of the graduates were already hard at work on research, as well as training and care delivery projects. They were developing local and national health systems to prevent another catastrophic outbreak of Ebola in places like Liberia; they were researching the mental health and wellness needs of medical students at Harvard; and they were deepening the fundamental understanding of how patients' immune systems react to cancer vaccines at the molecular level, how blood stem cells interact with the immune system as they develop, and answering other crucial questions in basic biomedical science, the answers to which will pave the way for improved health in years to come.
Some grads participated in pilot projects, such as working to implement projects like a medical education program that helps meet the needs of physicians-in-training in Rwanda, or researching disparities in cancer care between public safety-net hospitals and private hospitals. Others developed and shared lessons about new techniques such as using gene editing to develop a model for congenital anemia.
The HMS Class of 2018 represents a crucial turning point in the evolution of medical education at the School, noted Nancy Oriol, HMS faculty associate dean for community engagement in medical education.
"All classes are special, but this class has the unique distinction of being the last class to participate in the original New Pathway curriculum, the last class to follow the academic calendar that has been in effect for over 100 years, the last class to use the original MyCourses platform for online resources and the first class to embrace the ideas of a new curriculum and new calendar," said Oriol, who was HMS dean for students when the class of 2018 arrived at HMS four years ago.
As a class, Oriol said, they took on the responsibility of helping to shape the new curriculum and calendar. They brainstormed how to support the incoming students through the change from old to new, she said, adding that they were creative and thoughtful.
"And, as if in reward, they did exceptionally well in their exams and in the Match. They should be proud of the role they played in the success of the new curriculum and calendar," Oriol said. "I am grateful that I got to know them so well."
By the numbers
This year's HMS graduates included 95 PhDs who earned their degrees in the Division of Medical Sciences. Three of these received degrees in bioinformatics and integrative genomics, 53 in biological and biomedical sciences, 11 in immunology, 16 in neuroscience, four in speech and hearing bioscience and technology and eight in virology. Of these students, 12 received both their MD and PhD.
There were also 71 graduates who earned master's degrees from HMS: eight Master of Biomedical Informatics degrees, 27 Master of Bioethics degrees and 48 MMScs—12 in clinical investigation, 11 in global health delivery, 19 in immunology and 6 in medical education.
Overall, the graduates represented immigrants and international students from more than two dozen nations around the globe.