Flint Activist to be Class Day speaker
Mona Hanna-Attisha's research exposed water supply lead crisis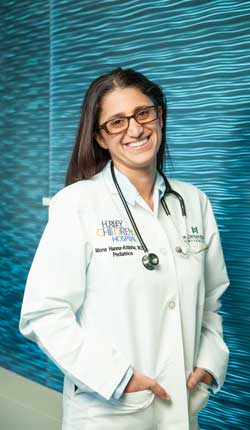 Mona Hanna-Attisha, the pediatrician, educator and public health advocate whose research exposed the lead crisis in the water supply in Flint, Michigan, in 2015, will be the keynote speaker at this year's Harvard Medical School Class Day exercises on May 30. 
Hanna-Attisha's work in Flint found significant differences in lead levels in the blood of some of the city's children before and after the city introduced "a more corrosive water source into an aging water system without adequate corrosion control" in 2015, according to her publication in the American Journal of Public Health. 
In her study, she reviewed blood lead levels for children under the age of 5 both before 2013 and after 2015. Her findings showed that blood lead levels increased from 2.4 percent to 4.9 percent, with children in some neighborhoods registering a 6.6 percent increase. Populations in socioeconomically disadvantaged neighborhoods had the greatest increases.
Lead, a potent neurotoxin, can impact child development and affect "intelligence, behavior and overall life achievement," she noted in her study.
The study indicated that the temporary switch in the water source resulted in residents voicing concerns about water color, taste and odor. Some residents experienced skin rashes. In addition, bacteria such as Escherichia coli were detected in the distribution system, resulting in Safe Drinking Water Act violations. Members of the community complained, but nothing was done for 17 months after the results were first publicized.  
Hanna-Attisha later wrote in a New York Times opinion piece that the cash-strapped city, which was $15 million in debt, was trying to cut costs by changing the water supply.
Switching from Detroit's Lake Huron to Flint River water "created a perfect storm for lead leaching into drinking water," according to Hanna-Attisha's study.
Hanna-Attisha said that a high-school friend who had become a drinking-water expert urged her to study the blood lead levels of children who were coming to Hanna-Attisha's clinic. The results, she said, were eye-opening.
"I'd always seen my work through the lens of social justice. To put it simply, health is justice, especially for the youngest among us," Hanna-Attisha wrote in the Times op-ed. "Now I was coming to see that my work couldn't stop with treating patients and training other pediatricians. I was becoming something new—an activist…"
Hanna-Attisha and other doctors who joined in the effort to alert the public released the findings and called for action, but it took several months for officials to respond to the crisis. 
Eventually, the water supply was reverted to its previous source, and money was directed to alleviate the crisis, but the damaging effects are still felt, with residents continuing to drink only filtered or bottled water until the corroded pipes are replaced, according to Hanna-Attisha.  
Hanna-Attisha twice testified before Congress and advocated for federal assistance for the children who were exposed. In part because of her efforts, $100 million in federal assistance was allocated to address the Flint crisis, in addition to $250 million from the state of Michigan. 
Hanna-Attisha went on to found the Pediatric Public Health Initiative, the primary goal of which is to mitigate the effects of the Flint water crisis and serve as a national resource for other communities that are similarly affected. 
In 2018 she published "What the Eyes Don't See: A Story of Crisis, Resistance, and Hope in an American City."
She has received the Ridenhour Prize for Truth-Telling and the PEN American Center James C. Goodale Freedom of Expression Award and was named a Union of Concerned Scientists 2016 "Got Science?" Champion, among other honors. 
Born in Sheffield, England to Iraqi scientist and dissident parents, she grew up in Royal Oak, Michigan, and attended the University of Michigan's School of Natural Resources and Environment, where she earned a Bachelor of Science degree. She also earned a master's in public health in health management and policy from the University of Michigan School of Public Health and an MD from Michigan State University College of Human Medicine.  
She completed her residency at Wayne State University/Children's Hospital of Michigan and is an associate professor at the Michigan State University College of Human Medicine.