News
From Farm to (Operating) Table
Cameron Waites got his first biology lessons in the great outdoors—his backyard in Michigan.
"I just liked learning," said Waites, HMS Class of 2018, as he talked about the genesis of his interest in science. "We lived on a farm of sorts, and I was always outside, learning about different forms of life, cells, necrotic stuff and fossils. It was just something I felt drawn to," he said.
Learn more about HMS students here
Waites' story of a childhood interest in science isn't unusual, but Waites is.
As a teenager, Waites began to dream about becoming a physician at the same time he began thinking about joining the Army. He had a vision of becoming an Army medic, a profession he admired. Decades later, at the age of 34, he has fulfilled both early goals.
The seed of Waites' vocation in medicine was planted and nurtured, he said, by his mother's spirit.
"She was the kind of person who always wanted to help someone, always saw the good in people," he said of her influence.
She earned a nursing degree when he was in college, and worked in the local county jail instead of a hospital, making a career of serving the underserved.
Army life
Waites went on to become an Army medic/health care specialist serving in Iraq from 2004 to 2008, during which time he says he delivered many hours of care to military personnel and civilians in various capacities and settings.
"I felt like I was called to medicine, and also to science. During my unit's deployment to Iraq, I saw that some of my friends struggled with traumatic brain injury and post-traumatic stress," he said.
"I've always been interested in the fine details of why things are happening the way they are, at the cellular and molecular levels."—Cameron Waites
Waites believes he was dealt a good hand during his time in the military, escaping the injuries that so many he knew endured.
He treated friends who were not as fortunate as he was and he decided he wanted to find a way to help them. He says his interests in clinical medicine and research stem from his desire to serve fellow soldiers or wounded warriors.
Waites said he has a friend, a triple amputee who lives in tremendous neuropathic pain and doesn't like to use his prosthesis because of the additional pain it inflicts. His friend cannot find relief, even with oxycontin. Waites believes there should be a way to relieve the suffering of men and women managing the effects of similar serious injuries.
Dreaming spires
After working at the National Institutes of Health (NIH) under the Undergraduate Scholarship Program at the National Institute of Allergy and Infectious Diseases in 2013-2014, Waites crossed the pond to Oxford, England, as a Clarendon Scholar. He earned a master of neuroscience degree from Pembroke College at Oxford University.
Waites worked on two research projects at Oxford that made him more interested in the inflammatory component of an injury as he studied how the effects of tissue damage change over time.
"I've always been interested in the fine details of why things are happening the way they are, at the cellular and molecular levels. So, with PTSD or traumatic brain injury, I ask what changes are happening in the brain that, over time, can affect someone who has this condition," he said.
Boston Uncommon
At HMS, Waites is now involved in a study in the Department of Orthopedics at Brigham and Women's Hospital. It is a gene expression investigation that is looking at common complications in amputees called neuromas, which are caused by a thickening of nerve tissue in amputated limbs.
Neuromas can cause extreme pain with even minor stimulus, such as a light touch or change in temperature. As in cases where amputees experience phantom limb pain, the nerves appear to continue growing after amputation, but no one has yet been able to determine what causes the condition.
Waites and others on this project are looking at why the nerves keep growing, with an eye to advancing the science of limb regeneration.
"Someone I know had so much taken away," he said. "Small things like being able to open the door for himself mean the world to him. He doesn't want anyone helping him with a door."
Waites hopes that through his research he may be able to provide solutions that will one day help his fellow veterans, adding that he would like to go into some surgical specialty, possibly orthopedics, to learn more about traumatic injuries of an extremity, how to repair them, and how to help people regain function.
His hope is that "... in 10, 20 or 30 years, we will be able do something to help amputees. Prosthetics work for some people, but they also hurt many of the people they are intended to help," Waites said.
To help relieve suffering, he said, —that is his true calling.
Follow
HMS
Stay informed via email on the latest news, research, and media from Harvard Medical School.

HMS Student
Profiles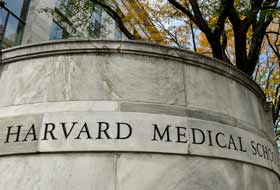 HMS students follow their passions and use their education to make a difference.