Fabricating COVID-19 Solutions
PanFab responds, meets necessity with innovation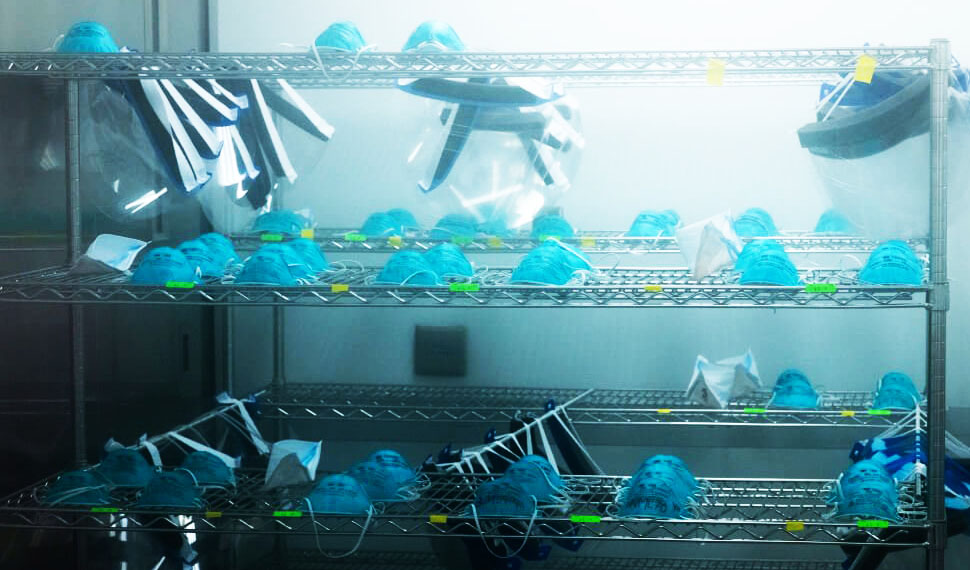 This article is part of Harvard Medical School's continuing coverage of medicine, biomedical research, medical education and policy related to the SARS-CoV-2 pandemic and the disease COVID-19.
Sherry Yu's first concern was the face shields. Other supplies were running low—disinfecting wipes, N95 masks, just about any other personal protective equipment—but the face shields at Brigham and Women's Hospital, she worried, could be the first to go.
A former resident in the Harvard Combined Dermatology Residency Program and Deland Fellow in Health Care and Society at Brigham and Women's, Yu had been appointed to the hospital's incident command center at the beginning of the coronavirus pandemic last spring, overseeing the vital—and limited—supplies.
In normal circumstances, hospitals keep a few days' supply on hand. But earlier this year, with caregivers around the world preparing for an influx of COVID-19 patients, hospitals in Boston and across the U.S. were working to increase supplies of essential personal protective equipment, also known as PPE.
"We prioritized 20 or 30 items that we thought were really important for the pandemic," Yu said. "Then we would start to count and analyze how many days on hand we had. And then I would move to: Is there an alternate supplier that I can identify that has something in stock that we think is an equivalent product? And then, if not, that's when I would kind of raise a flag and say, 'Hey, everyone at PanFab, does anyone have any creative solutions?'"
The Greater Boston Pandemic Fabrication Team, PanFab for short, is a cross-disciplinary initiative organized by the Harvard-MIT Center for Regulatory Science, housed within the Harvard Program in Therapeutic Science (HiTS).
With particular coordination by the center's co-directors, Florence Bourgeois, HMS associate professor of pediatrics at Boston Children's Hospital, and Peter Sorger, the Otto Krayer Professor of Systems Pharmacology and founding head of HiTS, and the center's program manager, Helen Yang, associate in therapeutics at HMS, PanFab has grown to include 150 members drawn from Harvard, MIT, HMS affiliates, private industry and unaffiliated citizen scientists. All are collaborating to find creative solutions to acute shortages of PPE in Greater Boston and beyond.
In early March, as Boston hospitals were preparing for an influx of COVID-19 patients, Nicole LeBoeuf, HMS assistant professor of dermatology and clinical director at the Center for Cutaneous Oncology at Brigham and Women's/Dana-Farber Cancer Center, reached out to Yu, who was one of her residents, and confirmed that the hospital would not be able to meet its PPE needs through its normal supply chains.
LeBoeuf was already concerned about Brigham and Women's and other area hospitals' ability to meet the exponential increase in demand for PPE and other supplies after she'd seen how hard-hit China and parts of Europe had been by the coronavirus and after she'd heard from doctors in Seattle, which had dealt with the earliest outbreak of coronavirus in the U.S.
"I—like everyone else, I think—was in a panic, knowing more needed to be done and realizing that we were potentially facing huge shortages of PPE," said LeBoeuf.
LeBoeuf had already been talking about this potential shortage with Sorger and others at HiTS, with whom she is collaborating on research into the side effects of immuno-oncology cancer treatments on the skin.
"I know Peter to be a doer and a problem-solver, and I know the depth of knowledge in our community," LeBoeuf said. "I reached out and said, 'We should be able to come up with a team and solve these problems quickly.' And Peter's response to that was, 'Of course, you're right. Let's do it.'"
Within 12 hours, she and Sorger had assembled a team of graduate students and medical students from HiTS and beyond who brought a combination of clinical, engineering and research experience to bear on the problem of PPE shortages, and PanFab was born.
Yang and Deborah Plana, an MD/PhD student at HMS and research assistant graduate student in therapeutic science, became coordinating leads, helping to recruit participants and direct PanFab's efforts.
"I was in this position where I was lucky enough to have access to this really great network of people with exactly the [necessary] skillset," said Plana, who has a background in engineering through her undergraduate work at MIT.
"I started sending out emails to old friends from undergrad who were doing things in the medical engineering space, as well as current students at HMS from engineering backgrounds and current PhD students at MIT who had a clinical interest. Very quickly we pulled together a really talented group of students that could apply their expertise to these really pressing needs," she said.
PanFab benefitted from MIT engineers already involved with the Center for Regulatory Science and ultimately recruited student engineers from across the country and around the world, including from Johns Hopkins University, the University of Washington and institutions in Brazil.
PanFab members began collaborating through messaging channels and nightly videoconference calls that eventually became weekly check-ins when COVID-19 cases in greater Boston began to plateau and then decrease.
LeBoeuf, Yu and Avery LaChance, HMS instructor in dermatology at Brigham and Women's, agreed to serve as clinical leads to help identify the areas of greatest and most immediate need. The consortium's first project was the face shield shortage that Yu had already identified.
Within weeks, the PanFab team had developed an improved face shield design that could be quickly produced by 3D printing. They worked with Brigham and Women's institutional review board to introduce a clinical trial of the new design in the hospital.
Health care workers who used PanFab's face shield reported greater comfort and protection from the shield's ear-to-ear coverage, longer plastic shield, extended top lip that protects the wearer's forehead and improved fog resistance. PanFab partnered with Boston-area companies and institutions—including BoroBot, iRobot and the Harvard Graduate School of Design—to produce and distribute thousands of the improved face shields.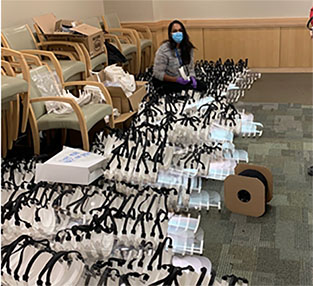 Many of the students who got involved dedicated 60 hours or more a week to PanFab. With classes and rotations put on hold, PanFab became a way to stay connected and contribute at a time when many of their friends and mentors were suddenly on the front line of a pandemic response with insufficient resources.
"I was in the middle of a trauma general surgery rotation when I saw this sign on an operating room door saying med students were no longer allowed in the ORs," said Malia McAvoy, MD '20, now a neurological surgery resident at the University of Washington Medical Center. "I thought, 'What do I do now?'"
McAvoy received Plana's call to action saying she was looking for anyone with materials experience. McAvoy had worked in Robert Langer's lab at MIT in drug delivery devices and materials while a student in the HST program and thought her experience would help her to contribute. She became a workstream lead on a project to develop 3D-printed N95 mask frames.
"It became a full-time job," McAvoy said. "A lot of people just willing to put in the time for something they may not have had any experience with. In fact, I didn't have any experience with 3D printing. I had to learn that on my own from scratch."
It took almost three months for McAvoy and her team to develop a 3D-printed N95 mask frame that met the standards they had set: easy to sterilize, able to fit a range of face shapes and sizes, and capable of creating a tighter seal to provide optimal filtration.
Appreciating negative results
Facing a shortage of N95 masks, an early priority was finding a way to sterilize and reuse the masks. The N95 masks could be sterilized using hydrogen peroxide or UVC, but they wore down, especially the rubber straps used to hold the mask in place and create a tight seal.
With the PanFab-designed 3D-printable mask frame, health care workers can wear a sterilized mask and be sure that it will fit as good as a new mask, if not better.
"There are a lot of women in health care," McAvoy pointed out. "The masks often don't fit them very well because they [the masks] are one size. So, we're trying to get as close a fit as we can."
The effort to find a way to sterilize N95 masks so they could be reused was led by Avilash Cramer, a PhD student in HST's Medical Engineering and Medical Physics program.
N95 respirators—so named because they are not resistant to oil (N) and filter out 95 percent of particles—are a mainstay of healthcare infection control but are designed for a single use. This is not an issue for health care workers during normal times, but during a pandemic of a disease spread by respiratory droplets, the demand for N95 masks quickly outpaced the supply chain's ability to provide the necessary numbers.
If N95 masks could be sterilized and reused, that would allow hospitals to stretch their supplies until production of respirators increased to meet the demand.
The problem, as Cramer explained, is that reusing an N95 mask is "like being asked to reuse a paper plate."
"If you want to wash a paper plate, you have to be pretty careful about how you're going to do that."
Initially, Cramer and his team tried using gamma radiation to sterilize the N95 masks. Since gamma radiation is commonly used to sterilize food and mail, it seemed promising. Within weeks, though, Cramer found that the radiation was degrading the respirators, making them unsafe for reuse.
Although the result was disappointing, Cramer realized how useful it was.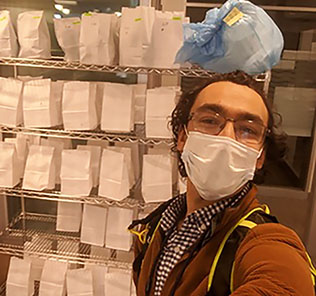 "I think we have a tendency to not recognize negative results as important," Cramer said. "That is one thing that has really changed [since the coronavirus], is that people really, really, really are appreciating negative results because it means that it's something that they don't have to look at."
Cramer and his team next turned to an ionized hydrogen peroxide sterilization unit at Dana-Farber Cancer Institute. Cramer and LeBoeuf led the collaboration with colleagues in Dana-Farber's Animal Research Facility and found that the system effectively sterilized the N95 masks without the same deterioration they'd seen with gamma radiation. The system can sterilize 2,000 N95 face masks in two hours.
Cramer's work on sterilization with PanFab has put him in demand.
"He's being asked to international conferences to speak about his expertise in sterilization methods," Plana said. "He's become an expert in two or three months."
Engineering know-how
Akshay Kothakonda, a PhD student at MIT, works on spacesuit design at MIT's Human Systems Laboratory. When Plana reached out through contacts in the HST program, Kothakonda saw an opportunity to apply his specific engineering experience to helping keep health care workers safe.
Kothakonda became the workstream lead for PanFab's powered air-purifying respirator—or PAPR—project.
"A spacesuit is a life support system," Kothakonda explained. "It helps you survive in the hazardous environment of space. [A PAPR] also allows health care workers to survive in hazardous pathogenic environments. And construction-wise, it is reminiscent of a spacesuit: You have this whole ducting system that pumps clean air to breathe, and it protects you from the external environment."
The PanFab-designed PAPR is lighter and less expensive than commercially available PAPRs and can be assembled using components readily available from industrial and electronic vendors.
"The idea is to make a PAPR system that is cheap, that's cost effective and can be made with parts that are readily available," said Kothakonda. "[Commercially available] PAPRs and PAPR components are all back ordered. We want people to be able to make these systems with parts that they can purchase easily."
PanFab strives to make all of its designs implementable in conditions where resources are strained. Resiliency is a guiding principle—a conviction that communities can and should prepare to respond to pandemics at a local level, especially in the absence of an organized federal response.
"We are proposing that in healthcare emergencies, as in natural disasters, a local community's ability to respond is essential for resilience," said Sorger. "However, in the case of PPE, you need to listen carefully to healthcare providers and be sensitive to the capabilities and resources of local fabricators and volunteers. Protecting provider and patient safety is essential, and this was accomplished using clinical research protocols overseen by ethics review boards. Rapidly linking these diverse constituencies together is an essential feature of PanFab."
Accessibility is another guiding principle for PanFab, explained Aditi Gupta, PanFab's outreach lead and a PhD student in the Harvard-MIT Program in Health Sciences and Technology (HST) Medical Engineering and Medical Physics program.
"The goal has always been to have solutions that are open access," Gupta said. "What can we put out there in the public realm that will help people find this knowledge and implement it in their own city or region as they start seeing their coronavirus numbers go up."
In addition to making their findings available as published articles and preprints, PanFab has put its design licenses in the public domain. The designs for their face shield and mask frames can be downloaded from their website. PanFab held a virtual conference in June with members presenting the results of their research, and recordings of each session are available on the Center for Regulatory Science website.
"We're trying to figure out how we make sure that all of this information stays in the public domain," said Laura Maliszewski, executive director of HiTS and a PanFab member. "So that if we end up back in the cycle again, nobody has to retread the same ground and that there are common public resources for addressing personal safety needs."
Interdisciplinary nature
PanFab's members credit its success to its interdisciplinary nature, bringing researchers and medical professionals and non-scientists from different backgrounds together to confront the problems in which they may lack particular expertise. Cramer compared it to how different animals find success in particular environments.
"In ecosystems you have generalists and specialists," he explained. "The generalists can sort of eat anything—like raccoons and coyotes—and the specialists might be a bird that can only eat one particular berry off one particular plant. When things are going well, the specialists can out-compete the generalists. But when there's a shock, when there's a crisis, the generalists tend to do better. We've certainly seen a shock, and we've certainly seen the value in having a widespread education and not being siloed."
As the coronavirus has continued to spread, PanFab has started working with Partners In Health (PIH) to help coordinate its response to coronavirus in communities around the world, often in places with considerably more limited resources than Greater Boston.
Gupta and others from PanFab have weekly calls with a team from PIH and have worked with specific PIH sites in Mexico, Haiti, Malawi and elsewhere.
"Each of these different Partners In Health sites faces different challenges," Gupta said. "[We're] finding ways to leverage the knowledge and the information that PanFab has gained to help each of those sites, whether it's how to sterilize their PPE or different alternatives to PPE."
PanFab and the Harvard-MIT Center for Regulatory Science are working to ensure that the lessons learned from COVID-19 are not forgotten. In October, the Center will host the 2020 Global Conference on Regulatory Science to address the need for changes in policies and practice at a national level, as well as preparing resources for future crises.
Out of necessity, the students and non-professional volunteers in PanFab have become a valued resource for health care workers around the country and around the world as people everywhere try their best to respond to a pandemic that has strained all preexisting systems and resource chains. For many PanFab volunteers, it's not an experience they ever would have predicted for themselves, but they said they value it.
"When no one has any particular expertise in solving these problems, you can either accept that you are not the expert or you can draw on your connections, your other experiences in life, your training beyond your what you use for your 'day job' and grow your expertise," said LeBoeuf. "To succeed in crisis mode, you identify a gap and then you be the person willing to ask the right people to help. You have to believe that you can actually solve the problem."
"I have been most stunned by how generous people are with their time and their efforts," said Yu. "How dedicated they are to this, and how much they prioritize this. And I also think it's made me realize how much I wish the rest of the world and my job was like this. The ability to collaborate. And build bridges to innovate and be creative, be thoughtful, get real time feedback. I think we moved at a pace that I never moved at before."
The PanFab volunteers find satisfaction in knowing that the work they've done will hopefully mean people in need will be able to more easily find solutions to problems and answers to questions that they wish had already been available.
As the globe continues to respond to the coronavirus—and whenever the next pandemic might appear—PanFab's volunteers hope people will still find value in the designs they've created and the research they've done.
"The work that we have done, the papers that we have written, the systems that we've implemented will persist," said Cramer. "And whether it's in one year or 10 years or 100 years, there will be another shortage of protective equipment. There will be another outbreak of infectious disease. And if I have kids, my children and their children will be able to look at the papers that I am writing today, and that will inform them how to address those crises. That gives me a lot of satisfaction."
PanFab was launched via the Harvard-MIT Center for Regulatory Science with support from Joshua and Amy Boger.
All images courtesy of PanFab.