Donald Ingber Elected to the Institute of Medicine
Contributions to the nation's health honored
Donald Ingber, Judah Folkman Professor of Vascular Biology in the Department of Pathology at Harvard Medical School and core faculty member at the Wyss Institute for Biologically Inspired Engineering at Harvard University, has been elected to the Institute of Medicine (IOM) of the National Academies, one of the highest honors in the field of medicine in the United States.
The IOM, with more than 1,700 members and foreign associates, recognizes individuals who have made seminal contributions to medicine, healthcare and public health. Its members serve on committees and boards that advise government agencies, policy makers and professionals on healthcare issues.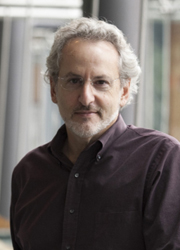 Ingber is being honored for his broad contributions to the field of biologically inspired engineering, and his pioneering interdisciplinary work in mechanobiology, angiogenesis and cell structure. Ingber is the founding director of the Wyss Institute, a professor of vascular biology at Boston Children's Hospital and professor of bioengineering at the Harvard School of Engineering and Applied Sciences. He also leads the biomimetic microsystems platform at the Wyss Institute, which engineers human "organs-on-chips" as replacements for animal testing in drug development and toxin testing. 
Ingber, along with fellow core Wyss faculty member James Collins, the William F. Warren Distinguished Professor, University Professor and professor of biomedical engineering at Boston University, will be formally welcomed to the IOM at next year's annual meeting in October. Ingber and Collins join 70 new members and 10 foreign associates elected this year.
"It's an enormous honor to be inducted as a member in this illustrious organization of our nation's leading physicians and medical researchers—and to be able to do so with my friend and fellow colleague Jim Collins makes it extra special, not only for me, but the entire Wyss community," says Ingber.
"The Wyss is breaking down the walls between biology and engineering in ways that are incredibly exciting for human health," says Jeffrey Flier, dean of HMS. "It's thrilling to see such pioneering work acknowledged by the Institute of Medicine."
This story was adapted from a Wyss Institute news release.