Diverse Perspectives
Harvard Longwood campus rolls out new series of talks on diversity inclusion with dialogue on disability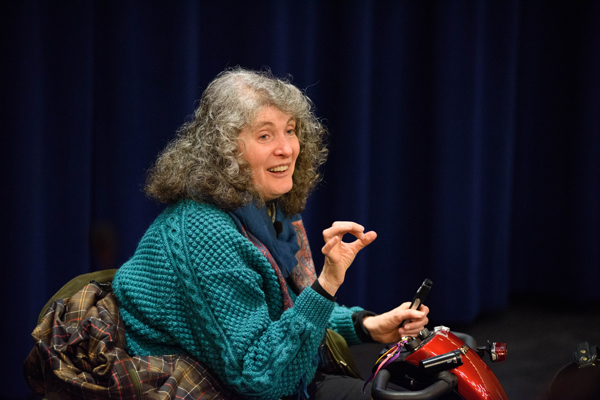 Lisa Iezzoni, professor of medicine at Harvard Medical School, at the Diversity Dialogue: Make No Assumptions! Increasing Inclusions of Persons with Disabilities, April 29, 2015. Image: Emily Cuccarese/Harvard Chan School of Public Health
The talk started with the elephant in the room.
The first slide projected in last week's inaugural diversity dialogue event, which took place on the Harvard T.H. Chan School of Public Health campus, was of a giant, looming elephant towering over speaker Lisa Iezzoni.
Get more Harvard Medicine news here. 
"Disability will today or tomorrow effect the lives of everyone in this room, either directly or through a loved one," she said.
Iezzoni, a wheelchair user, an HMS professor of medicine, and director of the Mongan Institute for Health Policy at Massachusetts General Hospital, said she likes to start her talks with the elephant for two reasons:
First, she said, disability is a huge, diverse story and—like the three proverbial blind men all trying to describe an elephant after only touching a foot, a trunk or a tusk—it is very difficult to describe the entire panorama of disability at once.
There are too many different aspects of physical and mental health, she said, and too many different populations of people, each with their own individual perspectives, to tell a single simple story.
Second, Iezzoni said, the elephant is a lighthearted way to open up the discussion about disability, an often taboo subject that many feel uncomfortable with—addressing the proverbial elephant in the room.
Iezzoni, an expert on risk adjustment and on health care experiences for persons with disabilities, was the first speaker in a series of talks on diversity inclusion that have been launched on the Harvard Longwood Campuses.  
She gave a historical perspective on the question of how society has dealt with disability, reaching back to the book of Leviticus's prohibition on worship at the altar for people with physical disabilities.
She then touched on the changes in our understanding of disability—from a purely medical state to a largely social condition.
Receiving the 2010 AcademyHealth Distinguished Investigator Award, Lisa Iezzoni describes how she went from trying not to talk about her disability to being an open advocate for inclusion. Video: AcademyHealth
Iezzoni also shared insights from her research and her personal experiences about the challenges faced by people with disabilities in health care—as patients, doctors, medical students and researchers.
She noted that aging populations, rising obesity and increasing numbers of people who will live longer lives but with some disabilities due to improvements in medical care will mean that all Americans will likely have to deal with the issue of disability at some point.
Despite this, she said, disability is still widely stigmatized.
From the viewpoint that they are purely medical conditions, disabilities are an infirmity to be treated, cured or accepted, often out of sight and undiscussed.
In the social model, people with disabilities are seen as members of society with particular needs that must be accommodated—and these individuals have a right to participate, contribute and live as independently as possible.
Health Inequities
Iezzoni noted that the health inequities faced by people with disabilities have their roots in both the social determinants of health—the disabled are more likely to be poor and live in poor quality housing than the able, and they experience a lack of understanding or appreciation for the value of their lives.
She cited one study that found while 92 percent of people with spinal injuries said they were glad to be alive, only 18 percent of emergency department doctors, nurses and emergency medical technicians said that they believed they would be glad to survive a spinal cord injury.
She also noted that, in addition to these barriers of perception, there are often literal, physical barriers in the way of the dignified delivery of health care to disabled patients or by disabled physicians.
For example, she noted that even in large academic medical centers, oncology departments rarely have wheelchair-enabled scales. In order to calibrate chemotherapy for patients who use wheelchairs, an oncologist may have to lift the patient in her arms, step on to the scale and subtract her own body weight to determine the patient's weight. Factors like this surely contribute to the lower rates of chemotherapy treatment compliance for wheelchair users, she said.
To improve health care access for people with disabilities and to continue to advance the inclusion of people with disabilities across the Harvard Longwood campus and beyond, Iezzoni stressed the importance of letting them speak for themselves.
To help educate medical students, she said, rather than lecture about the pathophysiology of particular disabilities, people with those conditions should be invited to talk about the challenges they face and the pleasures that they value.
"People with disabilities are experts in their own lives," she said.
The event was a collaborative presentation of the Harvard Longwood campus human resources, student services and faculty affairs departments, along with the Harvard Chan School Office of Diversity Inclusion and the HMS Office of Diversity Inclusion and Community Partnership.  Organizers said it was the inaugural event in what will be an ongoing series of talks focused on ways the community can engage around issues related to diversity to find ways to improve diversity inclusion.